Tri-Counties Genealogy & History by Joyce M. Tice
Communities & Neighborhoods
| | | |
| --- | --- | --- |
| Bradford County PA | Chemung County NY | Tioga County PA |

Photo - Interior of Baptist Church at Antrim

Photos - Antrim PA - Coal Mining Town
Township: Duncan Township, Tioga County PA
Year: Undated - early Twentieth Century
Submitted by Janice Dallas
See Also Antrim School Photos
Joyce's Search Tip - November 2008

| | | |
| --- | --- | --- |
| | Do You Know that you can search just the articles on the site by using the Articles button in the Partitioned search engine at the bottom of the Current What's New Page? | |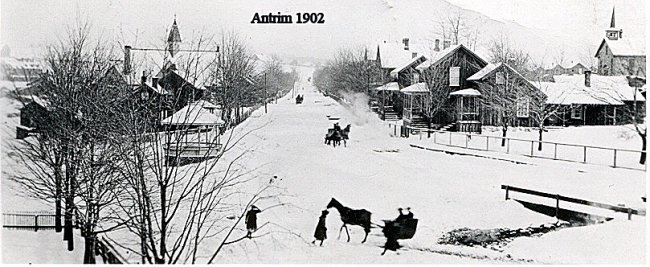 Antrim Street Scene about 1902
Estep's House in Antrim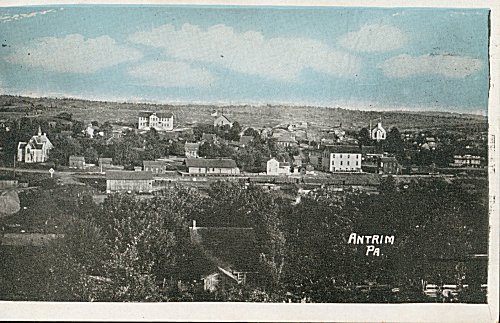 Martha Young & Hazil Estep - In front of Episcopal Church, Antrim PA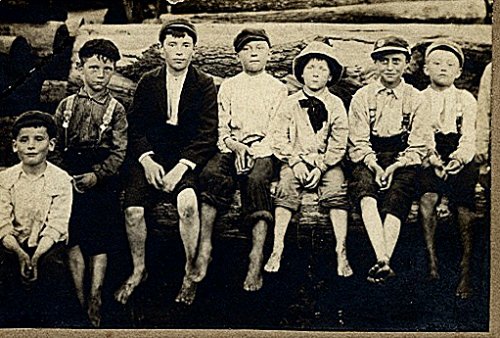 Group Photo of boys in Antrim. William Estep Derby friends
(Wm Derby is the one with the turned down hat & bow tie to the right of him is Art Coombes)
Hazil Estep and other teachers at the Antrim School

William Derby & William Estep. Grandfather Estep killed bear in 1906, it had roamed from the Rocky Mountains was a cinnamon bear having a short mane down it back. It was mounted and given to Percy Cope of Antrim, Pa.
---
My name is John and I live only 500 ft. from where the chutes used to be.
Scanned from a stereoscopic card which dates it to possbily 1870s
---
In a message dated 8/3/2010 2:55:58 P.M. Eastern Daylight Time, swatkins8@rochester.rr.com writes:
Hi, Joyce, Sue Watkins here in Penn Yan.
Three things, related:
1. I came upon this link in your website --photos of Antrim, Pa., submitted by a descendent of one William Estep of that village. William is in several of these photos.
http://www.joycetice.com/articles/antrimph.htm
My great-grandfather Dr. Asbury Harpending Baker was the town physician in Antrim from 1886 - 1894, and as he recounts in his memoir, published as "Memories," he and William Estep were great friends; in "Memories" Asbury recounts at length a hunting adventure tale with William Estep and some other friends from the Antrim area. Among the many photos and other paper ephemera I have is a postcard, attached here, sent to Asbury, as he notes on the back, by William Estep. The date Asbury wrote on it is June 6, 1917. As you know it was a fad or custom in those years to create postcards from personal photos, so I have assumed that one of the fellows pictured among their hanging deer has to be William Estep himself. I wonder if William's descendent --is his name John? --could identify which one is his ancestor?
And I wonder if John Estep has any photos that might include my great-grandfather, or the house Dr. Baker and his wife occupied while they were in Antrim, or ??? Incidentally the Bakers joined the Episcopal church while they were there, so I was pleased to see the photo of the women standing in front of the church door.
2. Also among my papers, I have Dr. Baker's obstetrical records from the years he was in Antrim. This is in the form of a somewhat fragile hardcover account book, so I am not sure if it can be scanned, but it is a wonderful historical document listing births by date, name, ethnicity of the mother, along with medical details.
3. In that vein --I've finally figured out how to scan "Memories." I bought a decent scanner and the process will put the book in a PDF file. Is this an acceptable format for the Tri-Counties site? I thought that once I had it safely in that format I would make a copy with photos inserted in it. But for now I wanted to tell you that I will scan this memoir and send it to you as I promised I would too long ago. Would you rather I mailed a CD copy to you or would an email attachment be all right?
Sue W.
[Photo downloaded to Townships/Duncan folder on fileserver]
| | | |
| --- | --- | --- |
| Bradford County PA | Chemung County NY | Tioga County PA |

Published On Tri-Counties Site On 21 FEB 2004
By Joyce M. Tice
Email Joyce M. Tice

You are the visitor since the counter was installed on 21 FEB 2004