Tri-Counties Genealogy & History by Joyce M. Tice
South Creek Sesquicentennial 1838 - 1983 (Reprint)
| | | |
| --- | --- | --- |
| Bradford County PA | Chemung County NY | Tioga County PA |
Joyce's Search Tip - November 2008

| | | |
| --- | --- | --- |
| | Do You Know that you can search just the articles on the site by using the Articles button in the Partitioned search engine at the bottom of the Current What's New Page? | |
DOCTORS OF SOUTH CREEK TOWNSHIP
1854 Dr. J. Langhead
1854-1890's Dr. J. Howard Cole – born in Binghamton, N.Y., October 24, 1817. He came to Bradford County in 1820 with his parents in a horse and wagon. They located in Leona where his father purchased and cleared 200 acres of land and lived in a log house. Dr. Cole was educated in Springfield and began study of the medical profession under Dr. W. Hopkins of Wellsburg, N.Y. In 1839-40 he attended the Washington Medical College in Baltimore, Md. He studied one term at Buffalo Medical College from which he graduated in 1854. His first practice was at Bentley Creek where he remained for two years and removed to Wells Township where he practiced for 25 years. He then came to Gillett where he was still in practice in 1891. He married on July 13, 1843 to Catherine, daughter of Gehiel and Emily Ayers and had three children, two of whom grew to maturity (Inez and Dorleskie). His office was on Main St. in Gillett.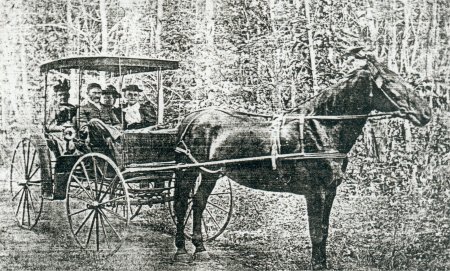 Dr. & Mrs. Cole 1891
---
1872-1914 Dr. Charles F. Kiersted – physician and surgeon, born September 23, 1844 in Fallsburg, Sullivan County, N.Y. He attended common school there and studied medicine under Dr. Allen of Broome County, N.Y. and graduated from Geneva Medical College. He began his medical profession in Gillett. In October of 1874 he married S. Elizabeth, daughter of Marvin M. and Clarissa W. Carr of Wells Township. He died in 1914.

1900 – Dr. Samuel M. Seafuse was born in Springfield Township on June 24, 1869, the son of Horace and Sarah (Palmer) Seafuse. He was the grandson of Soloman Seafuse who came from Monroe County, Pa. to South Creek Township in 1855. Samuel's father died March 2, 1874 at the age of 28 years. Samuel was a teacher and taught four terms in South Creek and Ridgebury Townships. He studied medicine under Dr. Charles N. Hammond of Bentley Creek for two years and in 1891 was a student of the College of Physicians and Surgeons of Baltimore, Md. On July 4, 1887 he married Jennie, daughter of Walter and Maria Mason. He was a physician and surgeon on Main Street, in Gillett. They lived next to the present parsonage. Later he and his brother Merton had a hospital on Walnut Street in Elmira.

1907 – Dr. Hiram T. Kinsman was born in Chemung County, N.Y. April 6, 1841, a son of George and Mary (Eaton) Kinsman, natives of Vermont. He graduated March 28, 1887 at the Bennett Medical College, Chicago. He first practiced at VanEttenville, N.Y.; came to Bradford County in 1874 and practiced his profession in Athens Township. He then practiced at East Smithfield from 1883 to 1900. It is not known exactly when he came to South Creek but was practicing here in 1907. He married September 18, 1883, Sybil N., daughter of Hiram and Mahale (Tompkins) Russell of Bradford County. They lived in a house now occupied by Fern Ameigh.

1917-1929 Dr. Harry O. Kingsley was born January 28, 1880, the son of Dealton and Louise (Randall) Kingsley at East Smithfield. He attended medical school in Cincinnati, Ohio. In his senior year of college he married Bertha Mason of Thompson Hill. He began his practice in East Smithfield and then went to Ricketts, Pa. as a company doctor for the Northern Pennsylvania Lumber Co. He stayed until the company was no longer in operation there. He then moved his practice to Burlington for three years. In June 1917 he moved to Gillett where he lived next to the present parsonage and carried on his practice until he was 49 years of age. At that time he went back to his farm in East Smithfield where he retired at the age of 64 years. He died in September of 1961.

1899-1955 Dr. Frank L. Pratt, born April 28, 1871 on a farm near Mansfield, the son of Mr. and Mrs. Edwin Pratt. He attended schools in Tioga County, Pa. and graduated from the College of Physicians and Surgeons in Baltimore in 1899. He came at once to Bentley Creek to begin his practice which lasted 56 years. He passed away in 1955. He had delivered over 2,000 babies in and around Bentley Creek and South Creek areas.