Tri-Counties Genealogy & History by Joyce M. Tice
1885 Seven Counties History - Chemung County NY
| | | |
| --- | --- | --- |
| Bradford County PA | Chemung County NY | Tioga County PA |
| | |
| --- | --- |
| Photo by Joyce M. Tice | |
"HISTORY OF SEVEN COUNTIES presented by the Elmira Weekly Gazette". It is an "Outline History of Tioga and Bradford Counties in Pennsylvania, Chemung, Steuben, Tioga, Tompkins and Schuyler in New York by TOWNSHIPS, VILLAGES, BORO'S AND CITIES." Written expressly for the Gazette Company, Elmira, N. Y. Copyright 1885.From AN OUTLINE HISTORY of Tioga and Bradford Counties in Pennsylvania, Chemung, Steuben, Tioga, Tompkins and Schuyler in New York by TOWNSHIPS, VILLAGES, BORO'S AND CITIES"
(page 134)
Big Flats Township.
The town of Big Flats was formed from the town of Elmira, at the forty-fifth session of the legislature of the state of New York, approved by Dewitt Clinton, Governor, April 16, 1822. It is bounded on the north by the town of Catlin; on the east by Horseheads and Elmira; on the south by the town of Southport; on the west by the county of Steuben. The principal steam in the town is the Chemung river, with Woodruff, Gardiner, Winters and Sing Sing creeks as its tributaries. It derives its name on account of the broad and alluvial flats within the township. Big Flats is a village in the town, with a Presbyterian, Episcopal, Baptist and Methodist churches, a hotel, four stores, a graded school, a Masonic hall, a grist and saw mill, two blacksmith shops, several groceries, a cigar manufactory, and contains about three hundred inhabitants. The New York, Lake Erie and Western Railroad, and the Delaware, Lackawanna and Western Railroad pass through the town from east to west, each railroad having a station, telegraph office, etc. The Chemung Canal Feeder, which is now abandoned, passed through the center of the town from east to west, and for many years was the scene of a large and profitable commerce. In the early history of the town, lumbering was carried on quite extensively; but now the people are almost exclusively devoted to the pursuit of farming--much attention being given to the cultivation of tobacco.
Early settlers were Christian Minier, Tunis Sterrett, Caleb Gardiner, George Gardiner, John Winters, Robert Miller, Roswell Goff, Eleazer Owen, John Goff, John Bennett, Abram Bennett, Clark Winans, William Miller, Comfort Bennett, Elisha Brown, Uzel Goble, Gersham Livesay, Charles Frye, John Silsby, Joel Rowley, Joseph Rowley, Nathan Rowley, John F. Delaney, John L. Sexton, Abram Minier, Frederic Vaughan, a soldier of the revolution, Nathan Mundy, Reuben M. Mundy, Charles Beard, Simon Hawes, Cornelius Lowe, Jr., familliarly known as Uncle Cornelius Lowe, Roswell Goff, Jr., Benjamin Whitney, David Reynolds, David VanGordier,
(page 135)
Sr., John Emmons, Jonathan Boyer, Martin Hammond, Noah Hawley, Calvin Hawkins, Squire Starks, Abram Scofield, John C. Scofield, Daniel Scofield, Lewis Scofield, Henry Fuller, Darius C. Bennett, Telman N. Bennett, Ami Carter, John Pound, Joseph Pound, Jacob Vantassel, Levi Middaugh, a soldier of the revolution who died, aged 103 years, John Mead, John Riker, Nathan Sanders, James Cooper, Abram Wilmarth, Ebenezer Snow, George Shriver, Jonathan Kent, Aaron Cook, James McNulty, Hezekiah Mead, Amos Rowley, High Miller, Thomas Buck, Salmon Rowley, John Huey, Peter Mead, James Hughson, Tunis Dolson, George Bucher, Henry McCormick, Levi Lovell. Hezekiah Beebe, Abel Keys, Daniel E. Brown, Benjamin Farwell, Andrew McNulty, Jacob Dorn, Aries Hodge, Hezekiah Beebe, William Ellis, Daniel Downing, James Jackson, better known as "Hickory Jackson," William H. Reeder, Lewis Edminster, Aaron Edminster, John Mead, Elihu Chapman, Joseph Rhodes, Alfred Frye, Joseph Chandlers, George Reeser, Jacob Reeser, William Hooker, John S. Miller, James DeArmand, Charles Reynolds, Nathan Reynolds, David Van Deren, Elihu Chapman, Daniel Hagar, Doct. Thesus Brooks, Edmond Brace, Phillip Boyer, Samuel Boyer, Samuel Wormley, John Wormley, Daniel Downing, John M. French, Col. VanValin, Hezekiah Woodruff, Erastus Beard, Silas Mills, Henry Farr, Patrick Haggerty, Coleman Olmstead, John J. Barton, Josiah Truesdale, Giles M. Allard, John White, Talcott White, William White, Frederic Wolcott, Henry Minier, Samuel Minier, Ira Minier, Sr., Harry Gobel, Joseph Dates, William Wass, Daniel Lord, John Blowers, Jeffery Beardsley.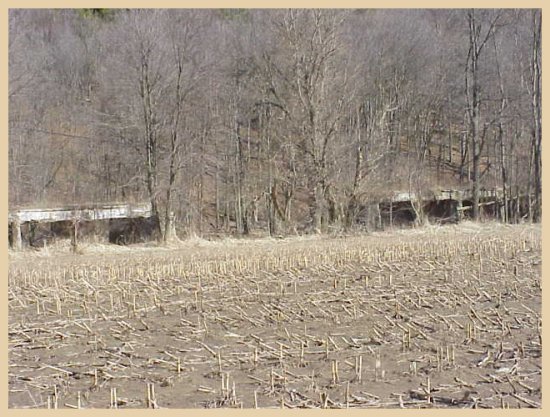 Remains of Railroad Trestles at foot of Harris Hill
--The first post master was Robert Miller.
--Cornelius Lowe died in 1853, aged 80 years.
--Joel Rowley died July 4, 1854, aged 80 years.
--Tunis Dolson was the first who died in the town.
--Nathan Mundy died May 16, 1847, aged 77 years.
--Robert Miller was appointed justice of the peace, in 1816.
--Eleazer Owen was appointed justice of the peace, in 1819.
--Clark Winans built the first brick house in the town in 1812.
--Levi Lovell, an old pioneer, died Nov. 11, 1861, aged 71 years.
--The first tobacco for market, was raised by Curtis Elmer, in 1850.
--Hon, John Haggerty represented the county in assembly, in 1858.
--The first school house was erected in 1814; Noah Hawley, teacher.
--Reuben M. Mundy, a prominent farmer, died Jan. 3, 1862, aged 69 years.
--George Shriver the first merchant in the town died in 1861, aged 85 years.
--John L. Sexton was elected coroner for the county before it was divided in 1835.
--Doctor Corbett Peebles has practiced medicine in Big Flats for the past 48 years.
--John Huey was killed by the cars at Corning, September 1, 1854, aged 63 years.
--Christian Minier was the first white settler in the township. He died in April, 1831, aged 91 years. His wife Christiana Minier, died September 26, 1826, aged 87 years.
(page 136)
--William Applegate and Catharine Minier, was the first couple married in the town.
--Hugh Miller, one of the pioneers of the town, died September 22, 1826, aged 86 years.
--John Brown, better known as Deacon Brown, was appointed justice of the peace, in 1823.
--Christian Minier, Jr., born in the year 1790, was the first white child born in the town.
--The first church organization was the Baptist, in 1807; Rev. Roswell Goff first minister.
--George Shriver was appointed justice of the peace, in 1822, before the county was divided.
--Captain George Gardner, son of Caleb Gardner, built the first framed tavern in the town in 1807.
--Doct William Woodward has practiced in Big Flats over 40 years, and Doct T. W. Read for 30 years.
--John Huey opened a store about the year 1815. George Shriver, afterwards a prominent farmer, was his clerk.
--Abraham Minier, father of the late Hon. Samuel Minier, was killed by the falling of a tree, in 1827, aged 45 years.
--The first distillery was built by Aaron Cook, in 1809. He died by the bite of a rattle snake, July 29, 1825, aged 57 years.
--Amos Rowley was the first person buried in the Robert Miller grave yard, now Big Flats Cemetery, June 5, 1809, aged 39 years.
--Comfort Bennett, an early settler of Big Flats and the wealthiest farmer in Southern New York, died Aug. 12, 1864, aged 83 years.
--Lauren A. Tuttle, and William A. Tuttle, under the firm of L. A. Tuttle & Co., were about thirty consecutive years in business as merchants at Big Flats.
--Thomas Borland was killed by the bursting of a circular saw, used upon a pile driver, in driving piles for the road bed of the Erie railroad Nov. 15, 1849 [last digit is hard to read!], aged 32 years.
--Doct William Woodward was the first town superintendent of schools of Big Flats, and was succeeded by John Roblyeer, John L. Sexton, Jr. and Doct Theopolis W. Read.
--The pastor of the church erected in 1818, was Rev. Roswell Goff. He died in 1825, before the second church was built in 1828. Rev. Philander D. Gillette was the pastor in 1828.
--The early merchants of Big Flats were John Huey, James DeArmand, Charles Reynolds, Samuel Boyer, Caleb L. Gardiner, John M. French, Ebenezer Roberts, Abram Minier, Joel Rowley.
--The Methodist church was erected in 1865. Services however had been held previously for many years. Rev. William Sanders was stationed at Big Flats and held services in the old Episcopal Church from 1843 to 1846. Other ministers had preceded him, among them Rev. Mr. Vaughan in 1837-8-9.
(page 137)
--There have been three school houses in the village of Big Flats. The Robert Miller log school house, erected in 1815, the red school below the village erected in 1837, and the present one erected in 1853.
--In the year 1810, the first Masonic Lodge was organized. Daniel E. Brown was W. M.; George Gardiner, S. W.; Benjamin Farwell, Tiler. Mr Farwell recently died at Painted Post, at a very advanced age.
--Hon. George Gardner, died May 3, 1848, aged 76 years. He was a member of assembly, in the old county of Tioga, before the county of Chemung was formed. In his day he was the most wealthy and prominent citizen of Big Flats.
--Samuel Minier was sheriff of Chemung county in 1841-3, represented the county in the assembly in 1851, and was many times elected supervisor. He represented the town of Big Flats in the Board of Supervisors as early as 1833, before Chemung county was formed.
--Judge James Hughson was a member of the legislature from Dutchess county in 1829, and made a strong and eloquent speech in favor of building the Chemung canal. He came to Big Flats in 1832, and was appointed one of the judges of the court of common pleas, in 1836, and remained in office until 1840. He died at Big Flats in August 1858, aged 70 years.
--William Mapes, a revolutionary soldier, died April 1, 1856, aged 103 years. In August 1871 a monument was erected to his memory by the citizens of Big Flats and surrounding towns, and on the 5th day of August, 1871, the monument was unveiled in the presence of a large concourse of people. John L. Sexton, Jr., of Fall Brook, Pa delivered an oration upon the occasion.
--John L. Sexton erected the first steam mill in the town, the first in the county, and it is believed to have been the first in the state. This saw mill was stolen from Sexton and taken to Canada. The party who had stolen it becoming involved in that country, stole it away from his creditors and to escape capture, the engine and boilers were thrown into Lake Ontario at Sacket Harbor.
--The First Presbyterian Church was organized in 1825. Church erected in 1829-30. Dedicated by Rev. David Harrower, of Lindley, Steuben co N. Y. The building committee was Benjamin Farwell, Eleazer Owen, Nathan Reynolds, Robert Miller, Charles Frye, John Winters, Clark Winans, and David Reynolds. The builder was William H. Reeder, father of the late William Thompson Reeder. Mr. Reeder had associated with him in the work, his brother Austin Reeder of Pennsylvania.
--St. Pauls Episcopal Church was organized in 1830, and a church erected in 1833 4. Trinity Church, of New York, contributing quite a sum towards its erection. Rev. Mr. Gilbert was the first rector. In 1851 the church was sold to the Baptists. The church was re-organized in 1861, with Lauren A. Tuttle, Senior Warden; Archibald H. Gates, Junior Warden; Vestrymen, William Woodward, William A. Tuttle, John Haggerty, Andrew J. Bennett, Abram D. Huey, Odgen T. Tuttle, Jeddiah Stowe, A. B. Steele. A church was erected in 1861, costing $6,000.
--The first Baptist church was erected in 1818, and stood near the late residence of Morris Bennett in Sing Sing. In 1828 a church was erected which
(page 138)
stood near the present residence of Joseph R. Lowe, Esq., that is about one hundred rods north east of it. In 1851 this church was abandoned, and the Episcopal Church which stood upon the Gardiner estate, west of the residence of john Minier, was purchased and removed to the place where it now stands and was remodled in that year by William L. Gibson, of Elmira, and occupied by the congregation in September, 1851. The first church erected in 1818, was purchased by the late Comfort Bennett, Esq., removed to his old homestead and used as a granary during the remainder of his life.
--Free Will Baptist church was erected about the year 1849, near the residence of the late George Shiver. It was the result of a dissension in the Baptist church, during the ministration of Rev. Benjamin R. Swick, in the years 1847-8-9. The dissension was caused by the excommunication of Abraham Bennett, one of the founders of the church, for being a Free Mason, and also the excommunication of Capt. David B. Brown and William S. Minier, for being Odd Fellows. At that time the regular Baptist church founded by Goff and Gillette had over five hundred members, residing in various portions of the town on Martin's Hill, Hawes Hill, Sing Sing, in the village of Big Flats, Hooker's Hill, Reeser's Hill and at Bennett's school house now in the town of Chemung. Rev. S. T. Aldrich, was the first pastor of the Free Will Baptist church. Another portion of the regular Baptist church purchased the Episcopal church edifice, as before stated, in the village of Big Flats, remodled it, abandoning the old church near the residence of Mr. Joseph R. Lowe.
---
You are the visitor since the counter was installed on January 9, 1999 - Page relocated & Counter reset 10 OCT 2004