Tri-Counties Genealogy & History by Joyce M. Tice

Churches of the Tri-Counties
| | | |
| --- | --- | --- |
| Bradford County PA | Chemung County NY | Tioga County PA |
Joyce's Search Tip - January 2008

| | |
| --- | --- |
| | Do You Know that you can search just the 250 pages of Church Records and Histories on the site by using the Churches button in the Partitioned search engine at the bottom of the Current What's New Page? . |
Beaver Meadows - We Are the Church - 1850 - 2000
Present Day Activities

The church continued through the years. By 1940, the beloved Sunday school teachers, Susie Bond Pickett and Josephine Clapper Carter, passed on. Ruth Spencer Culver took over the helm of the Sunday school about 1948. She was fifty years old. As she grew older, the church and Sunday school waned. The small congregation held services in their homes during the winter to conserve fuel.

In October 1978, Donna Bennett, Charlotte Fassett, Carol Brotzman, and Beverly Brotzman reorganized the Sunday school. Jenella Ryan served as Superintendent. It continued to flourish. Donna Bennett and Carol Brotzman are still there teaching, even though their children have long outgrown Sunday school. Where there are children, there are parents. The church was growing again.

During the next twenty years, the church added vinyl siding, a new roof, and indoor plumbing. The trustees refurbished the dining area in 1996. Donna Bennett gave the kitchen a modern look by crafting all new cabinets. In 1996, Greg Campbell created a welcoming sign for our church as an Eagle Scout project. A new porch was added in the spring of 1998 in memory of the Culver, Sink, and Brotzman families. In April 2000, a new Pavilion was built as a memorial to Walter Sharer and his sister, Grace Bennett. The church is flourishing again.

The photos shown here represent the church basement under renovation in 1996. The photos are from the Dale and Donna Bennett Family.

At Left: From left to right:

Ronny Sharer

Douglas Duffield

Dale Bennett

Matt Cobb

Randy Campbell

Jerry Clapper

Herb Button

At Right: From Left to right:

Herb Button

Randy Campbell

Truck Driver

Matt Cobb

At Left: Donna Bennett and her grandson, Bryan Bennett, installing the new kitchen cabinets
At Right: Greg Campbell with the welcoming sign which was his Eagle Scout Project
Spring, 1996
A church is a wonderful place in which the people may enjoy worship and serve God, but it is just a building. A church is really its people. Many of them that made this church what it is lie in the neat, well-kept cemetery directly behind Beaver Meadows.
The Beaver Meadow Cemetery Association was organized after E. W. Cobb agreed to sell one and a half acres of land connected to the old burial grounds of the Beaver Meadow Union Church on August 30, 1893. Nathan Cobb and John Freeman Clapper were to represent the congregation in this venture. The church actually sits on the cemetery association's land. The deed for the original burial grounds and the land where the church is located was recorded on March 2, 1965.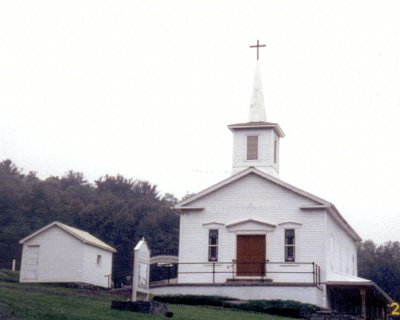 Photo by Amanda Brotzman Kingsbury