| | | |
| --- | --- | --- |
| Bradford County PA | Chemung County NY | Tioga County PA |
Tri-Counties Genealogy & History by Joyce M. Tice
Rome Church History by V. C. Detty

Lydia Taylor Mann

History of the Presbyterian Church of
Rome, Pennsylvnia

1844-1942

By

Victor Charles Detty, Pastor

Author of
History of the Presbyterian Church of Wysox, Pennsylvania (1791-1938)
P.P. Bliss, A Centennial Sketch (1838-1938)
A History of the Churches of Orwell, Pennsylvania (1803-1951)

Published by the Author 1942, Wysox, PA
Printed by Barber-Doane-Mosher, Inc., Elmira NY
Joyce's Search Tip - January 2008

| | |
| --- | --- |
| | Do You Know that you can search just the 250 pages of Church Records and Histories on the site by using the Churches button in the Partitioned search engine at the bottom of the Current What's New Page? . |
HISTORY OF THE
ROME PRESBYTERIAN CHURCH
1844-1942

CHAPTER

ORGANIZATION
The following is taken from the original minute book of the session of elders.
"April 17th, 1844, 2 o'clock P.M.
Rome, Bradford County, Pa.
Met agreeably to previous notice in the School House for the purpose of organizing as a Presbyterian Church. Rev. Julius Foster of the Presbytery of Susquehanna being present by request. Assisted by Rev. C. C. Cross & Rev. Moses Thatcher.
The several persons being members from different churches were present with Letters of Recommendations.
Names of the Members Viz.
Males Females
Geo. W. Eastman Lydia T. Eastman
Solomon Spalding Miss Elizabeth Spalding
Bezaleel Gates Sarah Gates
John Vought Mervil Vought
Oscar F. Young Mrs. Jane Passmore

The following persons were then chosen Ruling Elders, viz., Bezaleel Gates, Geo. W. Eastman & Solomon Spalding. Oscar F. Young & John Vought were chosen Deacons
Adjourned til 7 o'clock P.M.
After Sermon Messrs. B. Gates & S. Spalding having signified their willingness to accept the office of Ruling Elders & having answered in the affirmative the constitutional questions were set apart by prayer to said office of Ruling Elders.
Julius Foster, Moderator of Session."

The school house in which the church was organized was the upper or northeastern one of two in the village of Rome. It was situated below and almost adjacent to the site of the present office and residence of Dr. Arthur L. Parkes.
The Rev. Julius Foster was pastor of the Towanda Presbyterian Church. The Rev. C. C. Cross of Smithfield was later the author of a pamphlet history of Susquehanna Presbytery. The Rev. Moses Thatcher lived at Burlington, Pa. A memorandum by O.F. Young indicates that Elder Jonas Ingham from Wyalusing was also present.
Of the charter members, GEORGE WILLYS EASTMAN, and his wife, LYDIA TAYLOR MANN, lived on the farm now owned by Mr. Floyd Nichols, one mile northeast of Rome on the main highway. In 1863 they moved to Orwell township to a farm on the "ridge." They were the grand-parents of James E. Eastman, Mrs. Frank H. Brown and Mrs. Lillie Chubbuck of Orwell. George Willys Eastman was born Feb. 9, 1803 in Ashford, Conn., the second of eight children born to Justus and Sally (Farnum) Eastman. He died at Orwell June 3, 1875. He built the Rome Methodist and Baptist, and probably the Presbyterian, church buildings, being a carpenter and joiner by trade. He was overseer of workmen on the state capitol building at Madison, Wisconsin. He also built a number of residences in Rome, including the one purchased in 1864 by P.P. Bliss and now owned by D. S. Rice. He operated a wagon shop which was located on the lot now occupied by the house of Miss Mary W. Rice, whose residence and barn were remodeled from the divided portions of the old wagon shop.
When elected elder Mr. Eastman did not choose to be ordained, but on Sunday, Feb. 1, 1846, nearly two years later, he accepted the office. His son Calvin Justus Eastman was baptized at five years of age, June 9, 1844, having been born at Butternuts (now Gilbertsville), N.Y. Calvin married Mary A. Smith

| | |
| --- | --- |
| | |
| Lydia Taylor Mann | Her husband, George Eastman |
(1941-1893), the daughter of C. S. Smith of New Berlin, Chenango County, N.Y., and they were the parents of (1) Susan Elizabeth, born Nov. 14, 1860, married Myron Little Dunn (1860-1927); (2) George W., died as an infant; (3) Charles Willis, born Feb. 20, 1866, married Flora A. Bronson of Orwell, Aug. 4, 1890, died at West Chester, Pa, March 16, 1940, where he had been in the hardware store business with his brother Louis until the death of Louis in 1931; (4) Kate Salmon, born Feb. 2, 1869, married Frank H. Brown of Orwell, who was born Jan. 1, 1871; (5) Louis Everett, born Nov. 3, 1873, married Mrs. Henrietta (Smith) Green, who was born Aug. 4, 1881. Louis died Aug. 6, 1931, with burial at Orwell, Pa.
Susan Elizabeth Eastman, No. (1) above, daughter of Calvin Eastman, and her husband Myron L. Dunn, had five children, three of whom died in infancy or unmarried. Mary Louise Dunn, born Dec. 13, 1885, married first, Michael Palladino, by whom she had one child, Clarence Wesley, born May 23, 1910. She married, second, Charles Woodcock, by whom she had two children, Elizabeth, born May 28, 1916, and Madelyn, born June 19, 1918. The mother, Mary Louise, died Nov. 29, 1918. Her husband, Charles Woodcock, adopted Clarence Wesley, after the death of the mother. As Clarence Wesley Woodcock, he married Caroline Baker, and they have a child, Carolyn Baker Woodcock, born Sept, 14, 1935. This makes Elizabeth a great-grandmother. She lives at Miami, Florida.
Florence Madaline Dunn, born Feb. 18, 1894, daughter of Myron and Elizabeth Dunn, married Stanley Smith. They had born to them two children, Stanley Ellsworth and Charles Eastman Smith, twins born June 4, 1917, both of whom died the following year.
Kate S. Eastman, No. (4) above, and her husband Frank H. Brown of Orwell, have two living children: Vivian Elizabeth, who married Dr. Stanley DeWitt Conklin, with one son Stanley Brown Conklin, born April 5, 1921, a student of the University of Pennsylvania; and Raymond Eastman Brown, born Jan. 20, 1901, who married Ella G. Jones. They have two children: Donald Jones Brown, born Feb. 11, 1931, and Ruth Marie, born May 7, 1937, both baptized in the Orwell Federated Church.
A son older than Calvin was Willys Eastman who was born Dec. 28, 1829, married Ellen Augusta Hine of Orwell, June, 1954, died without children, Aug. 16, 1865, and was buried in the Rome cemetery.
John Iveson, another son of George Willys and Lydia T. Eastman, married Dec. 19, 1867, Lucy Aurelia Brown, born March 20, 1845, daughter of Uriah and Perley (Howe) Brown of Orwell, and had seven children: (1) Willis Henry, married Jennie Lee, June 21, 1899, (2) James Eugene of Orwell, married Carrie E. Coburn, (3) Lillie May (Mrs. Charles P. Chubbuck), (4) Flora Belle (Mrs. John J. Cowles), (5) George Uriah, of Westfield, Mass., who married Auth 12, 1908, Sarah Gertrude Coburn, sister of Carrie E. (6) an infant deceased, and (7) Josie Irene (Mrs. Reeve Gorham). John died July 9, 1920, and his wife Oct. 22, 1900. Burial was at Orwell.
(1) Willis Henry Eastman, first born of the children of John Iveson Eastman, was born June 6, 1869, married June 21, 1899 Jennie Lee, who was born March 17, 1872. They live at South Owego, N.Y., have two children: (l) Catheryn Alene, born March 22, 1901, married June 12, 1924, Paul Gallaher, (and they have two children—Jeanne, born Jan. 298, 1925, and Lee E., born March 17, 1928); Mavis Anna; born Nov. 5, 1905, married Feb. 1, 1930 Leonard Bixby.
(2) James Eugene Eastman, second of the children of John I. Eastman, was born Nov. 20, 1870, married June 28, 1899 Carrie E. Coburn, daughter of James Parley Coburn. She was born Aug. 24, 1874. James E. and Carrie Eastman live at Orwell, and have two sons, Wesley Coburn and Gerald Eugene. (a) Wesley C. Eastman was born May 13, 1900, married June 27, 1925, Beulah Cary of Okmulgee, Oklahoma. She was born May 9, 1899. They have three children: Anne Carryl, born Sept. 17, 1926, John Wesley, born May 10, 1935, and James Coburn, born Dec. 30, 1938. They live in Carlinville, Illinois, where he teaches in Blackburn College. He is a member of the Religious Society of Friends. (b) Gerald Eugene born Jan. 1, 1902, married June 16, 1928 Phyllis Manchester of Potterville, who was born Feb. 20, 1906. They live on Orwell ridge and have children: Gerald Eugene, Jr., born Jan. 4, 1932, Lois Elpha, born Feb. 23, 1937, and James Edwin, born Dec. 28, 1939.
(3) Lillie May Eastman, sister of James E., was born Sept. 24, 1872, married Charles P. Chubbuck Dec. 26, 1909. They lived at Orwell where he died March 4, 1936. Their infant daughter died two days after birth in January, 1912. They adopted Calista Ruth Wilbur, who was born Dec. 21, 1911, and married Daniel G. King, and lives at Interlaken, N.Y.
(4) Flora Belle, born Dec. 15, 1875, the daughter of John I. Eastman, married Dec. 16, 1896 John Major Cowles, and died Jan. 13, 1918. He, born April 9, 1874, died February 19, 1938. They had four children who lived to mature age: John Clifton, Eustace Eastman, Marie, and Lucile.
(a) John Clifton, born May 17, 1899, married Aug. 30, 1922, Ethel Chaffee, who was born May 12, 1898 daughter of Lincoln E. and Sarah (Titus) Chaffee. They live at Orwell and have two children: Jean Marie, born June 2, 1926, and John Clifton, Jr., born Dec. 18, 1937.
(b) Eustace E., born Sept. 28, 1901, married May 16, 1925 Florence Stranberg, who was born March 31, 1900. They had a son, John Douglas, born April 30, 1930. Eustace died Aug. 13, 1932 at Philadelphia. His widow married W. J. Olson, and lives at 517 S. Lombard Ave., Oak Park, Illinois.
(c) Marie Cowles, born Dec. 17, 1905, married Feb. 26, 1927 Raymond Hammond. They live at the foot of Orwell Hill, on a farm and have four children: Charles Avery, born Aug. 28, 1928; Stewart Eugene, born Aug. 5, 1932; Louise Marie, born April 25, 1937; and James Eustace, born May 27, 1942.
(d) Lucille Cowles, born Dec. 15, 1908, married in 1938, Mr. Allen Fred Snyder, a forester, and they live at Neffsville, Pa. They have one child, Eleanor Mae, born July 29, 1940.
(5) George Uriah, son of John I. Eastman, was born Oct. 27, 18778, was named for both his grandfathers, and married Aug. 12, 1908 Gertrude Sarah Coburn, sister of Carrier. She was born Aug. 30, 1933. He has compiled a genealogy of the Eastman family and its allied lines. He is in school work and lives at 16 Sterling St., Westfield, Mass. They have two children living: George Sydney, born June 18, 1909, engaged in teaching; and James Iveson, engaged in radio broadcasting, born March 8, 1912, married Nov. 28, 1934 Mary Carroll Moore, who was born Feb. 10, 1912. They have one child, James Iveson, Jr., born Aug. 28, 1936. Sydney married in October, 1941 Miss Ann Martel.
(6) An infant deceased.
(7) Josie Irene, youngest of the children of John I. Eastman, born in 1886, married Dec. 30, 1908 Reeve S. Gorman, who was born March 26, 1888, and died Oct. 29, 1937. Two children survive: Dorothy Elinor Gorham, born May 10, 1917, married 1939 Robert Moore, has a child, Edith Irene, born Oct. 29, 1939; and Beatrice Georgianna, born May 20, 1924.
SARAH JANE EASTMAN, born Sept. 26, 1847, daughter of George Willys and Lydia T. Eastman, married Theodore Lewis of Orwell, lived for a while in Towanda, Pa., and moved to Scranton, Iowa, where her daughter Grace Augusta Lewis lives. Another daughter, Clara, lives in Missouri. Sarah died Oct. 22, 1920. Her daughter Clara Louise Lewis, was born July 12, 1882 in Towanda, Pa., and married Oct. 30, 1910 at Scranton, Iowa, Mr. Irving Andrew Dreher, who was born Nov. 28, 1881 at Scranton, Iowa. They had two children: Theodore and Dudley Lewis Dreher. Theodore, born Jan. 5, 1912 at Calgary, Alberta, married March, 1935 at St. Louis, Mo., Marguerite Chuning of Kansas City. They have two children, Richard Allen Dreher, born Aug. 17, 1937 at Oklahoma City, Okla.; and Teddy Paul Dreher, born July 12, 1940 in Fort Worth, Texas. Dudley Lewis Dreher, born April 16, 1913, at Calgary, married July 15, 1940, Thelma Cook of Kansas City, Missouri. The address of Mr. and Mrs. Irving Dreher is 8300 Wayne Ave., Kansas City, Mo.
LYDIA TAYLOR MANN, wife of George Willys Eastman, was the daughter of Calvin Mann and his wife, Hartie Hill. She was born April 26, 1809, and died Oct. 18, 1900. Lydia married Jan. 7, 1838 in Otsego County, New York. Mr. Eastman as his second wife, and came with her husband and two children to Rome in 1841. She and her husband were buried at Rome, with an infant grandson, George W.

Dr. Julia "Spalding"
Real name - Dr. Julila Kinney
Edger Spalding
Solomon Spalding
Grace Spalding
SOLOMON SPALDING, second male charter member, served as the first clerk of the session of elders. He lived where Mr. Lyle Edsall does now, and was a shoemaker by trade. Miss Elizabeth Spalding was his daughter who was then 16 years of age, and later married Ethan Baldwin Powell and was the mother of Floretta and Nettie Powell. She was dismissed by letter and recommended to the Congregational church of Guilford, New York, on Feb. 9, 1845. Mrs. Betsy Spalding, third wife, became a member by certificate from the Orwell Presbyterian Church voted Dec. 23, 1945.
Solomon Spalding was born Nov. 4, 1802, according to the Solomon Spalding Bible record, inscribed "Guilford, August 25, 1930." He married Louisa Eggleston Jan. 24, 2815. She was born Dec. 6, 1802. They had children: Henrietta, born Aug. 14, 1826; Hanna E., born July 4, 1828; Harriet A., born June 17, 1830; Louisa E., born August 25, 1833. Louisa Eggleston Spalding, first wife, died August 27, 1833, aged 30 years. Harriet A. Spalding, her infant daughter, died June 19, 1830, aged two days.
Solomon Spalding married, second, January 1, 1838, Nancy Gilbert who was born Dec. 22, 1806. By her he had two children: Edgar E., born Aug. 4, 1839; and James Edelbert, born Aug. 18, 1843, died Dec. 11, 1839, aged 3 months, 22 days. Nancy Gilbert Spalding died Dec. 11, 1843. Solomon Spalding married third, June 12, 1844, Elizabeth L. Darling, widow of William N. Darling of Orwell who died Dec. 31, 1841 (Genealogy of the Russell Family, page 44, by Lewis Clark Russell, Warren, Ill. 1917). She died Nov. 23, 1875, aged 73 years, 9 month and 8 days according to her gravestone in the Darling cemetery, Orwell Township. Miss Nettie Powell thinks her maiden name was Eastburn. (There is one Eastburn Werkizer name inscribed on a gravestone in the same cemetery.) Heverly (P.&P.F. of B. Co. Vol. II, pa 45) gives William R as the son of Theron Darling and married to Elizabeth Lovet. Since her middle initial is "l," this probably is the maiden name of Elizabeth L. Darling. Solomon Spalding and his wife took a letter of dismissal to Vineland, N.J. in 1867. He died in Cortland, N.Y., Nov. 16, 1885, aged 83 years and 12 days. His body rests in the Rome cemetery.
HENRIETTA SPALDING, eldest of the children of Solomon, married Jan. 16, 1845 Festus C. Cranmer, who was born June 10, 1828, the son of Stephen and Polly (Vought) Cranmer of Rome. Stephen, according to the records of the Wysox Church, was baptized Jan. 16, 1793 at Monroeton, Pa. To Festus and Henrietta Cranmer were born five children: Ann Louisa, Nov. 15, 1845; Elizabeth Amanda, Feb. 27, 1849; Emma Rufina, June 9, 1851; Stephen Ethan, July 29, 1859, at Rome; Raphael E., April 22, 1859, died 2 days later. Festus Cranmer died Dec. 1, 1902 aged 77 years; his wife died July 1, 1903 aged 76. Their bodies rest in the Siloam Cemetery at Vineland. This information is furnished by Miss Emma L. Cranmer, 713 Pear St., Vineland, who is the youngest of thirteen grandchildren, and another granddaughter, Miss Winifred Adams, employed at Lakeland Sanatorium, Grenlock, New Jersey. The descendants of Henrietta Cranmer are listed under the names of her four children.
(1) Anna Louise Cranmer, eldest, married in September, 1868 William W. Moody of Rome. They had six children: Frank (late of Athens, Pa.), Emma, Bruce, Guy, Charles of Athens, who had one daughter, and Malcolm, who had two daughters.
(2) Elizabeth Amanda Cranmer married Sept. 14, 1876 Isaac Cooley Adams of Rome, who was born at Springfield, Pa., April 24, 1848, died at Towanda, May 26, 1902. A son, B. Festus Adams, born Nov. 26, 1879 at Allis Hollow, Bradford County, Pa., died Jan. 17, 1906 at Altoona, Pa., unmarried. Burial was at Rome. A daughter, Miss Winifred Adams, born Feb. 6, 1883 at Allis Hollow, lives at Grenlock, N.J. Mrs. Isaac C. Adams died in 1927 at Belvedere, N.J., and burial was at Rome.
(3) Emma Rufina Cranmer married May 7, 1873 Samuel C. Sharp. They lived about 9 miles from Vineland at Lake, N.J., where she died April 12, 1880 and was buried in the cemetery adjoining the Methodist Church. They had two daughters, Cora born may 30, 1874, and Nettie, born March 11, 1877. Cora Sharp married Melvin Morse of Mays Landing, N.J. They had three daughters: Bessie, Helen and Catherine. Bessie Morse, born July 7, 1896, at Mays Landing, married Leo Lewis and lives at Pleasantville, N.J. Helen Morse, born May 20, 1900, at Brooklyn, N.Y., married George Felmley, has two daughters, Muriel Jane, Born Feb. 24, 1930 and Audrey Lou, born Feb. 2, 1935. They live at Union, N.J. Catherine Morse, born Feb. 2, 1903, married Maris Wilson, a New Jersey state policeman, and they have a daughter, Virginia, born March 6, 1928, and live at Cape May Court House, N.J. Nettie Sharp married Charles Tyler and has two married daughters, Isabel and Helen. Isabel, born Sept. 25, 1908, married Thomas Gardiner and lives on South Delsea Drive, Millville, N.J. Helen, born Nov. 7, 1915, married Norman Brown and has two sons; Nelson, born Nov. 15, 1937, and Kenneth, born Oct. 8, 1939. They are living with her mother, Mrs. Tyler, at Newfield. Mr. Brown is employed at the New York ship Yard at Camden. Leo Lewis died May 29, 1941.
(4) Stephen Ethan Cranmer, born in Rome, July 29, 1855, married Feb. 19, 1878 Anna L. Irish of Lake, New Jersey, born May 25, 1855 in Union, Maine, was 86 at her death when living with her daughter Emma at Vineland, N.J. He was a wheelwright by trade, and for many years had a large carriage and blacksmith shop, and built by hard labor all types of horse-drawn vehicles. He was for many years a director and vice-president of the Mechanics Building and Loan Association of Vineland, and for over thirty years was an elder in the First Presbyterian Church of Vineland. He died in Vineland, Sept. 18, 1932, in his seventy-eighth year. His wife died Oct. 12, 1941, with burial at Siloam Cemetery, Vineland. Stephen E. and Anna L. Cranmer had three children.
(a) Earl Winfield Cranmer, born at Vineland, Feb. 10, 1882, married Laura Kimball Hobart, May 18, 1908, engaged in insurance business at Harrisburg, now lives in Vineland where he continues the business establishment of his father, with automobiles and small boats replacing carriages. He has two married daughters, Evalyn Lucile, born at Harrisburg, Pa., May 24, 1911, now the wife of Leroy Dickinson, a machinist of Salem, N.J.; and Florence Hobart, born May 7, 1914, at Gloucester, N.J.,; where her father was manager of the office of the Colonial Life Insurance Company. Florence married Sept. 7, 1936 Rexford Matlack of Vineland. She continues her work as secretary of Dr. E. A. Doll at the Training School at Vineland, and her husband is a radio engineer with the station at Atlantic City.
(b) Walter Stephen Cranmer, second son of Stephen E. Cranmer, was born in Vineland, May 28, 1883. He graduated from the Bliss Electrical School in Washington, D.C., and his work has always been along the line of sales of electric cars, batteries and Philco radios. He recently retired as foreign sales manager for Philco, and lives at Mt. Airy, Philadelphia. He married in May, 1907, Miss Frances Willard Richards of Willoughby, Ohio. He and his wife made their home at first in Cleveland, Ohio, where their daughter Frances Anne was born June 30, 1908. She married John Udall of Ithaca, N.Y., where they reside both being graduates of Cornell, he as an architect and she as a landscape architect. He teaches in the University. They had two sons, David Cranmer Udall, born June 21, 1938 died Jan. 8, 1939; and Alan Taylor Udall, born May 5, 1941.
While employed at Philadelphia, Walter Stephen Cranmer had a second child born to his wife, Frances, at Vineland, Nov. 30, 1912. They named him Richard Stephen Cranmer. He married Ruth Ross of Bethlehem, Pa. and they reside near his parents in Mt. Airy, Philadelphia. He was employed in the Philco research laboratory until called to active service as lieutenant in the Ordnance Department Reserve in March, 1941. He is stationed at Frankford Arsenal, Philadelphia, Pa. They have one son, Richard Stephen, Jr., born Jan. 3, 1937.
(c) Emma Luella Cranmer is the third and last of the children of Stephen E. and Ann L. (Irish) Cranmer. She was born Nov. 10, 1885 in Vineland, is unmarried, and has had secretarial positions in various cities, and since 1929 has been employed at The Training School at Vineland. She is an ardent Christian believer.
Hannah Elizabeth Spalding, second of the children of Solomon, was evidently the Miss Elizabeth Spalding who was a charter member of the Rome Church, being 16 years of age at the time. She married Ethan Baldwin Powell of Towanda, and died in Franklin, Pa. at the age of 32. He married, second, Theresa E. Darling (1828-1899). He died in Potterville, Pa., April 15, 1898. They had two children, Miss Nettie, who lives at 22 N. 8th St., Vineland, N.J., and Flora, who married Henry Prince of Potterville. Mr. and Mrs. Henry Prince lived and died in Towanda and had a large family:
(a) Carrier Elizabeth Prince, born at Potterville, Nov. 12, 1866, who married July 16, 1890 Mr. Bennett S. Harden of Towanda, lives at 301 Second Street, Towanda, and has children: Alice Louise, born April 24, 1891, married Leo Corbett and had two sons and a daughter—Robert L., born in 1913, Donald, born in 1921, and Doris Anne, born in 1925; Paul Rupert, born March 12, 1895 and Henry Bennett, born Dec. 7, 1902, both in the electrical appliance business in Towanda. Mrs. Carrie E. Harden when a girl, helped take care of the Bliss orphan boys at the unveiling. Paul R. Harden married Edith Schrader of West Franklin and has a son, Paul B. Harden, born Sept. 21, 1923. Henry Bennett Harden married Elizabeth Whitmer, and has a daughter, Janice E., born March 23, 1931.
(b) Fred R. Prince, born June 13, 1869 in Rome, who recently retired from the chief clerkship of the Bradford County Commissioners office in Towanda, and now lives with her daughter at Westfield, Pa. (Mrs. Francis Maryott)
(c) Hartley Lee Prince, born in Towanda August 9, 1871, had two sons, Alfred of Montclair, N.J., and Hartley, of Bloomfield, N.J.
(d) Alice Henrietta Prince, born on Christmas Day, 1873, married Charles L. Horton, died in 1939, having lived with her sister, Mrs. Carrie E. Harden, for eight years. She had a son Steward Horton, who lives at 5325 N. Hudson Ave., Los Angeles, California.
(e) George Washington Prince, born on Washington's birthday, 1877, died several years ago, with burial on Oak Hill, Towanda.
(f) Helen Louise Prince, born July 22, 1883, married Lemuel Kingsbury and lives in Hollywood, California.
(g) Ronald Ethan Prince, born Oct. 25, 1895, married Elsie Pohlhamis, has one daughter, Shirley, and lives in Elmira, N.Y.
Louisa E. Spalding, fourth child of Solomon, married a Doctor bailey, and lived in Norwich, N.Y., where her husband died. She went to live with her son, Benjamin Bailey in Ohio, where she died Jan. 12, 1881, age 47. When last heard from Benjamin was in Kansas City.
Edgar E. Spalding, son of Solomon and Nancy (Gilbert) Spalding, married Dr. Julia Kinney, sister of the late Winfield S. Kinney of Rome. They had a daughter, Grace, and Dr. Julia Spalding practiced medicine at Rome. They later moved to Cortland, N.Y. Grace married Charles Henry Miller, of Five Corners, N.Y., and had a son, Earl Spalding Miller, now a resident of Detroit. Edgar Spalding's name follows S. Spalding at the head of the subscription list for the minister's salary in 1863. Grace Spalding and Carrie E. Prince were appointed to take care of the Bliss boys at the unveiling exercises in 1877, and were charged by Dr. Julia Spalding not to allow people to kiss them. Earl Spalding Miller, born Sept. 27, 1898, married Elsa Schultz and lives at 12750 Stoepel Street, Detroit, Michigan.
BEZALEEL GATES, third named of the male charter members, was appointed as delegate to represent the church at presbytery meeting in the fall of 1844, when the church of Rome was received into the care of Susquehanna Presbytery. He operated a tannery on the John Martin place, having a pond which extended to what is now the Bert Conklin property. Bezaleel Gates was born in East Haddam, Conn., June 26, 1806, according to information furnished by Mrs. Sarah Gates Crockett, granddaughter, who thinks he was the son of Noadiah Brainerd Gates and his wife Mary Balcolm. On January 1, 1833 in Saybrook, Conn., he married to Sally Ann Pratt, daughter of Stephen Pratt. In 1844 (probably) they moved to Rome, Pa. Mrs. Gates died July 20, 1847. Mr. Gates married, Oct. 11, 1848, Martha Sophia Pierce of Otsego County, N.Y. Their later years were spent in Canton, Pa. He died in 1886. Mrs. Gates died in 18981.
Children of Bezaleel Gates
(1) Harriet Cordelia Gates was born in Hadlyme, Conn., March 3, 1834. She was graduated from Mount Holyoke Female Seminary (now Mount Holyoke College) in 1857. She taught a Presbyterian parochial school in Rome. On April 20, 1864, she was married to Rev. Clark Salmon who had pastorates in Rome-Orwell; Meshoppen, Pa.; Prairie City, Ill.; and Webb City, Mo. After Mr. Salmon's health failed they came to Canton to spend their remaining years. Mr. Salmon died in January 1890, and Mrs. Salmon on February 18, 1890.
(2) Stephen Pratt Gates was born in Chester, Conn., Jan. 10, 1839. He attended the Susquehanna Collegiate Institute; was graduated from Jefferson College, and Princeton Theological Seminary. (Mrs. Crockett thinks the dates of graduation were '62 and '65). He was one of the Pennsylvania Volunteers at the time of Lee's invasion of Pennsylvania and was stationed at Camp Curtin, Harrisburg. Mr. Gates was married in Freeland, Ill., June 8, 1867, to Miss Emma Frances Fay who was a graduate of and later a teacher in Rockford Female Seminary (now Rockford College). The Rev. Mr. Gates was pastor of the Presbyterian Church at Canton and East Canton for 24 years, 1865-1889; of the church in Nelson, Pa., for one year, 1888-1890; and of the church in Brandt, Pa., three years, 1890-1893. In 1894 he moved to East Canton, later to Canton where he died, March 27, 1896. His first wife died Jan. 24, 18971. On Nov. 14, 1872, in Speedsville, N.Y., he married Matilda Jane Freeman, a teacher. She lived to be 92 and died September 14, 1930.
Emma. The Emma who was a pupil in Miss Harriet Gates' school, and who joined the church on March 31, 1866, is not a relative of the Gates family. Mrs. Sarah Gates Crockett thinks her name was Rockwell. She may have been an orphan. Grandmother Gates was fond of her, and for some years she lived in the Gates family and was called Emma Gates. She married Henry Waite and went to live in Middletown, Conn. She died young, leaving two little boys, the younger a baby. Mr. Waite kept the baby who died later, and brought the older boy, Ernest to Mrs. Salmon. He lived in the Salmon family until the death of Mr. and Mrs. Salmon and was called Ernest Salmon. Then he went to his people in Connecticut; attended Storrs Agricultural College and became a landscape gardener. He died in Morristown, N.J. a few years ago. He left a wife and son Henry Waite.
The grandchildren of Bezaleel Gates were three in number:
(1) Sarah Frances Gates, daughter of Rev. Stephen Gates, was born in East Canton, Pa., Dec. 24, 1869. She attended the S.C.I. in Towanda, Pa., 1887-89; Mount Holyoke College, 1890-92. She served as librarian in the Canton Public Library, as assistant in the Buffalo Public Library, and as librarian in the Mansfield State Normal School. In 1911 she was married to Rev. William Day Crockett, Pd.D., and settled in State College, Pa. where Mr. Crockett was a member of the College faculty. He later became head of the Department of Classical Languages and Literature. Mrs. Crockett has traveled in Europe and the Near East with her husband. Collaborating with him, she had edited "A Satchel Guide to Europe" and "A Satchel Guide to Spain and Portugal." Mr. Crockett was pastor of the Presbyterian Church in Canton, Pa., for eight years, 1893-1901. Died Oct. 19, 1930.
(2) Leslie Freeman Gates, son of Rev. Stephen Gates, was born in East Canton, Pa., December 21, 1873. He attended the S.C.I. in Towanda and was graduated from Lafayette College in 1897. During his college days he ran a book store to pay his expenses and was a member of the Glee Club. He was a member of Delta Upsilon Fraternity to which his father also belonged. After college he filled positions as salesman for the Harper Brothers, and Appleton & Co., and located in Chicago, Ill. On Dec. 21, 1903, he was married to Josephine Lamson (Smith College '02). A year or so later he joined the firm of Lamson Brothers on the Chicago Board of Trade. He served two terms as president of the Board. His chief delight was in helping worthy boys through college. For a number of years preceding his death he was a trustee of Lafayette College. Gates Hall at the College was erected to his memory. He died in Battle Creek, Mich., Oct. 18, 1928. His widow lives in their old home, 723 8th St., Wilmette, Ill. They had one daughter, Helen.
(a) Helen Gates, daughter of Leslie F. Gates, great-granddaughter of Bezaleel, was born in Wilmette, Ill., April 13, 1911. She was graduated from Swathmore College in 1932. On Dec. 21, 1932, she was married to Dwight D. Taylor, a lawyer in Washington, D.C. They have two children: Margaret Lee, born Sept. 21, 1937; and Dean Gates, born June 12, 1939. Their present address is 4418 Reservoir Road, N.W., Washington, D.C.
(3) Harry Clark Gates, son of Rev. Stephen Gates, grandson of Bezaleel, was born in Canton, Pa., April 28, 1876. He attended the S.C.I., at Towanda, Blair Academy, Blairstown, N.J. and Lafayette College. During the Spanish-American War he enlisted in a Bradford Co., Company and was sent to Chickamauga where he contracted malaria and was sent home. On Jan. 23, 1907 in Canton he was married to Anne Frances Williams (Wilson College) daughter of Ansel D. Williams. He was for a number of years Cashier of the Farmers National Bank in Canton, later Vice President of the First National Bank. He was an elder in the Presbyterian Church of Canton, and a member of the Board of Trustees of Packer Hospital, Sayre, at the time of his death which occurred in corning Hospital, Corning, N.Y., July 6, 1938. His widow died Dec. 13, 1940. They had two daughters, Emily and Louise.
(a) Emily Frances Gates, daughter of Harry C. Gates, great granddaughter of Bezaleel, was born in Canton, Pa., April 22, 1908. She was graduated from Elmira College in 1929. She then taught English in the Corning High School, North Side. On July 6, 1935 she was married to Doctor Maynard William Gurnsey of Corning, N.Y. They have three children: Maynard William, Jr., born June 4, 1937; Judith Gates, born Sept. 9, 1938; and David Gates, born April 5, 1942. Their address is 84 W. Pultney St., Corning, N.Y.
(b) Louise William Gates, daughter of Henry C. Gates, great granddaughter of Bezaleel, was born in Canton, Pa., Sept. 22, 1909. She was graduated from Wilson College in 1931. For several years she taught French in the Binghamton High School. On August 1, 1936 she was married to Donald Halsey Benson, a teacher in the Mansfield High School. They have two children; Jane Anne, born May 13,1937; and Sarah Gates, born Oct. 5, 1938. Their address is 90 St. James Street, Mansfield, Pa. (Correspondence of Mrs. Sarah Gates Crockett, State College, Pa.)
JOHN VOUGHT was the son of Godfrey and Polly (Croft) Vought, and was born March 15, 1805. He and Oscar F. Young were the first deacons of the church. His wife was Mervil Cannan, daughter of Matthew Cannan, a native of Ireland, and his wife Betsy Whitman, in whose father's store at Cherry Valley , Matthew Cannan worked before coming to Rome in or before 1811. Heverly gives the birthplace of Betsy Whitman as Providence, Rhode Island. John Vought and his wife were members of the Orwell Presbyterian Church, having been baptized Aug. 2, 1835, from which they brought letter of dismission at the formation of the Rome church. They lives on a 150 acre farm, their home being where Mr. Ray Parks lives, next to the Methodist Church, to the erection of which in 1849 John Vought subscribed ten dollars. Mrs. Vought died Feb. 16, 1869, and willed the sum of one hundred dollars to the Presbyterian church, the interest of which is still current and paid annually on the minister's salary. Mr. Vought died at the age of 85 in 1890. It is related of him that during a drought, when asked to attend a prayer-meeting to pray for rain, he asked, "What is the use of praying for rain when the wind is in the west?"
| | |
| --- | --- |
| | |
| John Vought | Mervil Cannan |
OSCAR F. YOUNG, last named of the male charter members, was born April 11, 1818 in Warrant Township, the son of Nathan and Lucy (Burton) Young, and married May 11, 1839, Miss Rachel E. Allen, born Jan. 2, 1819, daughter of Peter and Betsey (Dubois) Ridgway Allen, and granddaughter of Jesse and Elizabeth (Eiklor) Allen of Pond Hill. He came to Rome as a school teacher, and after his marriage lived on the farm now owned and operated by Mr. Ulysses M. Holmes. Lucy Jane Young, three year old daughter, and Allen Peter Young, one year old son, of Oscar and Rachel Young, were baptized at the time of the first communion of the church, June 9, 1844 by Rev. John Iveson, three weeks after the church was organized. Mr. Oscar F. Young was ordained elder with Mr. George Willys Eastman, Feb. 1, 1846. Most of the records of the session of elders from 1846 to 1896 were written by Mr. Young, who died in 1902.

| | |
| --- | --- |
| | |
| Oscar F. Young | Rachel E Allen |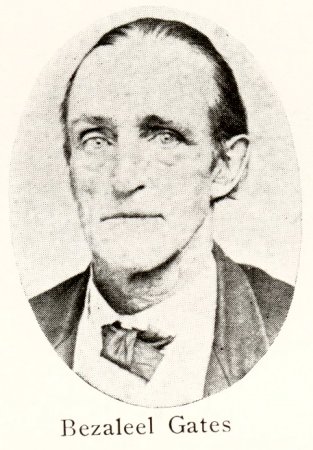 Bezaleel Gates
| | |
| --- | --- |
| | |
| Julia (Surname not given) | Joseph Seely |
Oscar F. Young and his wife Rachel had the following children, all members of the Rome Church:
(1) Lucy Jane, named for her paternal grandmother, was born March 14, 1841, and married June 1, 1859 at the Wysox parsonage, Philip Paul Bliss, the ceremony being performed by the Reverend Andrew Barr. They became members of the Rome church the next Sunday. Two sons were born to them, Philip Paul, Jr., and George Goodwin Bliss. The parents were killed in the Ashtabula railroad disaster on the night of Dec. 29, 1876. Paul Bliss, as the older boy was called, became a noted composer. His brother George, became an expert accountant, and was an elder in a number of churches. Paul Bliss married June 2, 1903, Lina Louise Mayor, daughter of Dr. and Mrs. Edward Mayor, at her father's home on Academy Street in Owego, N.Y. he died Feb. 2, 1933. Paul's wife died Aug. 9, 1940, aged 72. George Bliss married March 11, 1896, Miss Ida May Belcher of Newark Valley, N.Y., and lived for a number of years in Detroit, Michigan. He died on the anniversary of the death of his parents, Dec. 29, 1933, and his wife died Jan. 12, 1940 aged 67 years. Their bodies rest in Maple Grove Cemetery at Candor, N.Y. Mrs. George Bliss was the daughter of Sidney and Mary (Dickerson) Belcher.
(2) Allen Peter Young, born May 14, 18423, namesake of his grandfather Peter Allen, the first postmaster of Rome, married Jan. 25, 1866 Melita Mann, daughter of Hiram and Hannah Eliza (Maynard?) Mann, and their daughter Lizzie was born Jan. 20, 1867. She married first, William Moody, Jan. 28, 1885. Their daughter Marjorie, born May 15, 1891, married Ulysses Mercur Holmes July 26, 1911 in Wysox Church. Mr. and Mrs. Holmes have two children: Eulalie Moody Holmes, born June 6, 1913, married Stephen Russell Stearns of Manchester, N.H. and John Allen Holmes, born Feb. 22, 1916, who married Charlotte Syme of Flushing, N.Y. Mrs. Lizzie Young Moody married, second, the Reverend William Watson, a member of Wyoming Conference, Oct. 18, 1911, who died July 24, 1925, aged 64, with burial at Spring Forest Cemetery, Binghamton, N.Y.
(a) John Allen Holmes and his wife have a son, Peter Allen Holmes, born Jan. 20, 1941 at Flushing, N.Y.
(3) Oscar Warren Young, born Oct. 22, 1846 married March 29, 1876, Katherine L. Smith of Owego, N.Y., and they had four children: Stephen, Rachel, Ralph Oscar, and Charles. Oscar W. Young died at his farm in Lounsberry, N.Y., April 8, 1904. He had marked musical talents, and was associated for some time with P.O. bliss and D. L. Moody. Stephen W. Young, eldest, was born Jan. 26, 1877, and died unmarried in Baltimore, June 1, 1901. Rachel Ellen Young, called "Rae," was born Oct. 14, 1883, married Dec. 1, 1907 at Washington Court House Ohio, Reverend David Hugh Jones, lived in Evanston, Illinois in 1922, when her husband was pastor of the First Presbyterian Church. Since his retirement as pastor emeritus they have made their home in England, where their address is Woodbrook, Beech Drive, Kingswood, Surrey, England.
Her husband, the Reverend David Hugh Jones, was the minister of the First Presbyterian Church of Evanston, Illinois, for twenty-one years, after being two and a half years at Lima, Ohio. In June 1931, he retired from his active ministry, being made pastor emeritus of the church for his life time. They went to England in that year and their daughter Gendolen, their only child, was married in June, 1933 to Mr. David Ellis-Jones. They have a five year old granddaughter, Glenys Barbara. They were with Gwendolen and Ellis twenty miles southwest of London when the air raids began, but as the raids increased in violence and numbers they soon had to leave for a safer place. They moved to Colwyn Bay, Wales, where they live at Scotscroft, on Conway Road. There they are not entirely free from raids, for Liverpool is not far away, but they have been away from the horrors and terrible disasters experienced elsewhere near the larger centers.
Mr. Ellis-Jones, by his career, was placed in the reserved occupations, but is a member of the Home Guard and daily expects to receive a call to active war service. Mrs. Jones writes, "We are all doing something, going without many things, willing to go without many more—hearts and minds united in one purpose, to do all we can to win this war and beat the enemy so that this awful thing, War, may never raise its head again!"
The letter gives more facts about the brother of Rachel Young than were known before, when the book manuscript was completed. Ralph Oscar Young (ROY) lives in Asheville, North Carolina and has two children: Jane Willis and James Warren Young. Jane has a government position at Washington, D.C. James is married and has work in a large broadcasting net-work in the south. Both children are graduates of their mother's alma mater, Dennison University, Granville, Ohio.
Charles Daniel Pitcher Young, fourth of the children of Oscar and Warren and Katherine (Smith) young, was born Jan. 6, 1891 and died Nov. 19, 1908, unmarried, at Owego, N.Y.
(4) Ella Ione Young, born June 1, 181, married Corydon L. Barnes. They had no children. She died Jan. 5, 1912.
(5) Clara Elizabeth, born June 19, 1853, married July 8, 1875, John S. Ellsworth, a Congregational minister, and died in 1912. They had one son, Charles, of Chicago, who married Bertha Brinkerhoff, and had three children: Ralph Ellsworth, New Canaan, Connecticut, art editor of the Parent's Magazine; Ruth Crandall Ellsworth and Helen Marjory Ellsworth.
Ralph Ellsworth, born Aug. 2, 1902, married Mary Grosvenor of New York City and they have two children: Nancy Grosvenor, born Oct. 15, 1934, and Mary Dexter, born September, 1937. Ruth Crandall Ellsworth, born August 14, 1904, married Gordon Whalen, and they live at Milburn, N.Y. and have three children: Barbara Joan, born Jan. 5, 1928,; Gordon Douglas, born Feb. 20, 1930; and Richard Ellsworth Whalen, born Oct. 4, 1935. Helen Marjorie Ellsworth, born Oct. 4, 1909, married Harold Dickinson in 1933, and they have one child, Judith Anne, born March 25, 1937.
(6) George Romeo Young, born March 20, 1860, married first, in 1884, Agnes Terhune, who died in 1891. By her he had one daughter, Jane A., who attended schools of Ridgewood, N.J., Elmira College, and the Mehan Studios at Carnegie Hall, New York City, following a musical career, until her marriage Feb. 3, 1914, to Mr. Howard I. Wheat. She resides at 80 Crest Road, Ridgewood, N.J. George Romeo Young married second, Mary Ryerson in 1893, by whom he had a son Edward R. Young. Mary died in 1898. Edward R. Young married in June, 1914 Jennie Swop, and has three children: Dorothy Lucile, born Sept. 13, 1915; George R., born Feb. 26, 1917; and Betty Jane, born July 14, 1921. Dorothy is a graduate of Ridgewood High School and St. Luke's Hospital of New York City. George attended St. Lawrence University, and joined the coal sales firm of Young & Bortic, of Ridgewood, and is the fourth generation in that business. Betty Jane was a student in the class of 1941 at Southern Seminary, Buena Vista, Virginia, where she has taken much interest in Spanish. George Romeo Young married, third, F. Adele Ryerson in 1907, who resides at 287 Woodside Ave., Ridgewood, New Jersey. George Romeo Young died Feb. 27, 1936 at Ridgewood.
MRS. JANE PASSMORE, last named of the ten charter members, was the wife of John Passmore. Her maiden name was Shoemaker, and they were married in Wilkes-Barre, Pa., Dec. 14, 1843 by the Rev. John Dorrance, who had been pastor of the Wysox Church 1831-1833. She died Oct. 5, 1868, and burial was at Forty-Fort, Pa. Her husband was prominent in the community and county, being an associate judge, and a representative in the state legislature. His name is on a memorial window in the Methodist Church.
The Passmore lived where Mr. Leslie Dimon now resides. Mr. Passmore owned much property nearby. Hon. John Passmore died in Erie, Pa., at the age of 70, in the home of his sister, Mrs. Cortright. His body was buried beside that of his wife.
On June 8, 1844, Mr. Charles R. Bassett presented his letter from the church at Warren. He was dismissed by letter to Troy, Dec. 27, 1846.
On the following day, June 9, the first communion service was held by the Rev. John Iveson, who baptized Lucy Jane and Allen Peter, children of Oscar F. Young; and also Calvin J. Eastman, son of George W. Eastman.

| | | |
| --- | --- | --- |
| Bradford County PA | Chemung County NY | Tioga County PA |

Published On Tri-Counties Site On 02 MAR 2004
By Joyce M. Tice
Email: JoyceTice@aol.com

You are the visitor since the counter was installed on 02 MAR 2004