| | | |
| --- | --- | --- |
| Bradford County PA | Chemung County NY | Tioga County PA |
Tri-Counties Genealogy & History by Joyce M. Tice
Rome Church History by V. C. Detty
History of the Presbyterian Church of
Rome, Pennsylvnia

1844-1942

By

Victor Charles Detty, Pastor

Author of
History of the Presbyterian Church of Wysox, Pennsylvania (1791-1938)
P.P. Bliss, A Centennial Sketch (1838-1938)
A History of the Churches of Orwell, Pennsylvania (1803-1951)

Published by the Author 1942, Wysox, PA
Printed by Barber-Doane-Mosher, Inc., Elmira NY
Joyce's Search Tip - January 2008

| | |
| --- | --- |
| | Do You Know that you can search just the 250 pages of Church Records and Histories on the site by using the Churches button in the Partitioned search engine at the bottom of the Current What's New Page? . |
ROME CHURCH HISTORY

CHAPTER VIII

WORK OF REV. DAVID M. DAVIES
1897—1910

Between 1896 and 1901 there is no record o minutes of the session showing the reception of members. But the roll of members found at the beginning of the second volume of session minutes has the following names which are not found in the first volume (1844—1896).
Miss Mona Quigley
Miss Mamie Quigley
Miss Bernice Quigley
Miss Georgiana Study
Mr. James Kilmer
Mr. W. J. McCabe (son of Hugh McCabe)
Miss Irene McGovern
Mr. W. Haney
Mrs. W. Haney
Miss Anita Pauline Haney
Miss Bertina M. Haney

The reports to Presbytery and General Assembly show that one person was received by confession in the report for 1899, 8 for 1900, and 4 by letter in 1900. In 1902 one was added by confession of faith and two by letter. In 1904 two were reported added on confession. Mr. and Mrs. William Haney brought a church letter from the Herrick Presbyterian Church in 1905. The report for 1908 indicates four added by letter. The Rev. David Davies began as supply pastor in 1897 and remained until 1910. He was affectionately called "Daddy" Davies by the Rome people.

Much of the life of the church in this period was centered in the women's organization called the Ladies' Aid Society. An account of its activities for 1897 to 1910 when the work of Mr. Davies came to a close, is given.
In 1897 the society served refreshments to 125 people, 94 of whom were members of the Independent Order of Odd Fellows lodge. During the next year note was first made of meetings held at the home of Mrs. Davies, wife of Rev. D. M. Davies. She was elected president in October. Mrs. Minnie Study was made secretary.
In the fall of 1898 the society brought shoes and material and sewed bed clothing and garments for a family of the community in straitened circumstances. Flowers were purchased for the funeral services of Mrs. Ella (Compton) McGovern. The society contributed as usual to the annual donation for the minister.
A financially successful church fair was held in April, 1899. On the committee were Miss Caroline Lent, Mrs. Bert Goff, Mrs. Eugene Means, Mrs. F. M. Hicks, Mrs. Minnie Study and Mrs. D. M. Davies. The proceeds were $50.62. A comfort was made for the pastor's wife, who soon moved to Wysox to live in the manse there. Her husband was now to preach in Rome and Wysox. Mrs. F. M. Hicks was elected president, succeeding Mrs. Davies. Mr. Hicks was engaged to make a cupboard for dishes at a cost of $8.50, which was placed in a corner of the entrance hall of the church; also a work table for $3.50. In the fall Della (Mrs. Allen) Woodburn was elected secretary. Flowers were bought in loving remembrance of Mrs. Alice (Atwood) Coleman, wife of Henry Coleman. A donation party for Rev. David Davies brought him $23.50, to which the society added $10.00.
In the first month of the twentieth century a "century" supper was served, with large attendance, from which was realized $5.80. An out-door lamp for the outside of the church was bought in March at a cost of $4.74. New members received into the society were Mrs. Adelie Rickey Taylor, second wife of Almon A. Taylor, and Mrs. Jason Forbes (neé Ida Lovic Cuttles, mother of Mrs. Grace Abell), Mrs. Ella Young Barnes (wife of Corydon). On August 4, 1900, Mrs. Taylor was appointed treasurer. In December another donation party was held for Rev. Mr. Davies to whom was paid about $42.00.
In 1901 Mr. Coydon Barnes, who lived where Mrs. Susan Nesbit resides now, was paid $5.17 for a load of coal. Mrs. Flossie Means (wife of Eugene) was appointed treasurer in place of Mrs. Taylor, who had resigned; and a new linoleum was bought for $9.25, the purchase being made by Mrs. Lizzie (Young) Moody. Mrs. William Davis and Mrs. Lizzie Eddy were enrolled members.
The society bought flowers April 16, 1902 for the funeral of Mr. F.M. Hicks, father of George Hicks of Rome. On April 24, after dinner at the church, officers were elected: Mrs. Truman Barnes (her husband was the son of Farnum Barnes), president; Grace (Mrs. Guy W.) Abell, vice-president; Mrs. Flossie Means, treasurer; Mrs. Emily V. Rice, secretary. A tea at the church parlors in May brought in $4.70; a "milk maids" tea in June added over $5 to the treasury; and in July an "old maids' convention gave receipts of $16.10. The annual donation supper was held Nov. 20th, and the proceeds, $31.62, were paid Rev. David Davies.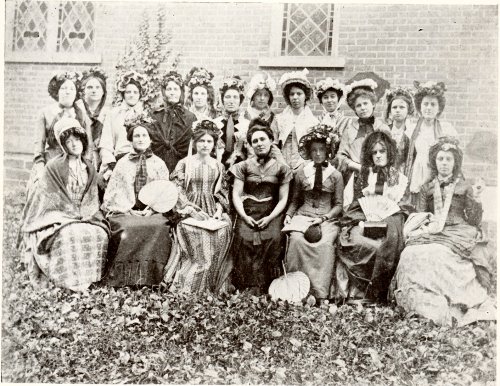 Page 133:
OLD MAIDS'CONVENTION, 1902
Seated, left to right: Monda Quigley, Emma Brainard, Nell Barnes, Caroline Lent, Laura Miller, Ruth Whitney, Bertha Len (Mrs. John Harford).

Standing, left to right: Bernice Quigley, Clara Snyder, Alta Terry, Mrs. Henry Forbes, Carrie Hiney (Mrs. Walter Rodarmel). Mate Hankinson (Mrs. Mary Crandall), Mamie Quigley, Etta Vought (Mrs. Etta Bidlack, Ulster), Nina Allis.
Mrs. Bessie Goff was appointed secretary Jan. 15, 1903 in place of Mrs. G. W. Abell, who was unable to act. Twenty-five signing books were bought for the church. New officers elected in April were president, Mrs. F. M. Hicks; vice-president, Mrs. Allen W. Woodburn; treasurer, Mrs. Eugene Means. Flowers were provided in memory of Mrs. A. Smith, May 29, 1903; also for Miss Nan Miller, Sept. 17th. The ladies served a dinner for the I.O.O.F. lodge and also one for the Rebecca lodge. The society bought two cords of wood for $2.50 from Melvin E. Elliott. The annual donation supper was held Nov. 19th, and the receipts were $72.00.
The society began the year 1903 with a balance of $50.66. An election dinner Feb. 16 brought in $6.71. "The ladies of the society met and served dinner in the church March 17. It being St. Patrick's Day, and a most lovely spring day, quite a goodly number were present. At this dinner ham and eggs and other delicacies of the season were served. The receipts of the day--$8.16." Mrs. Bessie Goff was secretary. The janitor was paid $25.00 for the previous year's services. The loose collections at the church services provided for this and the presbyterial annual assessment of $5 for denominational expense.
In 1904 in April a "magic lantern" entertainment was given at the church, and a local singing school gave a two days' convention. In May an "old maids' entertainment was given by cast from Wysox. In June the ladies went to Wysox in a conveyance driven by Henry Coleman and served a supper with the Wysox society at the home of their pastor, Rev. D. M. Davies. Each society realized $5. Repairs to the church roof cost $4.80, and other repairs $1.50. The Union Christian Endeavor Society paid $2.50 for the use of the church. In July the Ladies' Aid Society made a special donation to Rev. Mr. Davies in anticipation of his starting across the ocean to visit his old home in Wales. In August the treasury received $19.84 from Mr. A. M. Beebe raised some time before by him for building front steps to the church. In the next month the Wysox ladies came to Rome for a joint meeting and dinner with the society at the church. Mrs. Eugene D. Means was obliged to resign as treasurer and at a meeting held October second, Mrs. Della Woodburn was appointed to act in her place. Mrs. Lizzie Waldo was made vice-president, Mrs. Hartie Brown and Mrs. Agnes Rolls were enrolled as members.
On Nov. 8, 1904, after an election day dinner, Mrs. F. M. Hicks, Mrs. Della Woodburn and Mrs. Bessie Goff were appointed a committee to see about having the interior of the church decorated. Mr. and Mrs. E. A. Howe of South Hill, Orwell township entertained the society Dec. 2. In November and December a subscription paper circulated by Mrs. Lizzie Waldo brought in $37.75 for repairing the church. Another donation party paid for the pastor, $42. Messrs. Wilson and Hosmer of Athens, Pa., were paid $66.75 for work of decorating the walls of the church, Mr. G. P. Vought $1.25 for plastering, and $13 was paid for boarding the men while at work on the church. Material purchased cost $11.31. The amount in the society treasury at the close of the year was $11.09.
A gift of twenty-five dollars from Mr. George R. Young of New York was received in February, 1905. On the 16, 17, and 18th of the same month, Mr. J. C. Mitten, uncle of Mrs. D. S. Rice, held a singing convention, half the receipts from which went to the society: $13.45. The annual cost of janitor service, $25, was met for the year closing March, 1905, by loose collections totaling $18.29 and an order on the treasury of the Ladies' aid Society for $6.71. A drama, "Among the Breakers," brought the society twenty dollars. $10 was paid out for mission causes. An entertainment by some young men from the high school in Towanda netted the society $8. The Christian Endeavor Society again paid $2.75 for light and heat service. $36.40 was realized from the annual church fair. New members enrolled were Miss Marion Quigley, Miss Georgianna Study, and Mrs. George Powers. The annual donation party brought in $48 for Rev. D. Davies.
On Jan. 18, 1906, the following Resolution regard Mrs. Martha C., wife of S. O. Allen, was adopted. "whereas it has pleased the Heavenly Father to take from our midst one of our esteemed members Mrs. Martha C. Allen.
"Resolved that we the ladies of the Presbyterian L.A.S. recognizing her worth and our great loss do extend our heartfelt sympathy to the family of our esteemed sister.
Resolved, further, that a copy of these resolutions be presented to the bereaved family; also be placed on the minutes of the society."
Mrs. S. O. Allen was the daughter of "Priest" Harry L. Parks, a Methodist preacher, and Electa (Allis) Parks, and she was born in Rome township June 22, 1838. Her father's sister Chloe and James Lent were the first couple to marry in what is now Rome township in 1803. Mr. & Mrs. S.O. Allen had two children: Hattie C., born June 2, 1859, married G. W. Crum of Athens and Laura A., born June 3, 1863, married Horace Russell, father of Allen Russell of Nichols, N.Y.
May 4, 1906. Under this date is recorded that "a Sharper" came around delivering lectures and required those who were "taken in" to sign a contract for nine dollars. From the lecture only $2.85 was taken in. From lunch which was served before the lecture, $3.15. Amount given the lecturer $9.00.
In May the society at the request of the pastor gave $14 for missions and benevolences of the Presbyterian boards.
On Memorial Day Mrs. Nona Gray Rice gave an elocutionary entertainment which netted the society, with the ice cream supper proceeds, a total of nine dollars. Mrs. William Haney was hostess to a society dinner in June. Mrs. Davies, wife of the pastor, was presented three dollars to help in repairing the parsonage at Wysox. The church officers decided to place all papers and money of the church in the hands of the officers of the Ladies' Aid Society. The balance in the church treasury was $43.29. The Christian Endeavor Society gave again $2.75 for use of the lecture room for meetings. On July 18, 1905 the amount in the L.A. Society treasury was $89.92. Flowers were purchased for Amanda Rice Nov. 14. Mr. Davis was paid $34.30 from the annual donation.
In the year 1906 an order in favor of A.P. Young was paid for $8.10 for insurance on the church building. Mr. George Powers used the auditorium for some entertainments for which he paid $15. The mission boards were paid $14. Sylvester Robinson borrowed from the church one hundred dollars, from which an interest payment of four dollars was paid March 30.
Mrs. David M. Davies, wife of the pastor, was presented five dollars in April, 1907, in view of her plans to take another trip to Wales. The Christian Endeavor continued its practice of paying for the use of the church. This time the amount was $5.50, or at the rate of $11 per year. Mrs. Lizzie Powers were elected treasurer. Mrs. Bertha Knapp became a member. Mrs. Andrew Jackson Whitney was hostess to the society in August. On September 4, 1907 the opening in the fence back of the Rome Presbyterian Church was closed for twenty-four hours to retain legal rights. This was also done Nov. 6, 1927. The ladies joined with the Methodist Aid Society in November and served dinner to a farmers' institute, attended by enough people to bring dinner receipts of $24.20.
Mrs. A. P. Young (neé Melita Mann) died Jan. 23, 1908, and the society provided flowers in memory of her.
Mrs. Emily V. Rice was elected president for the year, and Miss Caroline Lent vice-president. A tin extension cap was put on the church chimney by Mr. Arthur Yaeger at a cost of $2.50. New members included Mrs. William J. Haney, the Misses Bertina and Paulina Haney. Bertina married David Scott Rice, and lives in Rome. Paulina married Leslie J. Orr of Binghamton, N.Y. Mrs. Haney, before her marriage in 1885, was Mollie Mitten, born Nov. 19, 1848, daughter of James and Eliza J. (Crawford) Mitten, natives of Ireland, pioneer settlers of Herrick township. She died at the home of her daughter, Bertina, Jan. 11, 1936, and burial was at Camptown, Pa.
The church or society had some money on deposit, for under date of July 23, 1908 is the entry, "Received from Sayre Bank the interest on $60 for 6 months @ 3%, $.90." There was no bank in Rome at that time.
The Rev. S. I. Davis delivered a lecture at the church Nov. 27, 1908, receipts of $3 from which were given the society. The year closed with $137.31 in the treasury.
In 1909 no dinner meeting was held in February because of a fire which destroyed the drug store of Dr. William Rice.
The officers of the Ladies Aid Society elected for this year were president, Mrs. F. M. Hicks; vice-president, Mrs. Stellie Sickles; secretary, Mrs. Bessie Goff; treasurer, Mrs. Lizzie Powers. In May a piano was purchased for $40, the pastor, Rev. Mr. Davies, was given $4 as a birthday present Nov. 15. On April 15, 1910 Mr. George Robinson paid four dollars interest due on a note of $100. The treasurer received $15 from Chester A. Lewis for the use of the auditorium for an entertainment.
Resolutions for Oscar F. Young
The minister, Rev. D.M. Davies, and elders Allen P. Young and J. A. Allen met at the church April 18, 1909 and adopted this resolution:
"Whereas Elder Oscar F. young has been called away from his labors here to his reward yonder, Therefore be it Resolved, that we set on record our appreciation of his services to the town in general and to the church in particular—by acting as ruling elder for many years; by attending meetings of Presbytery, Synod and General Assembly.
Also, Whereas a vacancy has been caused by the death of Elder O.F. Young, it was moved, seconded and carried that A. P. Young be requested to act as clerk of session."
The annual report to presbytery showed 27 members, 3 elders, and $12 for missions and benevolences, $200 for congregational expenses. Services were held every Sunday afternoon at 2 o'clock, and a union Christian Endeavor Society met at 7:30 p.m. Sundays. Elder J. A. Allen was appointed to represent the church at presbytery at Kingston, Pa.
John A. Allen lived where Robert R. Cook now lives, near Gillet Bridge. He was the brother of Stephen O. Allen, Dayton, J. B. and other children of Joseph and Clarissa (White) Allen. John A. Allen served in Company I, 141 Rgt. P.V.I. He married, 1886, Helen I. Brown, and had two daughters who grew to adulthood: Mertie E. (first wife of D. W. Cowles), and Lizzie W. (Mrs. John Eddy). John's brother, Stephen O. Allen, lived also near Gillet Bridge, in a house just across from the Wysox Creek road, on property now owned by Robert R. Cook. Fear of rising flood waters from the creek led him to sell his property and move to Rome, where he bought and lived in the house now occupied by Mr. Wurt Brown.
In the year 1910, according to minutes of the session (volume II), Miss Clara Snyder joined the church by profession of faith and baptism, and also the Misses Bessie and Georgie Quigley (the last two baptized Sept. 25, 1910), daughters of Henry Quigley. Mrs. Emily V. Rice, wife of Dr. William Rice, mother of Mary W., Davis S., William, and Dr. Fred Rice, was received by letter from the Myersburg Methodist Episcopal Church. Letters were granted to Mr. and Mrs. Thomas W. Whitney to Marksboro, New Jersey, and to Miss Ina Smith to the Presbyterian Church of Sayre, Pa. Mrs. Lucille Sickler was dismissed to Brick Church, Lake City Michigan, Feb. 1, 1911. Messrs. William Haney and F. M. Rifenburgh were elected and ordained elders Sept. 25th. Rev. Mr. Davies accepted work in the state of Wyoming in the autumn of 1910, and on Feb. 5, 1911, the Rev. F. Von Krug moderated a congregational meeting at which Rev. F. V. Frisbie was called as supply minister for one year with one month's vacation, and F. M. Rifenburgh was elected clerk of the session. Mr. Rifenburgh served until 1918.
On September 25, 1910 Bessie and Georgie Quigley were baptized by Rev. D. Davies, before his departure for Wyoming. Their father Henry (Hank) Quigley is reported to have observed, "There is one crop that never fails—that's fools!"
---
CHAPTER IX

CHRISTIAN ENDEAVOR SOCIETY
1891-1916

A goodly number of young people met Feb. 15, 1891 at the Rome Baptist Church in a meeting led by Leandor W. Maynard. Thirty were found to be ready to be organized as active members of a Union Young People's Society of Christian Endeavor. A number of young people from Sayre and other points were present for encouraging the organization. E. D. Bronson of LeRaysville and Henry G. Newell of Orwell were present. They were active county workers. After a devotional service the following officers were elected and committees appointed.

President, A. M. Beebe; vice-president, Jessie Norton; recording secretary, Mollie Rice; corresponding secretary, May hicks, sister of George; treasurer, Olivia E. Maynard.

Lookout Committee: Olivia E. Maynard, Jessie Norton (married C. T. Chubbuck), Dorrance Allen.

Prayer-meeting Committee: Mabel Smith, (Mrs. L. G. Marshall, Towanda), Leander Maynard, A. Smith.

Social Committee: Rev. F. E. Bessey, Thomas W. Whitney, W. D. Browning, Mrs. Peter Mackey.

Music Committee: Flossie McGovern (Mrs. E. D. Means), Cora Hiney (later went to Tunkhannock), Mabel Smith.

Constitution and By-Laws: Rev. F. E. Bessey.

A week later the society met a 7 p.m. in the Presbyterian Church, adopted the model constitution with the exception of Article III, Section 5 (which requires signatures of affiliated members pledging to the constitution), Article IV, Section 2 (requiring certain committees); agreed on six as sufficient for a quorum, and appointed the Methodist Church for the place of meeting the following Sunday. John B. Eddy led that meeting at which prayer was offered by Rev. j. B. Davis (Methodist minister) and A. Smith.

On March 11, Miss Viola Lent and Mrs. Eliza Clark were appointed to fill a vacancy on the prayer-meeting committee. Miss Viola Lent, sister of Mrs. Rhoda Barnes, married Mr. Timothy Drake of Athens. At the next week's meeting May Hicks, Miss Celia Carter, Mrs. Eliza Clark, and Dora Brown (Mrs. Jacoby, Finesville, N.J.) were added to the music committee. Rev. Marcella E. Elliott led the meeting of March 22, when it was decided to join the Eastern Bradford union of societies.

The weekly meeting held April 12, at the Methodist Church was led by Miss Jessie Curran, with the subject, "Is my heart right with God?" At the roll call 12 members were found absent. Collection was $1.40.

Meetings were held at the churches in a regular order. New names added by May 17 included Mrs. Rebecca Frost, Mrs. Mary Lenox, Miss Celia Carter, Mr. Leonard Vought and his sister Bertha, Alice Ford (Mrs. L. C. Dimon), Maud Towner.
On the evening of June 7, Mr. Isaac Beebe (son of A.M. Beebe) of Chicago gave a talk on Lessons from the Life of Hezekiah. Rev. E.D. Hammond's name was proposed for active membership June 14; Miss Lizzie Goff, Della Mann, and Mrs. Ella McGovern for associate members, and Mr. L. W. Maynard as honorary.

A new and interesting feature of the society was the prayer-meetings of Friday evenings at the Baptist Church. May Hicks led the one of June 12, and A. M. Beebe that of June 19. his was soon merged with the Baptist meeting Thursday nights. The number of active members was then 32; associate, 19.

The names of J. M. Prince and Mrs. W. L. Moody, (now Mrs. Lizzie Watson) were proposed July 19. The time of meeting was changed from7 to 7:45 p.m. It was voted to appoint two leaders for each meeting that the meeting might not be without one if the first appointed should be absent, the second to take charge of the following meeting.

In August, the names of Bertha Vought and Ella Forbes were proposed for associate membership. "The Golden Rule" a periodical, provided pleasant selections for special music and readings. Miss Lizzie Allen (married John Eddy) led the meeting Sept. 6. John Martin Prince (known in Rome as "mart") told, Sept. 20, of religious exercises in the school he had attended for three years. The names of Minnie Wilmot (mother of Roe W. Russell) and Lettie Russell were proposed for membership. Lottie Russell married Harvey Evans from Neath and lives in Johnson City, New York. Mr. William Woodburn led the meeting Sept. 27. Dayton Allen led Oct. 11. Miss Jessie Curran served as secretary. She was a school teacher who married George Babcock of LeRaysville, since deceased. She is now active in W.C.T.U. work. Remarks were made by Rev. Mr. Bessey and Rev. Mr. Bois. Miss Mertie Allen (later Mrs. D. W. Cowels) led Oct. 18. Rev. E. D. Hammond (Baptist minister) offered prayer in the next week's meeting, led by Mrs. Eliza Clark of the Baptist Church, wife of Barney M. Clark. The Clarks reared May (Rifenburgh) A. Powers, wife
of George D. Powers. (She was a daughter of Charles Rifenburgh, a brother of Frank. Mrs. May Powers died in 1938. Mr. Powers married, second, Miss Belle Foote of Sayre, a native of Troy, Pa. They live at Athens, Pa.) Other leaders followed week by week: Miss Viola Lent, Miss Mary Lennox, Mrs. Hattie Browning. At a business meeting Dec. 16, 1891, Mrs. Augustus Smith, Miss Alice Ford, and Miss Grace Forbes (Mrs. Guy W. Abell) were elected to active membership and Mrs. Bessie Goff and Mrs. U. G. Russell (nee Minnie Wilmot) to associate.

For the second year which began in February, 1892, officers were elected: President, Mr. Leonard Vought; vice-president and corresponding secretary, Miss Mollie Rice; recording secretary, Miss Jessie Curran (Mrs. George Babcock); treasurer, Miss Jessie F. Norton. Mr. Leonard Vought later became Rev. L.L. Vought of the Wyoming Conference of the M.E. Church, now retired and living at Marathon, N.Y. He was at Orwell 1909 to 1913; Rome, 1914 to 1917; Greene, N.Y., 1918 to 1922; Marathon, 1923 to 1930; 1931, retired. Mr. and Mrs. Frank Van Loan became associate members. The names of Mr. A. Smith, Mr. A. M. Beebe, and Mrs. Peter Mackey were placed on the Honorary List of members.

Nearly all members were present at the March consecration meeting. Miss Bertha Vought and Miss Lizzie Goff (later Mrs. T. W. Whitney) became active members, and Jennie Stalker became an associate member, making a total of 28 active, and 26 associate members; also 4 honorary. Allen P. Young's name was added to the honorary list later. Resolutions of sympathy were adopted at the time of the death of a member, Mr. William Woodburn, and a wreath of flowers ordered. Leaders of meetings in April were Alice Ford (Mrs. Leslie Dimon), Cora Hiney, Lizzie Moody, Olivia Maynard. A collection of $3.00 was given "for the people of Russia" May 8, 1892. In June, Mrs. Ida Towner and Rev. and Mrs. P.H. Armstrong, who had a daughter named Lulu, were received as members. Mr. Armstrong was pastor of the M.E. Church. A new flower committee was appointed with two members from each of the three churches: Lizzie Goff and Lulu Armstrong from the Methodists; Celia Carter and Lizzie Allen from the Presbyterian; and May Clark and Maud Towner from the Baptist. Minnie study became an active member, and Mrs. Van Ness and Clara became associate members.

The prayer-meeting committee reported discouraging falling off in attendance at the Friday evening prayer-meetings, but the Sunday evening meetings continued, although some of the active members did not attend the consecration meetings to which they were pledged. The largest collection since organizing was made August 23, 1891--$1.26.

Mr. Beebe led the meeting of Sept. 12, 1892, in which the plan was adopted of giving out questions to be answered. Mr. P. H. Armstrong ably led a similar meeting the next week. The meetings continued to grow more interesting, Miss Flossie McGovern leading the next consecration meeting, at which Mr. Cass was a visitor. He probably was Anson B. Cass who lived in the house occupied now by Roe Russell. He and F. M. Rifenburgh had a creamery where Guy Cass's widow lives. Viola Lent led the meeting Nov. 20, 1892; topic "God's Pledges and Ours." Mertie Allen led the following Sunday, and Mollie Rice the next. Miss Jessie Curran led the meeting Dec. 10. The names of Minnie Hankinson, Bessie Woodburn (Mrs. Bert L. Goff), George Anderson, Lorence Moore (father of Edward), John Russell, C. N. Clark, May Merricle (married Eugene Vought and lives at or near Binghamton), and Celia Carter were added to the list of active members; and George Powers and Mattie Hankinson to the roll of associate members. Lorence Moore had a sister, his twin, who marked first Burton McCable, and second, John Keene, of Kenne Summitt. Preparations were made for a Christian Endeavor Convention to be held in Rome, and a committee was appointed to arrange an anniversary program: Mollie Rice, Jessie Curran, Ina Smith and Lizzie Goff (Mrs. Thomas Whitney).

The minutes are not at hand beyond January, 1892, but a complete list of the members is preserved. In addition to those already mentioned there are the following names on the list of active members:

Leta (Uleta) Maynard, daughter of Leandor and Cynthia (Wattles) Maynard; was dismissed Aug. 9, 1891, to Potterville, Pa. She married Dayton W. Allen.
Mrs. M.E. Taylor (Mary Hiney, married first Oliver Taylor).
Ina Smith (now of Sayre).
C. A. Spalding, dismissed May 22, 1891, with his wife.
George Mackey.
Rev. George H. Hatch, dismissed May 31, 1891, with his wife. He was the Baptist minister.
Willie Howell and Ezra Tripp, joined March 1, 1892. The latter lived where Emory Moore does now.
Mrs. Edison Rockwell (bought the old Presbyterian church and built a residence. Her maiden name was Anna Struble).
Rhoda M. Lent, married William S. Barnes, is mother of Elder P. M. Barnes.
Lizzie Smith, daughter of A. Smith, joined Dec. 10, 1893.
Mrs. Inez (Marsh) Brown and Miss Dora Brown, joined May 6, 1894. She was a sister of Guy Marsh, husband of Cora Barnes Marsh
Miss Lucy Kinney, went to Cortland, N.Y., 1903, joined May 6, 1894, (sister of W. S. Kinney).
Clarence T. Chubbuck, son of Tracy J. Chubbuck of Orwell, joined June 4, 1894, married Jessie Norton (daughter of George I.) Moved to Johnson City, N.Y.
George P. Spencer from Pond Hill, joined Nov. 4, 1894.
Mary L. Espey, became a member Feb. 3, 1895 (now Mrs. Felix Stehle of Towanda).
Dr. R. G. Rice (now at St. Paul, Minn), May 5, 1895.
Lona Conklin (Mrs. H.H. Coleman), May 5, 1895.
Della Bushnell (Mrs. W. J.), April 7, 1895.
Mr. and Mrs. C. B. Wilmot.
George D. Powers, Dec. 9, 1896. Mr. Powers later gave to Rome Bor9ought a substantial donation sufficient to provide a house for a fire department.
Wm. Rice, Jr. Dec. 10, 1896.
George Mackey.
Daisy Wilmot (sister of Claude, married Lester Ostrander, lives in Elmira).
Matie Hankinson lives in Susquehanna County, married a Mr. Crandall and lives at Uniondale.
Mrs. Eugene Howe, May 13, 1896 (now of Towanda).
Mrs. H. H. Coleman (first wife, sister of Mrs. E. A. Howe of Towanda, was Alice Atwood).
Mr. H.H. Coleman
D. W. Cowles, now of Orwell, then living near Gillet Bridge.
Rev. N.W. Barnes, pastor of the Methodist Church.
Mrs. N. W. Barnes, his wife (Getty Wells), and Miss Nellie Barnes (since a teacher in Binghamton, daughter of Rev. N. W. Barnes and his first wife, Lois Fuller).
Laura Miller, sister of Bert, lives at 62 Sullivan St., Wilkes-Barre, married Walter B. Newsbigle, who died March 17, 1934. Mrs. Newsbigle and two sons survive: Donald Miller, born Nov. 9, 1916; Robert Bruce, born Oct. 19, 1921.
Anna C. Campbell (now Mrs. Clarence Moore).
Ralph J. Campbell, and his wife, Mrs. Mary Forbes Campbell (daughter of John Forbes).
Nettie Sabine (Annette).
Mrs. Henry Forbes (Dec. 11, 1900), formerly Anna Hoose, now living in Athens, Pa.
John Joyce of Rome (married Sara Woodburn, daughter of John Laurence and Sarah Jones Woodburn).
Annie Morris (Anna Rolls, married Jesse Morris, stage driver to Nichols).
Mr. and Mrs. Thomas Vought (lived at the Ray Parkes place).
Emma Crawn (married and lives in Sayre).
C. N. Clark (brother of Reece).
Thos. W. Whitney (brother of Ruth, married Elizabeth Goff, died in 1919, with burial at Rome).
Mrs. Wm. H. Bennett (Ettie Parks).
Mrs. W. D. Browning (sister of Frank Allis of Wysox; lives in Johnson City, N.Y.).
Winnifred Owen (Mrs. Fred Parks, Athens, PA).
Miss Susie Wilmot (Mrs. William Christopher). Monda Quigley (Mrs. Fred Landon, Johnson City, N.Y.), Carl Stone.
Others listed as associate members:
Emma Beebe (Mrs. Abner Beebe).
Bernice Brown (now Mrs. Ed. Hinds, Towanda).
Ella McGovern.
James D. Kilmer (brother of Mrs. Hopler of Endicott, moved to Niagara Falls).
Emelia H. Russell (mother of Lottie).
Miss Lottie B. Russell (married Harvey Evans of Neath).
Mrs. L. Goff.
Percy L. Browning (brother of Phil.)
Jennie Stalker.
Georgie Anderson.
J. E. Layton.
Ralph A. Menzies (married Miss Libbie Bushnell, daughter of Ezra Bushnell, who lived south of Frank Bosworth. She now lives in New York State).
Walter Rodarmel (now of Binghamton).

Among the recollections of members of the Christian Endeavor Society is one of an earnest testimony often made by one of the older members: "I want to rise to a plane of higher rectitude."

The prayer-meeting committee had printed topic cards listing the officers, committees and leaders of the Sunday evening meetings which were appointed to begin at 7 o'clock. Rev. Fred V. Frisbie was the Presbyterian pastor, and Rev. William Watson was pastor of the Methodist Church.

The officers were Mrs. G. D. Powers, president; Cornelia Roach, vice-president; Mollie Rice, recording secretary; Georgia Study, treasurer; Bertha Buttles, (Mrs. Clarence Jakeway of Towanda) organist; Eunice Lewis, assistant organist.

The committees were as follows: Prayer-meeting, Mrs. H. J. Forbes, Mrs. C. B. Wilmot, Mrs. Wm. Rice, Ruth Buttles. Lookout, George Powers, Mrs. W. H. Bennett, Eunice Lewis, Bertina Haney, Nina Allis. Missionary, Mrs. Wm. Rice, Mrs. Geo. Powers, Mrs. W. D. Browning, Mrs. Floyd Dixon, Mrs. Frank Barnes. Entertainment, Georgia Study, Bertha Buttles, Winifred Vought, Floyd Dixon, Paulina Haney. Floral, Ruth Buttle, Francis Wilmot, Mabel Whalen.

The leaders in turn for Sunday evening meetings were as follows: Paulina Haney (Mrs. Leslie J. Orr, Binghamton), F. M. Rifenburgh, Mrs. G. D. Powers, Elizabeth Browning, Mollie rice, Bertina Haney, Mrs. Frank Barnes, Mrs. Wm. Rice, Georgia Study (wife of Dr. Frank Pogue), Floyd Dixon, Mrs. W. D. Browning, Mrs. Buttles, Cornelia Roach (moved to Buffalo, N.Y.), Etta (parks) Bennett (wife of wm. Bennett), Sumner Rifenburgh, Bertha Buttles (Mrs. C. E. Jakway), George Powers, Winifred Vought (Mrs. Paul Marshall, daughter of Eugene Vough, Townada, Pa), Ruth Buttles (Mrs. Harry Dimon), Eunice Lewis (Mrs. R. W. Russell), Nina Allis (now Mrs. C. B. Wilmot (deceased), H. H. Coleman (father of Mrs. Staley Clark), Mrs. Floyd Dixon (deceased), Rev. Wm Watson (deceased), Rev. Fred Frisbie (deceased).

Miss Mollie W. Rice for several years was in charge of the correspondence department of the Tri-County Christian Endeavor Union, which comprised Bradford, Sullivan and Tioga counties. Mrs. Georgia Piollet of Wysox served on the nominating committee at the State Christian Endeavor Convention held at Pittsburgh, Pa., in 1902, and nominated Miss Rice chairman of the Correspondence Department of the Pennsylvani8a Christian Endeavor Union. Upon her return to Wysox, Mrs. Piollet sent a card to Miss Rice saying, "If you want to hoe a bigger row, hoe well the one you are hoeing." In a few days she was notified of her election to the State Christian Endeavor office.

She served four years, 1902 to 1906, when she resigned to give her full attention to her studies while attending the Buffalo College of Pharmacy at Buffalo, N.Y. During the years she served Miss Rice attended the state conventions at Allentown and Scranton, and conducted conferences on her department work. She also published a monthly column in the "Pennsylvania Endeavorer," Harrisburg, Pa. The work of the correspondence department was to introduce members of various local societies throughout Pennsylvania, who removed to new locations, into new Christian Endeavor contacts with their nearest society. As a delegate from the Rome Society, Miss Rice also attended the International Christina Endeavor Convention at Atlantic City in 1911, when among the speakers were, Fanny Crosby, President William H. Taft, Booker T. Washington, Judge Ben T. Lindsey, and Dr. and Mrs. Francis E. Clark, founders of Christian Endeavor.

| | | |
| --- | --- | --- |
| Bradford County PA | Chemung County NY | Tioga County PA |

Published On Tri-Counties Site On 06 JUN 2004
By Joyce M. Tice
Email Joyce M. Tice

You are the visitor since the counter was installed on 06 JUNE 2004