Tri-Counties Genealogy & History by Joyce M. Tice
Tri-Counties Newspaper Clippings
| | | |
| --- | --- | --- |
| Bradford County PA | Chemung County NY | Tioga County PA |
Joyce's Search Tip - February 2010

Do You Know that you can search just the 700 pages of Clippings and Scrapbooks on the site by using the Clippings button in the Partitioned search engine on the Current What's New Page?
You'll also find obituary and other newspaper clippings using the three county-level Obits by Cemetery buttons. Additional clippings can be found in the Birth, Marriage, and some other partitions.
Tri County Clippings- Page Sixty Three
Submissions from Site Guests

---

ALLYN - Mr. Peleg P. Allyn, who has been in failing health for several months, died on Sunday evening, at his residence on Waverly street. The funeral was held from the Methodist Episcopal church on Wednesday afternoon, under the auspices of the Independent Order of Odd Fellows, Rev. Moore officiating. Mr. Allyn was highly respected, and leaves a wife, daughter and two sons, to mourn his loss. He was about sixty years of age. Waverly Free Press-Jan. 19, 1884-submitted by Stephanie Johnston

---

AMES, (WHEELER) Mrs. CHARLES M. WHEELER, 51, of Blossburg, died Friday, December 28, 1934. She is survived by her husband, a daughter, Madeline; a son, David; her father, David Ames, Covington; a brother, Herbert Ames, of Covington; four sisters, Mrs. Harold Sherman, Mansfield; Mrs. Harry Guy, Blossburg; Mrs. William Overton, Hornell; Mrs. C. L. Bowen, Endicott. The funeral was held Sunday at 2 p. m. at the late home. Burial in the Blossburg cemetery. (Barb Conrad)

---

BARBER, Edward - Mrs. Frank Fletcher received a card last week from Oklahoma, written by Mrs. Joseph Kendrick, saying her father, Edward Barber, died February 15, 1934, in Idabel, Okla., in the home of his son, Wilbur Barber, from a stroke. He was aged about 84 years. Mr. Barber was formerly of this place, living on the farm now owned by Roy Lee. He and his wife were great workers in the Methodist Church and he was choir leader for years and will be remembered by many. He was the son of the late Alonzo and Phila Barber and went from here some 35 years ago, taking up government claims. His daughter, Francis (Mrs. Joseph Kendrick) lives in West Lawe, La., and his elder son, Charles, resides in Olkahoma. (Barb Conrad)

---

BARNUM - Warren Barnum, formerly of Barton, died in Elmira, last week Friday. He was a brother of Eli Barnum of North Barton. Waverly Free Press-Feb. 23, 1884-submitted by Stephanie Johnston.

---

BISHOP - Died-on the 18th inst., Wells, only son of Esquire J.W. Bishop. A bright boy of six summers, died very suddenly of pneumonia. The funeral services were held from the family residence on Sunday the 20th. Rev. W.B. Morrow, officiating. The family have the sympathy of the entire community in their bereavement. Sayre, Pa. July 24, 1885-Scribe. Mr. and Mrs. J.W. Bishop, of Sayre, mourn the loss of their son, Wells, a bright boy of six years. He died at the house of his grandfather, Dr. Wells, in Meshoppen, last Saturday morning, of pneumonia, after an illness of only forty-eight hours. Mrs. Bishop was in Eaglesmere, Sullivan county, at the time, and could not reach her child until after he was dead. The father arrived there a few hours before. The remains were interred at Sayre on Sunday afternoon. Little Wells was an only son, the pride and delight of his parents. His death is a crushing blow, and the sympathy of many friends goes out to the parents in their bereavement. Towanda Journal-reprinted in Waverly Free Press-July 26, 1884-submitted by Stephanie Johnston.

---

BORDEN, George. Rev. N. A. Pritchard of the Baptist Church conducted the funeral service for George Borden at that church on Thursday afternoon of last week. The burial was in Highland Cemetery. The pall bearers, members of the Hamilton fire company, of which Mr. Borden had been a charter member, were John Bryan, L. M. Baird, C. A. Ralston, Wayne McCubbin, Crawford Snider and Homer Bratcher, who were accompanied by Fire Chief John Rauber. Mr. Pritchard read the following: George Borden was born March 9, 1858, in Tioke [Tioga] County, Pennsylvania, and departed this life Dec. 31, 1935, at his home in Hamilton, Mo., at the age of 77 years, 9 months and 22 days. He came to Missouri when he was 8 years old and had resided here since. He was united in marriage to Miss Josephine Streeter October 30, 1880, and to this union was born one son who died in infancy. Mr. Borden was converted and united with the Baptist Church while a young man. He was a good citizen and husband and was loved by all who knew him. He was the oldest child of a family of thirteen children, eleven of them having preceded him. He leaves to mourn his passing his wife, Mrs. Josephine Borden of Hamilton; a half-sister, Mrs. Rilla Honeyman of Colorado Springs, Col., and a number of nieces and nephews and a host of friends. (Hamilton Advocate) Submitted by Jayne Borden jayne@scs.unr.edu

---

Ira L. BRISCO, of Horseheads RFD 2. The body is in Mathews & VanBuskirk funeral home, Horseheads, where funeral service will be held Monday at 2 p. m. The Rev. Frederick Maunder will officiate. Woodlawn Cemetery, Elmira. Mr. Brisco was a member of Southern Tier Lodge, IOOF; Canton Queen City; Chemung Encampment and Golden Link Rebekah Lodge, all of Elmira. [Ira L. Brisco, son of Henry A.and Elizabeth Brisco, husband of Della Rebecca OWEN died Feb. 19, 1937.] 1891. Submitted by Sharron Vossoughi

---

Charles BROWN In June 1837 there came from New Milford, Litchfield Co., Conn., to this section, Russell BROWN with his wife and five children (three girls and two boys,) Chloe, Charles, Van Rensselaer, Sally, Samantha. The second child and oldest son Charles. he was born in New Milford, Conn., June 7th, 1818, and he died at home in the town of Veteran, Chemung Co., NY May 24th, 1891 aged 72 years, 11 months and 17 days. He is survived by his wife, brother Van Rensselaer, and sister Chloe (now Mrs. Hine) of this town, the other sisters died several years ago. June 24th 1844 he was married to Roxana BRISCO. Two children, Jay H. and Charlotte F. were born to them. Charlotte died in infancy and Jay died November 3rd, 1864 in Nashville, Tenn. The farm upon which he always lived was a portion of the old homestead, purchased by the family 54 years ago, and upon which he settled after his marriage. By hard, industrious labor, against great difficulties at times by good management and strict and upright dealing with his fellow men, by continually saving a portion of his earnings, he was able to leave a comfortable home and means sufficient for the comfort of his wife in her declining years. He was a life long Democrat, but not a politican, yet he had the honor of representing his town as Supervisor for one term, 1875-1876. From infancy to old age he was always afflicted with some form of disease. He seldom ever saw a well day, yet he bore his ailments patiently until the end. During the evening of September 20, 1889, he and his wife wwere attacked by robbers who gained admittance by rapping, and were nearly killed. His death was a direct result of this assault. His funeral was largely attended, the burial being from his home Wednesday morning, May 27th. The burial service of the Episcopal Church of which he was a communicant, was said at the house by the Rev. thoms Duck of St. Marks Church, Millport, NY and that of the Masonic Fraternity was used at the grave. The interment was in the Highland Cemetery, Town of Montour. Havana Free Press Thursday June 11, 1891. Submitted by Sharron Vossoughi

---

Patrick CAREY of Apalachin best known and highly esteemed citizen died Tuesday May 26, 1903 after an illness of four weeks. He was always a friend in trouble having a kind and pleasant smile for everyone and during his last illness. His friends were ever by his bedside to assist and befriend the sorrowing family. The deceased was born in County Clare, Ireland in 1845 and came to America at the age of 6 years and spent the remainder of his life in Apalachin township. Mr. Carey is survived by his wife and seven children, John of Seneca, Thomas of Elmira, Joseph of Buffalo, Elizabeth, Anna, Charles and Mary Ellen of Apalachin and five sons who await his coming and five grandchildren. Also three sisterss; Mrs. Mary Griffin of Minneapolis Minn., Mrs. Patrick Smith, Mrs. Jas. Smith of Kattelville, NY. The funeral was held from his late home Thursday morning and later from St. Thomas Church Little Meadows and he whose death brought tears to many eyes were laid to rest by the side of his three sons whom death took only four years ago. The bearers were John Condon, Daniel Murphy, Andrew Minehan, Richard Foran, Matthew Griffin and John Goff. Sharron Vossoughi <Rsvossoughi@worldnet.att.net>

---

COE, F. W., Blossburg - Floyd W. Coe, 60, retired banker, died Friday morning at Blossburg Hospital, following several years of ill health. Mr. Cole was born in Geneva, N. Y., where he attended the public schools and later graduated from the Rochester College in 1902. He came to Blossburg as assistant cashier of the Miners National Bank. Shortly afterward he was made cashier, which position he held until the closing of the bank in 1929. He was a member of the Tioga Presbyterian Church, but since coming to Blossburg had been an attendant of the local Methodist church and was prominent in its activities. For twenty-five years he was a member of the Blossburg school board. Mr. Coe was prominent in Republican politics and in 1928 served as State Committeeman from Tioga county. He was a member of Bloss Lodge F. & A. M. His wife, the former ALTA GREEN, of Tioga, is his only surviver. The funeral was held Monday afternoon at the family home on North Williamson Road, the Rev. Owen Barrett, pastor of the M. E. church officiating; burial in the Tioga cemetery. (Barb Conrad)

---

On the 27th of Feb., in Charleston, MR. ALEXANDER CUMMINGS in the 55th year of his age. Mr. C. came to this part of the country eight years ago as a miller, in which branch of industry he had few equals. His life-long devotion to this calling had seriously affected his health, and the last few years of his life were rendered extremely painful with the asthma. For many years he had been a member of the Presbyterian Church, and adorned his profession by a well ordered life. He was an Africa- American, whom all his acquaintenaces loved to respect. Modest, retired, intelligent, respectful to all men, a gentleman and a christian. His life at home and abroad is believed to have furnished a safe example for his mourning family, to whom he was so tenderly attached; for his race, and for all mankind to follow. It furnishes also a happy illustration of the power of merit to overcome, in a maesure at least, the prejudice against color, which exists in society. We feel assured that this brief tribute of respect will meet the approbation of all who knew him, for many say "it is true, and even much more might be deservedly said." "Other foundation can no man lay than is laid which is Jesus Christ," was the basis of all his hopes and consulation. Wellsboro Newspaper- March 5, 1857 submitted by Kelly WILCOX Kimball

---

CUYLER-On Monday, March 5, 1884 at 361 West 58th street, New York. Miss Margaret Emily Cuyler, only daughter of the late Cornelius Cuyler, of Aurora, N.Y. Miss Cuyler had resided near this village with her mother for many years, and was highly esteemed by all for her many virtues and Christian traits of character. She will be missed and deeply mourned by a large circle of relatives and intimate friends whose sympathies go out to her aged mother in her sad affliction, who is now left alone in her declining years. Waverly Free Press-Mar. 8, 1884-submitted by Stephanie Johnston

---

DAVIS - John Davis, whose serious illness we recorded a few weeks ago, died at his home on Erie street, at 7:30 Sunday morning, from cancer, aged eighty-eight years. He was a member of the Masonic and Odd Fellows societies of this village, and was kindly cared for by them during his last illness. His funeral was held on Tuesday, under the auspices of the Odd Fellows. Waverly Free Press-July 25, 1885-submitted by Stephanie Johnston

---

DUNN - Peter Dunn, who resided about two miles north of Chemung village, and was one of the oldest and muost respected residents of that town, died on Thursday of last week, aged ninety-one years. He was the grand-father of Peter Kinney of this village. Waverly Free Press-July 25, 1885-submitted by Stephanie Johnston.

---

In Shippen, on the 25th of Feb., DAVID ELLIS, Esq., in the 60th year of his age. This announcement will be read with surprise by quite a large class of citizens in Tioga county. But few men were better known, especially in the section of the county where he lived. He came to Pine Creek in 1811, and has consequently resided there forty-six years. A large family have grown up around him, some of whom have gone out to establish homes for themselves and children. These with his bereaved wife, to whom "wearisome days and nights have been appointed " for years, on account of the dislocation of a wrist, are left to mourn the loss of a good husband and father. Alone, sad and silent for days and years will be the walk to that world where he has gone. He was the centre of much social cheer. His house was the home of the stranger, and the nucleus of much cordial hospitality. For thirty three years he has been a member of the Baptist Church. To a large circle of mourning friends, to a still larger circle of friendly acquaintances, and to the little church where he was wont to worship, his death will be very sensibly felt. "He will return no more to his house, neither shall his place know him any more." Wellsboro Newspaper- March 5, 1857 submitted by Kelly WILCOX Kimball

---

Wellsboro Newspaper- March 5, 1857 submitted by Kelly WILCOX Kimball

DIED In Delmar, on Sunday, March 1, MR. JAMES ENGLISH, aged 57 years.
---
FITZSIMMENS - Davis Fitzsimmens, of the town of Southport, Chemung county, a highly respected and wealthy farmer, died at his home on Thursday, Feb. 21, 1884, aged 78 years, 9 months and 13 days. The funeral will be held at 2 p.m. Saturday. Waverly Free Press-Feb. 23, 1884-submitted by Stephanie Johnston.
---
FADDEN - John Fadden, of South Waverly, a gentleman, ninety-five years old, and a pensioner of the War of 1812, died on Monday at the residence of J.J. Whitehead. The funeral occurred on Wednesday at 2 p.m., at his late residence. Waverly Free Press- June 20, 1885-submitted by Stephanie Johnston.
---
DEATH OF W.L. GALLOWAY. The grim messenger, death, has again visited our fair village and this time took from our midst one of our oldest and most highly-esteemed citizens. On Saturday morning last the news was rapidly circulated that W. L. Galloway had died very suddenly the night before. He had been complaining for a number of days of not feeling well, but was not considered dangerously ill. He retired early on Friday evening, and about twelve o'clock his daughter, Mrs. John E. Lewis, with whom he had lived since the death of his wife, about two years ago, hearing a strange noise in his room, went to ascertain the cause, when she was surprised to find him dead. The immediate cause of his death is thought to have been paralysis of the heart. Mr. Galloway was a pioneer resident of this village, having resided here for upwards of forty years. He was highly respected by all, and was one of the oldest Masons in this vicinity, being a charter member of Waverly Lodge, No. 407. He was also a member of Cayuta Chapter No. 245, of this village, and of St. Omer's Commandery of Elmira. He was a very active mason, and took great interest in all matters pertaining to the good of the order. He leaves four children, two sons and two daughters, viz: S.B. Galloway, of Greene, N.Y., Mrs. Wm.. Piatt, of Bath, N.Y., and E.M. Galloway and Mrs. John E. Lewis, of this village. The funeral was held from the Baptist church at 10 a.m., Tuesday, under the auspices of Waverly Lodge. No. 407. Rev. D.H. Cooper preached the funeral sermon and Dr. James Byron Murray, Grand Chaplain of the Grand Chapter of the State of New York, conducted the Masonic services, which were very interesting and impressive. The pall bearers were Geo. B. Morgan, R.D. VanDuzer, J.M. Buley, John L. Faulkner, Henry N. Gridley and Henry T. Lain. Waverly Free Press-Dec. 26, 1885-Submitted by Stephanie Johnston
---
GEROW, Laura B. (HERRMANN) - Our community was saddened to learn of the death Sunday evening, December 25, 1932, at 7:40 o'clock, of Mrs. Laura B. Gerow Herrmann, who had only been ill since the 17th when she had a bad heart attack. She grew better, but on Friday suffered a stroke that paralyzed one entire side, and throat, and she failed rapidly. She was born in East Charleston in 1872, October 28, the daughter of the late Bailey and Mary Gerow. October 11, 1894, she married JOHN HERRMANN, and they have always resided here, with the exception of three years in Roulette. She was a member of the Baptist church and an active worker and will be greatly missed by her relatives and friends. Besides her husband she is survived by one sister, Lena, Mrs. Stephen Kuhn, of Shinglehouse. The funeral was held Wednesday afternoon at 2 o'clock from the Baptist Church, Rev. Thomas Sherwood, her pastor, officiating, and interment was made in the Riverside Cemetery. (Barb Conrad)
---
I found this in the Aug. 13, 1869 issue of the Elmira paper and thought the people working on the Gore family might enjoy it.

"Adolph Gore,son of O. Gore, Esq. of Sheshequin, Pa. started to go into the field for his cows the other evening and discovering a dog a short distance in front of him thought he would creep along by the fence until he came near enough to frighten him; but as he was creeping cautiously along on his hands and feet a large grey eagle supposing him to be some quadruped, pounced down upon him and flew away with the back of his shirt. The lad was badly scared, but received no injury save a slight scratch on the back" Hope someone could use this. Sherry Nichols
---
HART, Sarah Ann (BUTTERS) Mrs. Sarah Ann Butters, aged 86, died at her home above town Friday, August 14, 1936. Because of old age her health had not been good the past two years. Her parents were the late Henry and Mary Anne Hart, and she was born in Hartsville July 28, 1850, and married FRANK BUTTERS, who died several years ago. They lived in Arnot and Hartsville, and moved to this place about 25 years ago. She is survived by nine children: Mrs. Vergie Thomas, Mrs. Ella Brewster, of Covington; Mrs. John Black, Elmira; Mrs. Elsie Besanceney, Blossburg; Frank Butters, at home; Ross Butters, Blossburg; Mrs. Wayne Lewis, Middlebury; Mrs. Reginald Newman and Mrs. Charles Thomas, Wellsboro; sixteen grandchildren and twenty-seven great-grandchildren. A prayer service was held Sunday at the home of a daughter, Mrs. Besanceney, in Blossburg, at 1:30 p. m. with funeral services at the Hart Church, near Liberty, at 2 p. m. The Rev. D. J. Griffiths officiated. Burial in the Hart cemetery. Mr. and Mrs. Lee Cleveland and Mrs. Harry Hancher were among those attending the funeral. (Barb Conrad)
---
(Hesser) Mrs. Abram Hesser, Fulton street, who had been sick a short time, died Sunday evening. She was a lady highly respected, and endowed with fine talents. She was born in Reading, Pa., Dec. 20, 1847. She leaves a husband and five children, the youngest and infant, to mourn her loss. The funeral took place from the residence Wednesday afternoon, Rev. J.L. Taylor officiating. Waverly Free Press-March 20, 1884-submitted by Stephanie Johnston
---
HUBERT - Horace Hubbert, one of the oldest and most prominent citizens of Waverly, died at the home of his daughter, Mrs. W.H. Corey, on Lincoln street, about three o'clock Tuesday afternoon. Mr. Hubbert was born May 2nd, 1802. He was among the earliest settlers of the village of Waverly, and held office of justice of the peace for a great many years. He was known far and wide as "Squire" Hubbert. He was a man of good judgment and acknowledged ability. A few years since he became totally blind, and has since made his home among his children of whom there are five, four daughters and one son, all married. He was a member of the masonic fraternity and was insured for 2,000 in the Southern Tier Masonic Relief Association. The funeral will take place from the residence of W.H. Corey, Lincoln street, at 2 o'clock Thursday afternoon. Mr. Hubbert was a firm believer in spiritualism. Lyman C. Howe, of Fredonia, will deliver the funeral discourse. Waverly Free Press-Jan. 19, 1884-submitted by Stephanie Johnston.
---
---
INGALLS, Alvin Harrison (1927 is penciled in) Alvin Harrison Ingalls, who died at his home in Covington last Tuesday was born at Williamson, Otsego county, N. Y., on September 11, 1840, where he lived until his parents moved to this county. At the age of 21 he enlisted on August 24, 1861, at Lincoln's call for troops, and continued a soldier in the War of the Rebellion until October 8, 1864, when he was discharged at Philadelphia. His horse was shot from under him during a skirmish, and he was taken prisoner. Being wounded he was placed in the hospital at Petersburg for some time and after recovering he was taken to Richmond and placed in Libby Prison. After being released from prison he was sent to Annapolis, Maryland, later to Philadelphia, where he received his discharge. He was in several engagements during the war, but his family were unable to give us the names of the battles in which he took part. On March 10, 1886, Mr. Ingalls was married to Miss MEHETTABLE MANTOR GILE, who resided with her parents on the farm at Canoe Camp, now owned and occupied by Jesse Inscho. They started housekeeping on the place west of Canoe Camp known as the Bodine farm, now owned by Ray Woodard. They lived there for two years, when Mr. Ingalls bought the Elk Run farm where he resided so long. He built their first dwelling on this farm, and you can take it from us, there were no polished floors, bay-windows for flowers, nor mahogany stair-rails. Their furniture also did not consist of a rosewood piano and a $300 parlor set. Rather of wooden-bottom chairs, pine tables, etc. They were both full of pep and hard days' work, however, and in time made that Elk Run farm "blossom as the rose." Mr. and Mrs. Ingalls are parents of two girls, Mrs. Hugh Davie and Mrs. V. A. Whittaker, both residing near Covington. They are both graduates of the Mansfield College. They are accomplished women and prominent in church work, as is also their mother. Mr. Ingalls was converted many years ago at a revival held in the North Elk Run school house, and afterwards joined the Church of Christ at Covington. The funeral of Mr. Ingalls was held Thursday afternoon in the Church of Christ at Covington, the pastor, Rev. H. L. Maltman, officiating, assisted by Rev. M. S. Blair, of Wellsboro, a former pastor. The burial was in Mansfield. A delegation from the Austin-Cox Legion of Mansfield, attended, and had charge of the services at the grave. Mr. Ingalls leaves, besides his widow, children and grandchildren, two sisters, Mrs. Lewis McL---, resides in Indiana, and Mrs. Helen Elliott, in Kansas; two brothers, Joshua and Electrus Ingalls, both of Covington. Those from out of town who were present at the funeral were Mr. and Mrs. James Kelley and son, Edgar, Ray Ingalls and daughter, Eunice, of Elmira; Mr. and Mrs. Harper Merchreau, of Sayre; Ira Williams and daughter, Mrs. McNeal, and granddaughter, of Canton; Charles Austin, Hiram Bellinger, Chester Fenton, of Wellsboro, old comrades who enlisted with him in 1861. Mr. Ingalls' captain was Hon. B. B. Mitchell, late of Troy, who represented Bradford county in the Pennsylvania State Legislature at one time. When Mr. Ingalls was sent to Libby Prison he weighed 150 pounds and when released he just balanced the scales at 90 pounds. Mr. Ingalls was a kind and loving husband and father; as a neighbor, he was accommodating; as a business man, he was energetic, public spirited and honest. (Barb Conrad)
---
JOHNSON, Ellen. Mrs. Ellen Johnson Borden was born in Ireland January 12, 1839. She died at her home four miles north of Hamilton, Mo., July 3, 1899, aged 60 years, 5 months and 21 days. Mrs. Borden, when 3 years old, was brought to this country by her parents. They settled in Tioga county, Penn., where she was raised. In 1856 she was married to Mr. Franklin Borden of Tioga county. They continued to make this county their home until 1869, when they removed, with their family, to Caldwell county, Mo., where they have made their home in Caldwell and Daviess counties every since. To this union were born ten children, five boys and five girls. Six are living, three boys and three girls, to mourn the loss of a patient, loving and devoted mother. Mrs. Borden has suffered much for several years; for the past few weeks her sufferings have been intense. This she bore patiently and without a murmur. Mrs. Borden was a constant reader of her Bible and a lover of the sweet sayings of Zion. The funeral services were conducted at her late home by the writer and all that was mortal of Mrs. Borden was tenderly laid to rest in the Bowman cemetery to await the resurrection day. W. H. O. The bereaved children and relatives desire to extend thanks to all who sokindly rendered aid during the brief illness and death of mother and friend. (Hamilton Advocate) ) Submitted by Jayne Borden jayne@scs.unr.edu
---
KELL, George - A telegram came Sunday stating that George Kell had died Saturday, August 15, 1936, in Muncy, Indiana. George was adopted by the late Mrs. JEULIA HERRMANN when eight years old, and attended school and grew to manhood here. He followed the glass trade. He was 62 years old and went to Muncy about thirty-five year ago. He was a kindhearted, likeable boy and well remembered by many. (Barb Conrad)
---
(Knapp) Mrs. D. Knapp died at the home of her son, D.D. Knapp, on Waverly street on Saturday of last week, at the age of seventy-four years. The deceased has been troubled with paralysis during the past two years, and had the final stroke a week before her death. The funeral took place from Mr. Knapp's residence on Sunday evening at six o'clock. By request, her remains were taken to her native home, in Burlington, Pa., for interment. Waverly Free Press-June 20, 1885-submitted by Stephanie Johnston
---
LOGAN, Robert E. - Death of Robert E. Logan - Resident of Blossburg (April 1926 is penciled in) The death of Robert E. Logan occurred at the family home in Blossburg on Friday night, following a paralyic seizure. He had been in ill health for several months previous to his final sickness. The funeral was held on Tuesday afternoon at 2 o'clock, Rev. J. W. Faust, rector of the M. E. church of Blossburg officiating, and Rev. T. M. Hurst, pastor of the Presbyterian church at Arnot, of which deceased was member officiating; interment was made in Arbon cemetery, Blossburg. Mr. Logan was born in Arnot 52 years ago, the eldest son of Mr. and Mrs. William R. Logan. At the age of 14 years he began work in the Bloss Coal Company mines at Arnot, advancing to the position of superintendent, which distinction he held until he removed with his family to Blossburg two years ago. A year ago he became one of a company which opened a clothes pin factory in Blossburg and he was engaged in that business to the present time. He was a member of the Masonic Lodge of Blossburg, and of the Knights Templar, of Wellsboro, who attended the funeral as a body. The deceased is survived by his widow; two daughters, Elizabeth and Margaret; one son, Robert, Jr., also his father, William R. Logan, all of Blossburg, and one brother, Leroy Logan, of Bufalo. (Barb Conrad)
---
LONG, George M. - George M. Long, aged 47, died suddenly Friday evening at his home at Buttonwood. Surviving are his two brothers, Joseph, of Liberty, and William L., of Jersey Shore. Mr. Long was a member of the IOOF and of the Liberty Lutheran church. Funeral services were held Monday, Rev. Dorr Stock officiating; burial in Friedens cemetery. (Barb Conrad)
---
(Mackney) - Mrs. Mary M. Mackney, who formerly resided on Clark street, this village, died at the residence of M. Seeley, 209 Mt. Zoar street, Elmira, N.Y., on Tuesday, August 26, 1884, aged fifty-one years. The funeral was held on Wednesday. The interment was at Troy, Pa. Waverly Free Press-Aug. 30,1884-submitted by Stephanie Johnston
---
(McDuffee) - Athens, Pa., March 14-Charles McDuffee, of Athens, died this morning at 2 o'clock, aged about 85 years. He was the last of the McDuffee family who settled on the land, occupied by him so long, when the country was a howling wilderness. Exceedingly genial and hospitable, with retentive brain and memory, he could relate incidents of early days in a pleasing manner. Mrs. Emily McDuffee, his good wife, died but six weeks before her husband. Correspondent Elmira Advertiser reprinted in Waverly Free Press- March 20, 1884-submitted by Stephanie Johnston
---
MILLER, Nathan C. - Tioga- Nathan C. Miller died suddenly last Thursday at the home of his son, Vernon S. Miller, following a heart attack. Mr. Miller was born in Wayland, N. Y., May 2, 1861. He was engaged in farming in that vicinity and later moved to Elmira where he resided for many years, and then came to Tioga to live with his son. He was a member of the M. E. church, of Chemung. Survivors include his widow, Mrs. EDITH MILLER, of Elmira; a daughter, Mrs. Thomas Porter, of Endicott; Mrs. Loren Ellis, Arkport, N. Y.; Miss Dency Miller, of Elmira; and two sons, Vernon Miller, of Tioga, and Earl Miller, of Elmira. (Barb Conrad)
---
MILLSPAUGH-Mrs. John Arnold died at her home on Fulton street, on Friday evening of last week, from quick consumption. She had been failing rapidly for some time. Her maiden name was Antonette Millspaugh. She was highly esteemed by a large circle of friends. She leaves a husband, one daughter, and one son. The funeral was held from the residence on Tuesday afternoon, and was largely attended. Waverly Free Press-March 20, 1884-submitted by Stephanie Johnston
---
NICHOLS/NICHOLAS, Dolores - Round Top Girl Killed in Automobile Accident Dolores Nicholas, 16, daughter of Mr. and Mrs. Ivan Nichols, of Round Top, was killed in a collision of a truck and an automobile at McKees Half Falls, near Selinsgrove on the Susquehanna Trail, about 9 o'clock Monday morning. The girl was accompanying Mr. and Mrs. A. P. Wagner and daughter, Helene, of Wellsboro R. D. to the Farm Show at Harrisburg. The Wagner car crashed against a pole after hitting the truck. Miss Nichols is survived by her parents and four brothers, William, Donald, Jack and Kenneth at home. (Barb Conrad)
---
DEATH OF HARRY E. PACKER. Judge Harry E. Packer, president of the Lehigh Valley railroad company, died at his home in Mauch Chunk, on Friday morning at 2:10. He had been in decling health for some time. The cause of his death was from disease of the liver. Waverly Free Press-Feb. 2, 1884-Submitted by Stephanie Johnston
---
RIDGE, Mary Amelia (ELLIOTT) - Monday the family accompanied the body of Mrs. Mary Amelia Elliott here, and the funeral was held Tuesday aternoon at 2:30 from the home of Mrs. Anna Ridge. Rev. H. L. Maltman of the Church of Christ officiated and interment was in the Elliott Cemetery at Cherry Flats. Mrs. Elliott had been ill for over a year, from a stroke and all that loving care could do was done for her. She was 72 years old and the daughter of the late Joseph and Mary Ridge. She was born in Liberty in 1855, and married Randall A. Elliott in 1875. They lived in Covington, Mansfield, Charleston and Coudersport. Mr. Elliott died thirty-three years ago, and she had resided about seventeen years in Buffalo, N. Y. She was a loving mother and has many to mourn her passing. She often visited her brother's family here. The following survive her: Three sons and three daughters, Carson L. Elliott, Salamanca, N. Y.; Mrs. F. W. Horton and Mrs. J. P. Shornick, of Buffalo, N. Y.; Joseph R. Elliott and Clayton H. Elliott, of Pottsdam, N. Y.; Mrs. B. C. Layman, Aurora, N. Y.; two brothers, John Ridge, of Charleston, and Geo. Ridge, of Elmira, and one sister, Mrs. L. E. Gillespie, of Lackawanna, N. Y. (Barb Conrad)
---
SHAILOR, George Rufus, 81, died at the home of his daughter, Mrs. R. E. Wenstran, in Ludlow, Pa., Dec. 31st. He was born in Merrickville, Canada, later living in Blossburg and Mansfield, where he married LUCY LODGE, Dec. 26, 1883. They had two children; Mrs. R. E. Wenstran, of Ludlow, and Mrs. Arthur Steiner, of Ellsworth, Pa. Mr. Shailor was a member of St. James Church, in Mansfield where he and Mrs. Shailor lived until he went to Ludlow a few years ago. Besides his widow, Mr. Shailor is survived by his two daughters above mentioned; a grandson, Bud Steiner, and several nieces and nephews. (Barb Conrad)
---
SHELDON, Iphagenie Elizabeth (BRAZELL) - Mrs. Iphagenie Elizabeth Brazell late of 1120 West Water Street, Elmira, died in Breeseport, Feburary 20, 1934. The funeral was held Friday from the Honan Funeral Home at 8:15 and 9:00 o'clock from Sts. Peter and Paul Church, the Rev. Daniel McCarty officiating, and interment was in Sts. Peter and Paul Cemetery. She was born October 22, 1895, in Syracuse, N. Y., the daughter of the late Walter and Harriet Elizabeth Sheldon, and married THOMAS BRAZELL. He died some thirty years ago, and she took up practical nursing, was very capable and successful and had many cases. She was a sister of the late Mrs. J. B. Landgraff, and visited here often, and came to make her home with her niece, Mrs. Orville Ogden, for a time after an operation, but returned to Elmira a little over a year ago. She was kind-hearted and a good woman and made many friends. (Barb Conrad)
---
SHEPARD-Perkins-In Athens, Pa. January 24, 1884, Julia A., wife of George A. Perkins, and daughter of the late John Shepard, aged 84 years. She was the mother of Mrs. Howard Elmer of this village, and was highly esteemed by a large circle of relatives and friends. She was possessed of rare literary talents, and was the author of "Early Times on the Susquehanna," a work giving an interesting and accurate history of the settlement of this section. Waverly Free Press-Feb. 2, 1884-Submitted by Stephanie Johnston.
---
SIMONS, Roman F. - Wellsboro Man Ends Life - Roman F. Simons, 47, for 20 years proprietor of a restaurant in Wellsboro, was found dying from gunshot wound, in the dining room of his home on Charles Street, Wellsboro, about 3:30 a. m. Tuesday. Mrs. Simons reported that she was awakened by a shot and found Mr. Simons wounded by a .410 gauge shotgun which stood beside him as he sat at the dining table. He died as physicians arrived. No motive for the act has been ascribed. He was a native of Antrim and moved to Wellsboro 21 years ago. Besides his wife, Mrs. BESS KELLY SIMONS, he is survived by two daughters, Katherine, a student at the University of Pittsburgh, and Ruth Jane, at home; a son, Thomas, at home; his parents, Mr. and Mrs. John Simons, and several brothers and sisters. (Barb Conrad)
---
SISSON- Mrs. D.W. Swartwood, who resides on Chemung street, died very suddenly on Monday, about noon. She had not been well for several days, and her mother Mrs. Sisson, of Milltown had called to spend the day with her. She was taken with spasms and died in ten minutes. She was thirty-six years of age, and leaves three sons. The funeral was held from the residence Wednesday afternoon, Rev. Charles Seymour, officiating. Waverly Free Press-March 20, 1884-submitted by Stephanie Johnston
---
SWANSON, Johanne Caroline (NELSON)- Mrs. Caroline Nelson died at her home here Thursday morning, August 6, 1936, after a few weeks illness. She was born in Sweden, March 18, 1858, and came to Morris Run when a young lady and married JOHN S. NELSON in November, 1885. The wedding was in the Seymour House and there were three couples married. Nine children were born to Mr. and Mrs. Nelson; Elmer, Steena, Selma, Claus, David, Richard, Ernest, Victor and Anna. Ernest died across seas at the close of the World War, and Selma (Mrs. Charles Bystrom) died in Elmira in December. Besides her husband and children, she is survived by eleven grandchildren. She was a member of the Morris Run Swedish Lutheran Church, a good Christian woman, wonderful mother and neighbor, and loved and respected by a large circle of friend. Mr. and Mrs. Nelson moved from Morris Run to this place thirty-one years ago last April. Her maiden name was Swanson. The funeral was held Sunday afternoon from her late home, the Rev. Bror Olson, of Elmira, officiating. His text was from Job 5:29. He also gave a talk in Swedish. Two hymns were sung, one by Ardell Styka, in English, and one by Charles Swanson, in Swedish. Mrs. Anna Watins was accompanist. Burial was in the family plot in Riverside Cemetery. Her five sons and a grandson, Robert Nelson, acted as pall bearers. The flower tributes - (rest is missing) - Mr. and Mrs. Victor Nelson, of Watervliet; Mr. and Mrs. Elmer Nelson and son, of Pittsburgh, called here by the death and burial of their mother, Mrs. John Nelson, returned to their home Monday. (Barb Conrad)
---
William Wills TIFFT In Veteran February 27th of consumption, William Wills, youngest son of Reuben and Sally Tifft in the 14th year of his age. He was a subject of much pain and suffering, which he endured with patience and resignation. The end was peaceful; and there is 'hope in his death'. Elmira Republican April 4, 1851. Submitted by Sharron Vossoughi
---
(TURNER), Amelia - Blossburg - Mrs. Amelia Turner, 95, one of Blossburg's oldest residents, died Thursday morning at the home of her daughter, Mrs. E. W. Aldrich. Funeral services were held Sunday afternoon at the home of Mrs. Aldrich, and interment was made in Arbon cemetery. Rev. Owen C. Barrett, of the Methodist church officiated. Born in England, Mrs. Turner came to this country soon after her marriage to JOSEPH TURNER. With her family she settled in Morris Run, later coming to Blossburg, where she resided for more than 50 years. Her husband died 20 years ago. Mrs. Turner was a member of the Methodist church and attended all services until several years ago, when ill health prevented. She was known as "Grandma" Turner to her many friends. The deceased leaves her daughter, Mrs. Aldrich, of Blossburg, and Maxwell Turner, of New York and a great grandchild, Ann Turner, of New York. (Barb Conrad)
---
William VIALL DEATH OF WILLIAM VIAL We are called upon this morning to announce the death of another venerable citizen and early resident of Elmira. On Tuesday evening, the first day of January, 1878, the spirit of William VIALL passed from earth to heaven. He was seventy years of age, and had lived in Elmira since he was about sixteen. He came here in the neighborhood of 1824, with an older brother, Joseph VIALL, for whom he served for some years as clerk. His native town was Barrington, Rhode Island. In 1870 occurred the centennial celebration of the incorporation of the town, and Mr. VIALL was invited to be a guest on the occasion. He was unable to go, but sent a letter full of loyal devotion and patriotic remembrance for his native town. Mr. VIALL was engaged in several business enterprises during his long residence in this city. He was universally respected and trusted by all who ever knew him. His name was the very synonym of honesty and truth. About the year 1827 he joined the Baldwin Street Methodist Church, and from that day to this has been one of its most steadfast and influential members. In the discharge of his Christian duties there was with him neither variableness nor shadow of turning. He made himself felt in the community as a sincere and earnest man. Nobody doubted him. His whole life was acuated by a single purpose to do good. His was a member of the Order of Odd Fellows, and looking upon it as an ally of the church in the opportunity it afforded him to benefit his fellow man, he devoted himself assiduously to its charitable duties. For many years he held the office of Chaplain of Newtown Lodge, whose members today will pay him their last sad tribute of affection and respect. Mr. Viall was an unceasing student of the Scripture, with which from beginning to end he was perfectly familiar. He was a man of deep feeling and varied thought, and he had the gift of free expression and true eloquence as a public speaker. In the church, as well as in the societies to which he belonged, this gift made him a man of influence and power. And his manifest sincerity drew to him the absolute confidence of all his acquaintances. He has done his work and has died. With greater opportunity he would have done more, but within his sphere he did all that he had power to do. Few indeed are they, living or dead, of whom it may more truly be said "he was a good man." Funeral will occur today, of which notice will be found in the proper place. [This obituary found clipped and tucked in the 1881 journal of Wallace W. Bronson of Sullivanville]
---
WASHBURN, Richard D. - The funeral of Richard Daniel Washburn, 83, who died Saturday, was held at Evans funeral home on Monday, with interment in the Wellsboro cemetery. Rev. Charles W. Sheriff, officiated. Mr. Washburn was born in Sabula, Clearfield county, and moved about 40 years ago to Mansfield where he resided until he came to Wellsboro 22 years ago. He was engaged in the painting and paper-hanging business. He was a member of the Baptist Church. He is survived by his widow, Mrs. DELLA MCINTYRE WASHBURN; and three daughters, Mrs. Edmund D. Thornton, Mrs. Jesse Love, and Mrs. William Smith, all of Wellsboro. (Barb Conrad)
---
---
(WILKINS), Jennie - Mansfield, March 20th.- Mrs. Jennie A. Wilkins, 73, widow of the late SAMUEL WILKINS, former residents of Covington, died recently in Arlington, Cal. where she had resided for 30 years. She had been matron of the Riverside County Childrens' home in Arlington since it was established in 1910. She was the first president of the Arlington WCTU and served continuously in that office for several years. Mr. and Mrs. Wilkins helped to establish the Christian Church in Arlington. (Barb Conrad)
---
WILCOX, William P. - Mansfield- William Paris Wilcox, formerly of Covington, died Dec. 14, in Torrence, Cal. He is survived by his wife and two sons of Torrence; one brother, Verne Wilcox, of Wellsboro; four sisters, Mrs. Fred Hutchinson and Mrs. Anna Blanchard, of Covington; Mrs. James Sampson, of Wellsboro, and Mrs. Eva Pickering, of Rochester, N. Y. (Barb Conrad)
---
WITTER - Asa Witter, of Richford, father of Geo. B. Witter of this village, died at his residence Friday, February 1, 1884, the the good old age of eighty-six yeaars. His funeral was held from the Methodist church in Berkshire, on Tuesday last, Rev. P.S. Worden, a former pastor and friend of the family officiating. Mr. Witter had been a member of the M.E. church for over fifty-three years, and had occupied almost every official position below that of pastor. He was widely known for his piety and stirring Christian character, and but a few moments before he breathed his last repeated the Twenty-third Psalm in a voice and with a zest that gave indisputable evidence that he was victorious to the last in the name of Jesus. Waverly Free Press-Feb. 9, 1884-Submitted by Stephanie Johnston.
---
ZEIGLER-Mrs. Emma Zeigler Huff, daughter of B.F. Zeigler and sister of Mrs. Miles Hoadley, of this village, died at the residence of her father-in-law, U.D. Huff, Lime Hill, Bradford Co., Pa., on Saturday March 29, 1884. She was married but a little over one year ago, and was highly esteemed by all her acquaintances. Waverly Free Press-April 5, 1884-submitted by Stephanie Johnston
---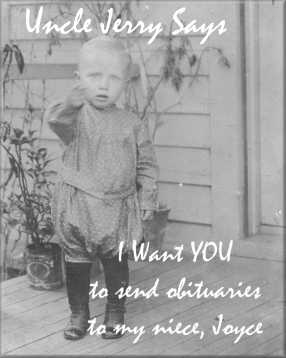 Gerald Miller 1912-1994

This Space Reserved for YOUR Submissions
---
Return to Obituary Scrapbook Table of Contents
---
You are the visitor to this page of obituaries since the counter was installed on October 31, 1998