| | | |
| --- | --- | --- |
| Bradford County PA | Chemung County NY | Tioga County PA |
Tri-Counties Genealogy & History by Joyce M. Tice

School Memorabilia of the Tri-Counties
1890 Troy High School, Troy PA



School: Troy PA Schools
Township: Troy Township, Bradford County PA
1932 Trojan - Troy Yearbook owned by Janet PETERS Ordway
Year:1890
Postcard Submitted by: Joyce M. Tice
Joyce's Search Tip - November 2008

| | |
| --- | --- |
| | Do You Know that you can search just the 700 pages of School Records on the site by using the Schools button in the Partitioned search engine at the bottom of the Current What's New Page? You can narrow your search by entering a township name and a surname and using the Find All Words option |

Back Row, standing, left to right: John Sadler, Fred Johnson, Harry Cleaver, Tom Parsons, Bert Grant, Mell Ballard, James McKean, Arthur Case, Frank Hooley, Unknown, Zina Green.
Seated, second row, left to right: Mertie Sweet, Grace Fletcher, Effie Beaman, Emily Long, Helena DeWitt, Alice Haggerty, Jennie Harris, Martha Redington, Laura VanDyne, Martha Porter, Annie Leonard, Sara Garnert, Cora Fletcher, Kate Conrad.
Seated, third row, left to right: Grace Sayles, Fanny Wynne, Lulu Ballard, Jennie Redington, Freddie Paine, Louise McCollum, Nettie Bowen, Maggie Butler, Namie Hooly, Grace Bach, Henrietta Pomeroy, Lisle McCollum, Mrs. Willett.
Seated, fourth row, left to right: Fred VanDyne, Joe Beaman, Nell Wooster, Frank Ballard, Prof Fleischer, John Butler, Bert Hovey.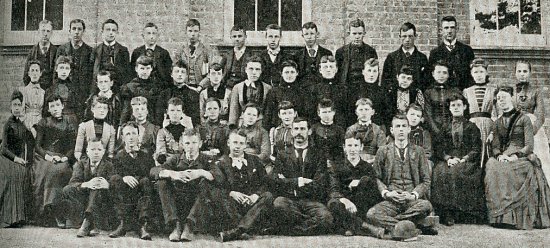 Note - This is ALL students, not just graduates of the year.
| | | |
| --- | --- | --- |
| Bradford County PA | Chemung County NY | Tioga County PA |
Published On Tri-Counties Site On ?
By Joyce M. Tice
Email: Joyce M. Tice

You are the visitor since the counter was installed on 08 MAY 2004