Mansfield PA and Richmond Township in Tioga County PA
Tri-Counties Genealogy & History by Joyce M. Tice

| | | |
| --- | --- | --- |
| | Schools In Our Area | |
| | | |
| --- | --- | --- |
| Bradford County PA | Chemung County NY | Tioga County PA |
Mansfield High School Graduates 1966
Joyce's Search Tip - November 2008

| | |
| --- | --- |
| | Do You Know that you can search just the 700 pages of School Records on the site by using the Schools button in the Partitioned search engine at the bottom of the Current What's New Page? You can narrow your search by entering a township name and a surname and using the Find All Words option |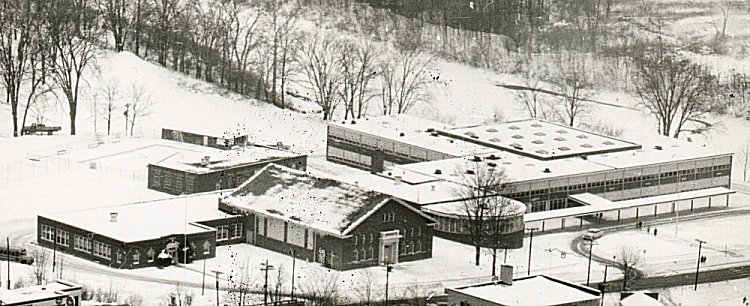 1960 view of Mansfield High School. Front section , formerly the gym - converted to auditorium, was built about 1927 attached to the old Brick School. In 1939, the Brick School was torn down and the new school built surrounding the central gym. The 1939 section on left became the Junior High School in the fall of 1959, and the High School is the new part on the right.
Members of the Class of 1966 visited the History Center
for their Fiftieth Reunion 2016

1968 Yearbook Photo
From the 1966 Manscript - Yearbook of Mansfield High School.
| | | | | | | |
| --- | --- | --- | --- | --- | --- | --- |
| Surname | First Name | Year | Spouse | | | |
| Allen | Mary Jo | 1966 | | | | |
| Allen | Robert | 1966 | | | | |
| Ayers | Tessie | 1966 | | | | |
| Bailey | Stephanie | 1966 | | | | |
| Barrett | Martina | 1966 | | | | |
| Beals | Daniel | 1966 | | | | |
| Berguson | Deidre | 1966 | | | | |
| Borden | Corinne | 1966 | | | - | |
| Boyden | James | 1966 | | | | |
| Brodrick | James | 1966 | | | | |
| Brugger | Gary | 1966 | | | | |
| Butcher | Larry | 1966 | | | | |
| Chapel | Joseph | 1966 | | | | |
| Chapman | Marilyn | 1966 | | | | |
| Clark | Randall | 1966 | | | | |
| Clark | Theodore | 1966 | | | | |
| Colegrove | John | 1966 | | | | |
| Comfort | Jerry | 1966 | | | | |
| Courtney | Harold | 1966 | Sherry Hafer | | | |
| Dart | Steve | 1966 | | | -1999 | |
| Dyke | Clayton | 1966 | | | 1949-2010 | Tioga County Memoarial Gardens |
| English | Dale | 1966 | | | | |
| Garrison | Bonnie | 1966 | | | | |
| Gillespie | Helen | 1966 | | | | |
| Goodrich | Glenn | 1966 | | | | |
| Hagar | Arlene | 1966 | Russell Welch | | | |
| Hall | Scott | 1966 | | | | |
| Hamilton | Carolyn | 1966 | | | | |
| Harris | David | 1966 | | | | |
| Harris | Gregg | 1966 | | | | |
| Horning | Julie | 1966 | | Johnston | 1948-2015 | Arnot Cemetery |
| Husted | Dana | 1966 | | | | |
| Husted | /eric | 1966 | | | | |
| Jones | Carol | 1966 | Edkins, Brion | | | |
| Kinaman | Duane | 1966 | | | | |
| Leipold | Terry | 1966 | | | -2002 | |
| Libowski | Michael | 1966 | | | | |
| Love | Patricia | 1966 | | | | |
| Maneval | Margaret | 1966 | | | | |
| McGraw | Patricia | 1966 | Joseph Bielski | | | |
| McNett | Kay | 1966 | | | | |
| Mitchell | Ada | 1966 | | | | |
| Mitchell | Linda | 1966 | | | | |
| Morgan | David | 1966 | | | | |
| Mudge | Lucinda | 1966 | | | | |
| Nares | Bonita | 1966 | | | | |
| Nash | Eldon | 1966 | | | | |
| Powlison | James | 1966 | | | | |
| Rice | Sandra | 1966 | Jones | | | |
| Rieppel | Adele | 1966 | | | | |
| Rieppel | Carolyn | 1966 | | | | |
| Rodgers | Rosemary | 1966 | | | | |
| Rush | Deborah | 1966 | | | | |
| /sagar | Mari | 1966 | | | | |
| Smith | Lonsworth | 1966 | | | | |
| Smith | Susan | 1966 | | | | |
| Spencer | Harry | 1966 | | | | |
| Stage | Mary Ann | 1966 | | | | |
| Stephens | Dawn | 1966 | | | -2007 | |
| Stickler | Carl | 1966 | | | | |
| Sumner | Gary | 1966 | | | | |
| Tameris | Marie | 1966 | | | | |
| Terry | Dale | 1966 | | | | |
| Thorpe | Daryl | 1966 | | | | |
| Tice | Barbara | 1966 | | | | |
| Tickner | Patricia | 1966 | | | | |
| VanNoy | Linda | 1966 | | | | |
| Walborn | Wayne | 1966 | | | -1986 | |
| Walsh | Daniel | 1966 | | | -2005 | |
| Waltz | Betty Jane | 1966 | | | | |
| Welch | Russell | 1966 | Arlene Hagar | | | |
| 71 | | | | | | |
DYKE - Clayton C. Dyke Jr., 61, of Millerton, died Monday, March 29, 2010, at home. He was born Jan. 11, 1949, in Mansfield, the son of Clayton Sr. and Joyce Dann Dyke. Clay was a retiree of St. Joseph's Hospital, Elmira, N.Y. He was an army veteran of the Vietnam War, and a member of the Millerton Wesleyan Church. Clay is survived by his wife of 40 years, the former, June Kinney; two sons and daughters-in-law, Clayton III and Fetu Dyke of Prescott, Ariz., Michael and Katerina Dyke of McGuire Air Force Base, N.J.; two daughters and a son-in-law, June E. Dyke of Millerton, Anne and Michael Brooks of Tioga; sisters, Myrtle Rice of Rochester, N.Y., Patricia Merkel of Mechanicsville, Md.; brothers, Harold Brown of Corning, N.Y., Robert D. Brown Sr. of Cuba, N.Y.; and one granddaughter, Eden Brooks. In addition to his parents, Clay was predeceased by nine siblings. Friends are invited to call at the Millerton Wesleyan Church, Monday, April 5 from 2 to 5 p.m. Funeral services will follow there Monday at 5 p.m. with Pastor Laurie Greenlaw officiating. Burial will be in Tioga County Memorial Gardens. In lieu of flowers, memorials in Clay's memory may be made to the Millerton Wesleyan Church 5174 Main St. Millerton, Pa. 16936 or the Tioga County Honor Guard P.O. Box 504, Tioga, Pa. 16946. - Wellsboro Gazette, Mar.31.2010


HORNING, Julie - Julie H. Johnston, beloved wife and mother, age 67, of Arnot, PA, died on Wednesday, June 10, 2015 in the Williamsport Regional Medical Center, Williamsport, PA. Born on April 11, 1948 in Troy, PA, she was the daughter of John and Nancy (Gardner) Horning. Julie is survived by her husband, Michael D. Johnston. Prior to her retirement, Julie was employed as an office manager and School Bus Coordinator for the Bradford-Tioga Head Start Program. She was a member of the Blossburg United Methodist Church. Julie enjoyed quilts, planting flowers, gardening and cooking. Her great joy was spending time with her family. In addition to her husband, Michael, she is survived by a son and daughter-in-law, Michael Andrew and Kathryn Johnston of Williamsport, PA; one daughter, Jennifer M. Johnston of Selingsgrove, PA; one sister, Valerie Jean Fessenden of Wellsboro, PA and one grandson, Joel Johnston. Julie was predeceased by her parents, an infant son, Matthew Michael Johnston on May 5, 1983 and a sister, Ann Marie West on March 15, 2012. Family and friends are invited to call on Monday, June 15, 2015 from 1:00 PM to 2:00 PM at the Blossburg United Methodist Church, 108 North Williamson Rd., Blossburg, PA. A funeral service will be held immediately following calling hours at 2:00 PM at the church with Rev. Judi Hulslander officiating. Memorial contributions may be made in Julie's memory to the Blossburg United Methodist Church Food Pantry. Burial will be in the Arnot Cemetery. Buckheit Funeral Chapel and Crematory, Inc., 637 S. Main Street, Mansfield, PA, is assisting the family. - Wellsboro Gazette, June 17, 2015

STEPHENS - Dawn L. Proctor
Age 58, of Lancaster, PA, died
Friday, January 12, 2007, at home after a brief illness. She was the daughter of the late Lee Frank and Gladys L. Stephens. Dawn most recently worked as the assistant to the Director of the Library at Lancaster Theological Seminary. She was the wife of John W. Proctor. Also surviving are 4 children, Daniel J., husband of Laura Baylis, of Las Vegas, NV, Dionne C. Baylis, of Newport, DE, Robert C. Baylis Jr., fiance to Armae Garcia, of Smyrna, DE and Jennifer M. Baylis, of New Castle, DE; 2 step-daughters, Jenny Anne Proctor and Amanda M. Proctor, both of Germantown, MD; and 6 grandchildren. Viewing will be held 10-11 am at the FURMAN HOME FOR FUNERALS, 59 W. Main St. Leola, PA. Funeral service and interment in the Mellinger Mennonite cemetery will follow the viewing. Contributions may be made to the DE Humane Assoc., 701 A. St., Wilmington ,DE 19801.

The Class of 1966 lost a few others, too. I do not have obits for any other than Dawn Lee and Clayton Dyke. If the following information is appropriate for your site, feel free to use it. With the exception of the two obituaries, all the entries following were obtained from the LDS Family History Social Security Death Index:

DECEASED
DATE AND PLACE OF DEATH

BORDEN Corinne
BRUGGER Gary December 11, 1998 in Geneseo, NY
DART Steven November 15, 1999
DYKE Clayton March 29, 2010 in Millerton, PA
LEIPOLD Terry November 21, 2002 in PA
STEPHENS DawnLee January 12, 2007 in Lancaster, PA
WALBORN Wayne March 1986 in PA
WALSH Daniel November 4, 2005 in PA

Best Regards,
Helen Gillespie Cantor



| | | |
| --- | --- | --- |
| Bradford County PA | Chemung County NY | Tioga County PA |