Object ID:
1010.0038
Title:
1915 Parade on Main Street
Description:
1915 Parade on North Main Street taken from the roof of probably the Pitts Building, location of Coles Pharmacy. Some of the posters are for temperance. This was before the fairly short-lived and disastrous constitutional amendment that prohibited alcohol. In this one, dated 1915, the street appears to be paved. The first paving was with bricks in 1915, some of which are still beneath our pavement today.
Date:
1915
Place:
Mansfield, Tioga PA.
Click to Enlarge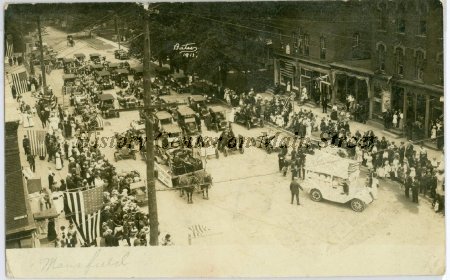 1915 Parade on Main Street