Object ID:
1016.0001
Title:
Mansfield Junior High School Built 1926
Description:
Mansfield Junior High School Built 1926
1926 Carontawan [yearbook of Mansfield State Normal School]
Junior High School [Note that Junior High was on first floor of Alumni Hall at this time.]
The Junior High School was organized in the fall of 1920 with dual objectives: it aimed to provide more definitely for the needs of the adolescent of the community; and it hoped to afford an opportunity to the Normal students of Group III to catch the spirit and enthusiasm so necessary to successful teaching in this transition period in every child's life.
The Junior High School has enjoyed a very happy existence through its life in Mansfield. The community has co-operated loyally, giving praise for effort without too close scrutiny of actual results; and student teachers of each class, that of 1926 being in no sense behind its predecessors, have without exception spent time and enthusiasm without stint or measure in order that each Junior High School student might get value received for each minute spent in our Junior High School. It is a pleasure to pay tribute where tribute is due. It is altogether safe to predict that no school system will ever receive more sympathetic, enthusiastic service from the people who have taught in our Junior High School as student teachers than that which they have rendered here as student teachers.

We hope for a happy future as an organization. And we frankly depend upon the Normal Seniors to carry on in such fashion as to justify our continued existence.

Date:
1926
Provenance:
Scanned From 1935 Carontawan
Medium:
Paper
Click to Enlarge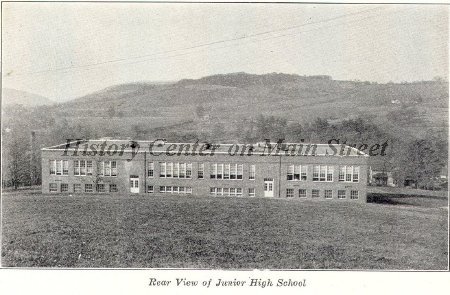 Mansfield Junior High School Built 1926