Tri-Counties Genealogy & History by Joyce M. Tice
Tri-County Histories
| | | |
| --- | --- | --- |
| Bradford County PA | Chemung County NY | Tioga County PA |
Souvenir: 1852-1962
Roaring Branch Centennial
July 4, 1962
Roaring Branch
As Compiled by T. Edwin Smith
The Story of Roaring Branch a Beautiful Village in the Valley of Lycoming
In studying the early history of this valley we learn that this area was included in Lycoming Township, a vast territory that comprised an area one-third larger than the state of Rhode Island. This territory included all of what is now the County of Tioga, except that portion lying west and south of Pine Creek, the part of Bradford County lying west of the old Luzerne county line and that portion of Potter County lying east of the 120th mile-stone, five miles west of the present boundary line and north of Pine Creek, beside the following territory in Lycoming County: Old Lycoming, Lycoming, McIntyre, Jackson, Cogan House, Anthony, Woodward, Piatt, Mifflin, and Pine Townships, and parts of Lewis, Watson, Cummings, McHenry, and Brown Townships.
When Lycoming County was organized, April 13, 1795, this territory was included and it was not curtailed until September, 1797, when Tioga Township, as it was then called, was taken from it.
In the meantime, settlements had been made in the northern parts of the township, in the Cowanesque Valley and along the Tioga River, but these were far removed from the haunts of civilization. As these settlements grew, it became apparent that the Township of Lycoming must be divided for the convenience of the inhabitants as well as the officers of the Township.
At the beginning of the nineteenth century, the State Legislature deemed it proper that an enumeration should be made of the taxables of Lycoming county and on March 8, 1800, passed a law to that effect. That part of the census which concerned Tioga County taxables showed the names, occupations, and ages of 122 men. It showed only one colored person, Liberty Johnson – a free man, age 25. From an old minute book of the County commissioners, we learn that John Carrothers was paid $16 for taking this census. From the same source, we learn that he was paid $9.20 for holding an inquest on the death of one Peter Grove. Mr. Carrothers must have been a politician of the first water, having had the appointment as census taker in 1800 and then serving as Lycoming County coroner from Oct. 27, 1801, until Oct. 26, 1804. For these services over a period of only four years he was able to filch the county out of the sum of $25.20.
"Oh! For The Good Old Days"
Incidentally, it should be mentioned that the records of the division of Lycoming and Tioga Townships were lost for nearly one hundred years, until discovered comparatively recently in the Prothonotary's Office in Williamsport.
Roaring Branch
Roaring Branch, with a population of about 475 is the largest village in McNett and Union Townships. It is 966 feet above sea level. Founded in 1862, it derives its name from the stream that cuts down through a rock gorge and makes a roaring sound.
The earliest settlers at Roaring Branch were Uriah Loper, from Salem County, New Jersey, who located on the "John Vaughn" tract soon after 1800. This land is now mostly divided into town lots. Also among the early settlers were James Sulleid and John Crandall. Loper built a saw mill and grist mill as early as 1818. In 1844, A. N. Derby had a saw mill and grist mill located just north of the present site of Mill Creek bridge. He also attempted to tan some hides but was unsuccessful and the hides were spoiled. Mr. Derby's residence was on the farm now owned by the Wheel Inn, below the junction of Roaring Branch and Lycoming Creeks. This farm was formerly owned by Charles Green. Derby lived in an old log house on this farm, situated a few rods from Ertels house which was occupied by James Blackwell prior to 1830. In addition to his numerous enterprises he kept a hotel. There was no sign, but a pumpkin hung over the door; at one time it became commonly known as "The Green Pumpkin House."
John Green, the father of Charles, built a larger double gate saw mill on Roaring Branch Creek near its mouth which held the record for those days, having accomplished the sawing of 10,000 feet of pine lumber during the light of one day. Not-with-standing the fact that his mill was able to turn out more lumber than any other mill in the area, still his venture was not successful and he lost all he had.
Civil War Days
When the war between the States broke out in 1861, Roaring Branch was not wanting in its response to the call to the colors. We do not have a complete list of those who answered the call but we do have names of several that we know were veterans of this conflict. These are as follows: Selic June, Dr. O. C. Cole, C. M. Washburn, James Washburn, Cornelius King, Chauncey Wheeler, John Snyder, and Chauncey Bacon.
Industries
In addition to the mills previously recorded here in the earlier history of our town, there were several other important mills and industries here. Some of these included other saw mills – lumbering being the principal business of the area – Ertel's wagon shop and a grist mill whose owner we were unable to learn. There was also a feed and grain business operated by H. Rockwell & Son of Canton and later a milk station was established by the Sheffield Farms Company of New York. This was a very modern station and operated for several years, receiving raw milk, pasteurizing it and shipping fluid milk to New York City. Another industry that was carried out in Roaring Branch for a few years was a clothespin factory operated by Charles Richter. Due to the fact that these industries all closed down the town's people must now commute to other places for employment.
Another very important industry in the development of the village of Roaring Branch was the tannery. Quite early in the history of the village there was a tannery here run by one of the Innes family of Canton. This tannery burned but later there was another built, so that the tanning of leather played a very important part in the economy of the area.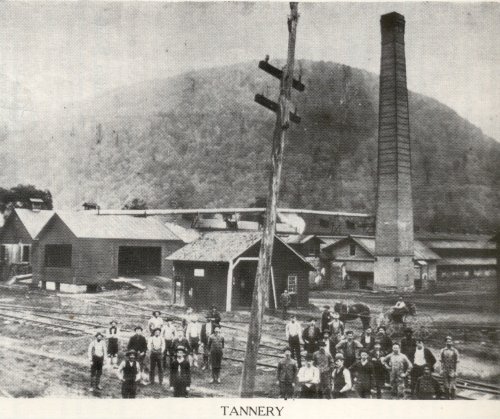 Railroads
In the early 1850's, the Northern Central Railroad was built and the first train was run over the road on July 4, 1854. These trains were a far cry from the present day trains, containing only about twenty-five-cars, much smaller than the present cars, and pulled by small steam locomotives that were using wood for fuel. However, business picked up until they were hauling enormous trainloads of coal and other commodities and at one time there were four passenger trains each way daily. The advent of the automobile and bus service played havoc with the passenger business so that it gradually was cut and in July of 1956 it was discontinued altogether.

Post Offices
The Post Office in Roaring Branch was established on Feb. 10, 1862 with L. L. Washburn as the first Postmaster. Charles S. Green became Postmaster on January 19, 1863 and served until April, 1883. He was succeeded by William Nelson. The first letter received at the Roaring Branch Post Office was by Joseph Gruver, Jr. On July 1, 1868 a mail route between Roaring Branch and Blossburg was established with Henry Fick as the first mail carrier.
We do not have the locations of all these early Post Offices, but we do know that Mr. Green had his in his store. Some time later the Post Office was in the store operated by Bubb and Lieb, then later moved to a building across from the R. R. Station owned by W. N. Seascholtz. From there to a room adjoining Holmes store and from there to its present location. The present building owned by Postmaster Robert Webster.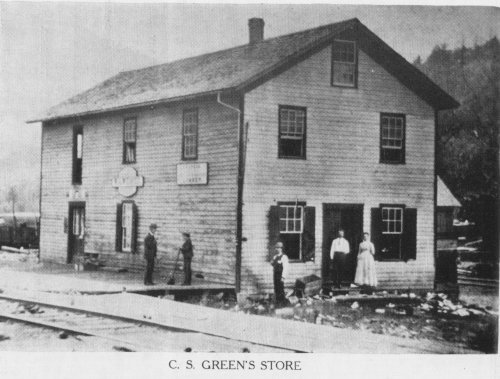 About 1902, Frank and Joshua Reynolds circulated a petition for the establishment of a Rural Free Delivery Route. This Route started at the Roaring Branch Post Office, went over Joe Hill to Landon's Corner, then through Spencertown, across to North Union and back through Spencertown and Shanty Hill road to Newelltown and Roaring Branch. This was known as RD 1, and Frank Reynolds became the first carrier with Joshua as his substitute. Other carriews were Claude Rumsey and Leonard Boyce, who carried it longer than all the rest. Willard Holmes, who late became Postmaster, substituted on the Route of 1909, and carried the mail on his bicycle.

Through the efforts of Mr. Carl Brannaka, a movement was started to establish a second route out of Roaring Branch, which was accomplished and the delivery started about 1904. The dates of the beginnings of these two routes may not be entirely accurate as we were not able to find any written records and are compelled to depend altogether on recollection of some of the older citizens which seem to vary to some extent. Some of the early carriers on the second route, which was originally called Route No. 2, were: Fred Harer, Elmer Harer, Fred Brannaka and Paul Skelley. Present carrier is Wayne Hadley
.

Some time later there was a route established out of Leolyn which took in the English Hill and Bennett Hill roads and a considerable territory on the other side of the railroad. Still later Route 1 out of Roaring Branch was changed to Leolyn, the territory served from there for several years and finally back to Roaring Branch as RD 2, inasmuch as the other route out of Roaring Branch had become known as RD 1. Route 2 now embraces most of the territory originally served by both the Leolyn and the old Route 1 out of Roaring Branch, plus the people on the road from Roaring Branch through Ogdensburg to the edge of the Bloss woods. The present carrier is Felix Thompson.
---
Lodges
The Odd Fellows Lodge was established February 27, 1869, with Mr. D. L. Parker as the first Noble Grand. This is Griffin Lodge No. 655.
Washington Camp No. 620, P.O.S. of A. was also located here. Although there is no recreation hall or center now, in former days there was a skating rink near the I.O.O.F. Hall. The older residents tell some interesting tales about activities there.

Schools
At about 1844 there was a school house erected near the mouth of Mill Creek. Hamilton was the first teacher. Another of the early teachers was Miss Samantha Wilson. There were others, of course, whose names we were unable to learn. In 1853 there was a private school taught by a Miss Lafferty. At one time the pupils from Roaring Branch went to Newelltown to school. This was known as the Loper school and was about four miles from Roaring Branch, were the M. E. Church stands.
About the year 1858 a schoolhouse was built for the joint use of scholars from Union and McIntyre Townships, about one mile below the mouth of Roaring Branch Creek. The building was in Lycoming County. There was a schoolhouse located on the present site, of which we were unable to learn the date of erection, but which burned about 1896, and the present building was erected in its stead. We do not have a list of the teachers through the years so we only mention the present teachers: Mrs. Frederika McIlwain and Mrs. Leona Mansuy.
A Parent-Teacher Association was organized through the efforts of Mrs. Myrtle Wynne and Mrs. Odessa Proctor in Dec. 1932 and is still active. These two were teachers in the school at the time. Mrs. Proctor enjoys the distinction of having taught in the Roaring Branch schools longer than any other teacher in its history, having taught twenty-five years in the upper grades there.
Church
The Roaring Branch Methodist Episcopal Church was dedicated July 7, 1881. Much of the record of the early church seems to have disappeared so its history here must of necessity be brief. The same building is being used today that has been used for the last eighty years, although it has had some remodeling. Recently there has been an addition on the back of the church, which is used as a kitchen and dining room, of which the congregation may well be proud. At present the minister is the Rev. Mr. Larry S. Clark who also serves the Ralston Charge.
---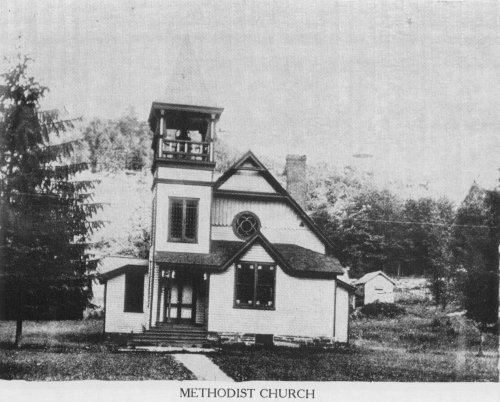 The First Election Was Held In Roaring Branch In 1890
There are many stories of human interest that could be told of Roaring Branch as of any other old town, but one of especial interest is called to mind. Fifty-five years ago, on March 26, Philip Evans, who was a night watchman at the tannery, was making his rounds through the tannery properties, when at midnight, he heard a terrible crash of rock hitting steel. As there was a terrible storm at the time and the creek was raging, he immediately thought of the railroad, and knew the midnight passenger train was just about due. Investigation showed that the debris had completely covered the track. He grabbed his lantern, rushed up the track and heard the train whistle at the crossing above Holmes' store. At first, the engineer did not understand, but finally he applied his brakes, but not in time to prevent the engine from hitting the debris hard enough to derail the engine but no further damage was done. Had its not been for the presence of mind and quick action of Mr. Evans many people might have lost their lives in the ensuing pileup or in the icy waters. When the engineer and fireman got off the engine and saw what might have happened, you can be sure that they rushed to Phil Evans to embrace him in gratitude. One of these men was a Roaring Branch man, Mr. Harry Logue.

Mention has been made before of the skating rink that was once a great attraction in our town, and to quote some of the old timers, this is rather an understatement. They say that it was not a young peoples pastime by any means, but that young and old congregated there and really cut some fancy figures. Some came in fantastic costumes and there were skaters who would not take a back seat for anyone.

In more recent years, there were two beautiful operas put on by the Roaring Branch School under the direction of Mrs. Fredericka McIlwain and Mrs. Odessa Proctor.
The first opera was "The Dutch Garden." The children were in Dutch costumes and sang Dutch songs and did some beautiful Dutch dances. This was greatly enjoyed by all. The second was an operetta "Hansel and Gretel." This was given in the auditorium and it was said, was the most beautiful operetta presented there. There was Hansel and Gretel lost in the woods. They came to the witches' castle. Mr. Burt McIlwain cut trees to make the woods on the stage. He also made the house that was covered with candy and the log on which Hansel and Gretel sat. Mr. Bud Proctor made the cage where the witch kept Hansel to fatten him up.

NOTE: The Mrs. Proctor referred to here is the former Miss Odessa Evans, a daughter of Philip Evans, who saved a trainload of people that March night so many years ago.

A Poem to Roaring Branch
Written by Mrs. Odessa Proctor

Where the winding creek shimmers in the sun,
Where the mountains cast their shadows when the day is done,
Where the hemlock, pine, and maple murmur in the night,
Beneath the star-lit sky 'til dawning, when God sends the morning light.

Hail to dear old Roaring Branch, cherished now as in days long past;
May we be worthy sons and daughters, long as life shall last.
Where enduring friendships flourish, sturdy through the years;
Where sorrow sometimes strikes us, but faith in God wipes our tears.
---
Charles Green
Any historical account of Roaring Branch and it surrounding areas would be incomplete without a record of Mr. Charles Green and the part he played in life around Roaring Branch.
Who was Mr. Green? The story goes back to Poughkeepsie, N. Y., where Charles, the son of John and Eliza Green was born on July 6, 1829, and where he lived and attended school until about 12 years of age. The family then came to Williamsport, Pa., where he attended a boy's private school (later to become Dickinson Seminary) a short time. He clerked for about a year in a drug store in New York City, going from there to Bedford, Mass., where he worked in a book store for eleven years.
He came to Roaring Branch in June of 1855 where he located permanently and soon after engaged in the mercantile business, lumber business, and later in the coal business, and there he died on March 27, 1911.
Although his school advantages were very limited, he became a well educated man through his personal efforts. He became a great reader and enjoyed it immensely, very likely, through his association with books in his work in New Bedford, Mass.
Mr. Green engaged very little in social affairs but he seemed to know as much of the rules and forms of propriety and etiquette as many who make a study of such matters. A very great tribute was paid to him by a lawyer friend Mr. W. C. Sechrist of Canton, when he said, "his language was always proper. I never heard of his speaking an oath, and I never knew or heard of his using language which might not with propriety be heard by women and children. He enjoyed a good story and could tell one but he would neither tell nor listen to a shady one."
When the Green family came to Roaring Branch in 1855, it consisted of Father, Mother, three sons and two daughters. John Green engaged in the lumber business for some time, but it was not successful and he lost all he had. A few years later, Charles having saved about $800 opened a small store. During the war years his business increased so that it outgrew the quarters and he built a new store building near the station.
While his mercantile business was successful, still he made the most of his large fortune in the lumber business. About the year 1858 he was offered the chance to purchase a large tract of "wild land" as it was then called, at a price of about $1.75 an acre with the understanding that he could take all the time he needed to pay for it. He knew the land well and accepted the offer. There were thousands of ash, cherry and basswood trees growing there, and as the war came on, this lumber became more and more valuable and he lost no time in manufacturing and selling this at a large profit.
This was the real beginning of his financial success and he continued in the lumbering business until 1907, although the last ten years of that time the business conducted principally by Mr. John D. Allison, who remained in Mr. Green's employ until his death in 1911. (Mr. Green's death)
In his will, Mr. Green remembered his relatives, also his housekeeper and his gardner, the Methodist Church in Roaring Branch, (although he himself was a Quaker) a Home for Friendless in Williamsport and Old Ladies Home in Roaring Branch. Also named in the will were the president and secretary of the school boards of Canton and Wellsboro, respectively, with money for a public library in each town. These libraries were to be with the provision, (quoting from the will) "shall be free to all persons seeking information who appreciate the privilege of a free library and will not abuse or injure the volumes, furniture, or fixtures of the same, and who will cheerfully conform to the rules and regulations of said corporation." After all these well laid plans, Canton came near losing it library. The will had been drawn by a Philadelphia firm and one of the three executors was a lawyer used to settling large estates. Just before his death, Mr. Green decided to change this provision on the ground that the man did not need the money which the regular fees for such service amounted to, and he appointed a local man in his place. Soon after that the man disappeared with much of the money that had been entrusted to him.
Much of the above information about Mr. Green has been taken from a paper prepared by Mr. W. C. Sechrist and read by him at the dedication exercises of the Green Free Library on Nov. 20, 1913, and also from a paper prepared by Miss Helen Rockwell and read at a V. I. A. meeting on April 3, 1913 by Mrs. Fred Newell.
---
Article About the Endowment of the Old Ladies Home at Roaring Branch as Published in the Pennsylvania Grit Under Date of April 9, 1911
The site for the Charles S. Green home, at Roaring Branch, is one of the finest in the State. It will be located on a bench of land lying west of Lycoming Creek and north of Roaring Branch, near the home of Mr. Green, on a tract of land that comprises about 200 acres.
The exact spot on which the home will be placed has not been decided, this being left entirely with the executors. This much is certain, however, the Green homestead will not be dismantled, and for years to come people passing through the valley will be able to see the place where lived a man who first made his wealth off Roaring Branch, and dying, left it in a way that would do the people of that section the most possible good. A forest of virgin pine still stands near the place where Mr. Green lived and died, and was one of the spots most sought by him, even after he had passed his allotted three score years and ten. Streams in the neighborhood furnish fine sport for the people of the valley. In fact, everything about the site indicates it could not be better adapted for the purpose if it had been designed and laid out with that end in view. On Friday afternoon, J. D. Allison, successor to Mr. Green as secretary and general manager of the Red Run Coal Company, and his former private secretary were in this city.
Mr. Allison is one of the executors of the Green estate, together with W. C. Sechrist of Canton and Charles S. Washburn of Harrisburg, Pa. He states the executors have not gotten together as yet but that within a few weeks definite steps will be taken toward carrying the provisions into effect, when the wisdom of Mr. Greene's will may become more apparent even than it is at present.
Mr. Green was one of the pioneers in the lumber business and coal business in the valley of Lycoming Creek. He began his business career in Roaring Branch in 1854, when pine timber alone was considered valuable. He managed to get control of large holdings of pine forest, including the site on which the Green Home will be erected and the hill just back of Roaring Branch, which to this day is still known as Pine Hill. Mr. Green had the foresight to know that the day would come when the pine forests would be exhausted, and despised hemlock would be far more valuable than pine in the earlier days. He therefore bought all the hemlock lands he was able to hold, and turned the timber into cash at a great profit, at a later date. Mr. Green built and managed the first barrel stave and head mill in this section of the state, making no small amount off a business that took for its raw material logs that were considered worthless by most lumbermen. When the Northern Central Railroad was built through the valley, Mr. Green hoped to get a siding at Roaring Branch, but was told the line would handle nothing but through freight. He tried in every way he knew to get a siding, but was disappointed. He had hoped the railroad would carry his lumber to market and thus give him a chance to turn it into cash at a greater profit. After the line had been operating for some time, the railroad company changed tactics and decided it would handle freight from stations along the line. Mr. Green was told he might have a siding, provided he would grade the track bed, and furnish the ties, the railroad company agreeing to furnish the iron. Mr. Green finally made an agreement, whereby he should pay for the grading, provided the company would do the work. He was called upon to make one payment, but no more.
Before the time of the railroad, Mr. Green's men had to go to Canton to do their trading. This required an entire day. In order to keep them at home, where there was work for a full crew six days a week, Mr. Green conceived the idea of opening a store in Roaring Branch. This store building disappeared years ago, having been washed away by a flood. The second store still stands, across the Northern Central tracks from the Red Run Coal Co. office. This venture proved very successful. In those days there was less competition and the margin of profit was much greater than it is today. At about this time Mr. Green was also station master at Roaring Branch. He tried for years to get the company to erect a station at that place but it declined. Finally he erected a shelter shed on the spot which later became the site of a modern station. While in the store business, Mr. Green was a frequent visitor to Williamsport. On one occasion, when he was preparing to make a visit to this city, he was asked to purchase two pairs of rubber boots. For some reason, he forgot to bring sufficient cash and was unable to get credit anywhere in Williamsport, although at that time he could have bought the shoe store and had plenty of money to spare.
The opening of the Red Run Coal Mines at Ralston was a source of great wealth for Green. He owned the land on which the coal was found. At that time he was unable to swing the deal to open the mine himself, so he interested New York capitalists. This deal proved very profitable to Mr. Green as mine stock is one of the more valuable items of his estate. He was interested in other ventures in the valley, and his advice and cash always were at the service of those who would heed the advice and use the cash in a judicious way. It was one of the principles of Mr. Green's life never to make a cash donation. He was ready and willing to loan money at interest, but he never imposed hardship on his debtors. He advised parents not to give children money with a liberal hand. His idea was that they would be less wasteful with their cash in later years. The will of Mr. Green, offered for probate at Wellsboro Thursday afternoon, provides an income of $60,000 for his remaining relatives. At this point the article is so badly mutilated that it is impossible to read with accuracy either the names of the remaining relatives or the amounts each was to receive, but we know that provision was made for the establishment of a public library at Wellsboro and at Canton. A bequest of $5,000 each was made to the Boy's Industrial Home and the Home for the Friendless in Williamsport and small bequests to his housekeeper and gardner (sic). The greater part of his estate, however, was left to establish the Old Ladies Home in Roaring Branch. That portion of the will which deals with the establishment of the Home on lands of the Green Homestead is of greatest public interest. Just why Mr. Green wished to establish this Home is not known, even to his most intimate friends. With his death, the last male member of the Green family, which has had a long line of generations, passed away and it is thought that he wished to perpetrate the name in suitable memorables. Another view is that he desired to be of lasting benefit to the community in which he made his money. He never was married and had no direct heirs. For Home purposes, the will sets aside $75,000 as an endowment, which shall be increased by whatever funds revert to the Home as residuary legatee. It is estimated that this sum will be about half a million dollars.

---
The Ye Old Timers' Reunion
The following article recently appeared in the Ralston Herald:
"You are hereby warned, cautioned and commanded, (also most cordially invited) to be present at "Ye Old Timers' Reunion" to be held at Rock Terrace, the home of James Washburn and wife, Roaring Branch, Pa., next Thursday, June 13, 1912. Divest yourselves of the harness of conventionalism, forget the years that have passed since your delighted vision first rested on the picturesque scenery of the historic Lycoming Valley. Be young again for a day. Forget the aches and ills and come, and once more enjoy yourselves at a good old-fashioned picnic dinner. The dinner horn will blow at one o'clock sharp, and you will be missed if you are not there. Wait a moment! When were you born? In the thirties, twenties or the 'teens of 1800? A table of honor will be prepared especially for those who were born along in the dates mentioned. The waiting maids will be girls of thirty and forty summers. Yes, bring you descendants along. What more can we say than to say, come?
And they came – 200 or more – for I, too was there, having received an invitation from Mr. and Mrs. Washburn – and a happier younger lot of people could not have been found.
The early morning train from Williamsport carried a number of us, and from that time on until the dinner horn sounded, they arrived on trains, in automobiles and carriages, from Elmira, Canton, Troy, Ogdensburg, Liberty, Trout Run, Corning, in fact several young ladies came from Washington, D. C., and we had one great day of it up among the glorious old mountains of Roaring Branch.
Going up on the morning train, the conductor, R. C. Ellis, came up to us and informed us that he was coming down from Elmira on the noon train and he wanted us to save some chicken for him. He had discovered the preacher, Mr. Whiteley, of Ralston, on the train, and he wondered if we could lock him up in the hotel until after dinner, because Mr. Ellis declared, he wanted some chicken, especially some gizzards, and he knew his chances would be slim with the preacher at the first table. He said: "You see, I've lived on codfish and potatoes all this winter and I'm coming back to the Branch for chicken." He got all he wanted, in fact we had quite a serious time in bestowing the "belt" to the greatest eater, on this occasion. D. F. F. Castleberry last year received the belt and this year the belt – in the shape of a large cork, suspended on a string – was given to Mr. Ellis. Later on one of the judges came to me and informed me that Editor Woodward, of the Ralston Herald, was back at a table eating a second dinner and we hunted up Dr. Castleberry to consult him about this matter. To our surprise, and his discomfort, we found him in the kitchen eating strawberries.
The home of the Washburn's, which is built on rock, and is called "Rock Terrace" was decorated in flowers and flags, the latter being draped about the trees on the immense lawn where the picnic was held. After going through an old turnstile we walked up through the lawn and were met at the porch by Mr. and Mrs. Washburn, and most cordially welcomed, I was taken into the dining room and shown a beautiful bouquet of peonies presented by Mrs. Frances Howard to those in the "80's." In this bouquet was a red peony, the bulb of which was stored away by her father sixty-two years ago with some potatoes in holes, a method they used to have for keeping potatoes; so this flower was sixty-two years of age. Mrs. Tebo then presented me with a bouquet of roses which she said she brought to have placed at my plate at the table.
After we had met some of the old ladies and gentlemen a crowd of us started up on the hill to visit the cemetery, from which a beautiful view of the town and the surrounding mountains can be had. The cemetery was decorated with flowers and looked very pretty. We were especially interested in two peculiar trees on the Gosline lot which were said to be foreign. They rose a certain distance then branched out and drooped forming a beautiful arbor. Near this lot was a tree which is commonly called the Fringe tree and the "fringe flowers" were so fragrant they perfumed the entire hillside. We went down through the woods, and some one said it was over a cow path, but we protested because it was too beautiful, so we knew it must be an Indian trail. We had a lunch of wild strawberries and then picked ferns and flowers, carrying home huge bouquets of these.
When we reached the house we found a number of ladies and gentlemen had arrived, and we spent the time until dinner was announced getting acquainted. I first met Miss Conly, the postmistress of Ralston, and learned that she had had that position for forty years and has the honor of being postmistress longer than any other woman in the United States. She has many interesting things to tell about her work, because her father had the office before her and she used to help him. Mrs. King, a very dear friend of hers, is postmistress and has been for five years, at Langdon, and she very much enjoys her work. Then Miss Newell, of Williamsport, was another one of these girls who lived up among the mountains, and she had some interesting things to tell. Among the very old people I found Mr. Harrington, who is eighty-eight years of age, but young in spirits. Mr. Vickery was next, being in his eighty-sixth year, and then came Mrs. William Groover, who was in the eighties. I was interested in meeting C. B. Holcomb, who was taken to Roaring Branch thirty years ago, ill of asthma, but who is still very much alive, having been cured in that place, just by the air. I could not remember the names of the many people I met, but at least 100 of them were well up in years. Then the rest were the children and the grandchildren, the youngest guest being ten months old. Mrs. Reynolds, an old lady of Newelltown, carried out an original idea, dressing up in hoop skirts and an old-fashioned gown and when later on in the evening she said she would love to have a ride in an automobile, she was placed in one and taken home. The contrast of the old-fashioned lady in the most modern conveyance was quite marked and cause a hearty laugh, the car starting off amid cheers.
The dinner – well, I'm not going to try to describe it. It was just what you would expect to find in the country, and we all enjoyed it very much. The table of honor was in the dining room and was for those in the eighties. It was in charge of three young women, who had lived in that place and went to school together. They were chosen because of this fact and also because of their avoirdupois, the three being about the same size – and they were not small. Mrs. Washburn said she feared the old people might get hilarious and wanted someone to keep them down, so these three women were chosen. They could do this successfully, but they had some difficulty in getting in and out the kitchen door and when they met at this door, well, "there was nothing doing." Other tables were on the lawn under the trees and the dinner horn kept sounding until 2:30. Then we all gathered under the trees, where a platform had been erected, and listened to letters, poems and an address that were most interesting. From a comfortable position on a carpet, where a crowd of us were seated, we looked over the crowd and it was a most pleasant picture. Children played on the lawn, old people and young mingled, some played croquet, others ball, and all had one good time, the best day since the reunion last year, was the verdict.
Just before we broke up and the good-byes were said, Mr. McNett read the following poem, which he wrote after he reached the Washburn home:

How dear to our hearts the scenes of our childhood,
When fond recollections presents them to view;
The farm house, the barn and the orchard close by,
And all the old places our boyhood knew.
The hills in winter we so often coasted
The fields in the Fall where often corn roasted
And close by in the creek the old swimming hole.
The apples we ate them, the chestnuts we snapped them.
Oh! The thoughts of those days enliven the soul.

Then give us again a day in our old home,
With the comrades of youth, our lives to renew,
And here at Rock Terrace with warm hearts to cheer us,
Clasp hands with old friends loyal and true.
The fields in the Fall where often corn roasted
And the days and the nights were spent without measure,
In seeking and finding no vainly thought pleasure,
And later the Sunday we were out larking,
We dignified then by thinking it sparking.
The lasses, God bless them, we love them so true.

Fate gave us another, our old love now a grandmother,
Yet again let us fond recollections renew;
Then give us again a day in the old home
With the loved ones of your our love to renew.
And here on Rock Terrace with warm hearts to cheer us,
Meet, mingle and greet the loyal and true.

And those dear girls, God bless them,
How well we remember the big hoop skirts and the rings in their ears,
And the long Fall nights till late in December,
With apple-cuts, dances, and the hopes and the fears,
Could we see her safe home
'Neath Heaven's high dome:
Where never there seemed such great earthly bliss,
As that sweet walk home, and the good night kiss.

Then give us again a day in our old home
Let's meet the ones we loved long ago,
And here on Rock Terrace with warm hearts to cheer us,
See the bright side of life forgetting its woe.
And close by in the cold ground on the hillside
Rests the clay of many we loved, yes loved well
They have gone before us their spirits abide,
In mansions of life, forever to dwell.

We'll shed not a tear, but with greatest good cheer
Strive to be ready the summons to meet
When on heavenly wire comes the message "come higher
Your loved one and your lost in spirit to greet."
Then give us again a day in the old home
And make it a happy, true gladsome day
And here on Rock Terrace with warm hearts to cheer us
Remember we, too, are passing away.

- Dorothy Deane

| | | |
| --- | --- | --- |
| Bradford County PA | Chemung County NY | Tioga County PA |

Published On Tri-Counties Site On 15 FEB 2007
By Joyce M. Tice
Email: Joyce M. Tice

You are the visitor since the counter was installed on 14 FEB 2007

Retyped for Tri-Counties by Don Stanton
Book Submited by Don Stanton (2007) and Marty Messner (2004)