Mansfield PA, Tioga County PA
Tri-Counties Genealogy & History by Joyce M. Tice
People of the Tri-Counties
1935 Mansfield Baseball Team, Mansfield, Tioga County PA
| | | |
| --- | --- | --- |
| Bradford County PA | Chemung County NY | Tioga County PA |
Who: Mansfield Baseball Team
Where: Mansfield Borough, Tioga County PA
What: Newspaper Photo
When: 1935
Photo Submitted by: Joyce M. Tice

Tri-Counties Genealogy & History by Joyce M. Tice
People of the Tri-Counties
1933 Mansfield Jr. High Basketball Team, Mansfield, Tioga County PA
| | | |
| --- | --- | --- |
| Bradford County PA | Chemung County NY | Tioga County PA |
| | |
| --- | --- |
| | Photo from Ted Bescanceny Collection. I had to take the boys on right from a different photo because they were faded out nearly completely on the first photo and others were faded out on the second. Notice how perfectly I matched the bricks on the wall although the one boy (one of our two unidentified) has a misaligned shoulder. |
Identified by Ted (Now 94 years old as of this publication - August 2006)

Ted was a new teacher at the time under the supervision of Dr. Myron Webster, then Principal of Mansfield Junior High School. He formed this team and "took them on the road." They won 11 games and lost three according to the photo label. Ted was then appointed coach of the team he had founded.

Back Row: Clarence Harvey, "Tot" Donald Bentley, Seymour Shaw, Bob Sumner, Ted Bescanceny, John Baynes, ???, Bernard Kelly
Front Row: Tuffy Kermit Ayres, "Shiner" Darwin Neal, DonOsborne, "Morey" Maurice Bentley, ???
Tri-Counties Genealogy & History by Joyce M. Tice
People of the Tri-Counties
1952 Mansfield Little League Baseball Team, Tioga County PA
| | | |
| --- | --- | --- |
| Bradford County PA | Chemung County NY | Tioga County PA |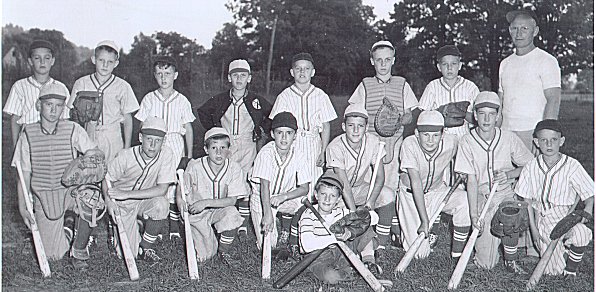 Mike McNaney Sent in this photo - His father, John McNaney was the photographer
Full Size version is in Joyce's Museum
First Row: Basil Smith, Jim Bescanceny, Jim Farrell, Mike McNaney, Jack Tomlinson, Tom Kelly, Bob Miller, Bobby Smith.
Bat Boy is Richard Miller
Second Row: ???, Tommy Smith, Terry Mudge, Alan Best, Ray Kendrick, Roger Lloyd, Bob Burnham, Ted Bescanceny

Notes from Mike - Mansfield Area Recreational Association began Little Leauge Baseball around 1951 and most of these guys aged out by 1953. In 1954 we had a rag tag team of some of these guys and several others that won most of our games. Jimmy Farrell was a left handed pitcher. I was a catcher and enjoyed his pitching more than any others. He played two years of professional minor league ball - mostly in relief with a two year career record of one win, no losses.
Roger Lloyd saved my life as a boy. He served in the U.S. Navy as a pilot with a very distinguished career.
Alan Best has been awarded a place in the New York State High School Hall of Fame for his extraordiinary career in coaching girls basketball.
Richard Miller also had an outstanding career in coaching basketball in Central Pennsylvania.
| | | |
| --- | --- | --- |
| Bradford County PA | Chemung County NY | Tioga County PA |

Published On Tri-Counties Site On 06/28/2004
By Joyce M. Tice
Email Joyce M. Tice

You are the visitor since the counter was installed on 28 JUN 2004