Mansfield PA and Richmond Township in Tioga County PA
Tri-Counties Genealogy & History by Joyce M. Tice

Historic Businesses of the Tri-Counties
Local Business History Section
| | | |
| --- | --- | --- |
| Bradford County PA | Chemung County NY | Tioga County PA |
Joyce's Search Tip - January 2008

| | |
| --- | --- |
| | Do You Know that you can search just the Business pages of the site by using the Business button in the Partitioned search engine at the bottom of the Current What's New Page? You will also find extensive business information in the Directory section. |
Harry Fish Buys Business Block in Mansfield
Former Teacher and Wellsboro Business Man Conducts Shoe Store
Wellsboro Gazette, August 26, 1954, p.4

Mr. & Mrs. Harry Fish of Mansfield last week purchased the business block in which Fish's Family Store is located, from Mrs. William J. Neal. The block, built by Nathaniel Kingsley in 1878, when a wooden building in which he ran a shoe store on the opposite side of the street burned, has been the site of a shoe store for 76 years. William J. Neal bought the block in 1908 and sold the shoe business to Harry Fish in 1948.

Photo from 1959 Carontawan Ad
Mr. Fish is a former member of the Wellsboro High School faculty and before coming to Wellsboro taught at Austin, Coudersport and Mount Jewett, where he served as principal of the school. He was later employed at Smith's Shoe Store in Wellsboro. He is the retiring president of the Mansfield Lions Club, president of the Men's Bible Class of the First Baptist Church at Mansfield and a member of the Masonic Lodge at Blossburg.

Mrs. Fish is the former Joyce Ingerick of Wellsboro. They have two children, Frank, associated with his parents in the shoe business, and Annabel, a junior at the Mansfield High School.

Photo from 1957 Carontawan Ad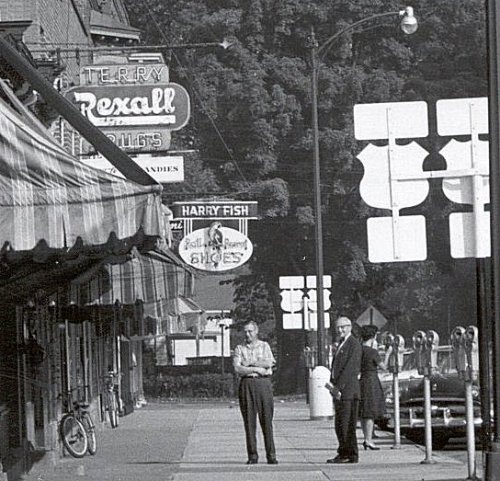 Harold Terry & Harry Fish admire the new sidewalks..
---
Baynes Shoe Store - Leon E. Baynes
Nov. 1963 -Mansfield Advertiser
60 Years on Main Street
| | |
| --- | --- |
| Mansfield business has "grown up" around Leon E. Baynes because Mr. Baynes has been a part of it for more than sixty years. That is a record for anyone and couple it to a tall thin man with a smile for everyone and a cherry word of greeting, no matter how things are going, and you have a doubly impressive record. Leon Baynes is a son of John and Elizabeth Miles Baynes and grew up in this area. In fact, Mr. Baynes was born in the house where they now reside at 266 North Main Street, He has lived there all his life. More than sixty years ago he began work for the Judge and Pitts dry goods store where the T.W. Judge Co. is now located. About fifty-two years ago he and George Obourn went into the grocery business in the building where Finesilvers store used to be before the new store was built. Later Mr. Obourn sold out to George Kelley and the Baynes and Kelly Grocery continued for a good number of years. Mr. Baynes then bought the shoe store of Mr. Ed Miller which then became Baynes' Shoe Store. For many years Mr. Baynes fitted the shoes and listened to the troubles of the Mansfield community. He always had a sympathetic ear. One day he decided to retire, so he sold the store to the Bond Shoe Co. But so energetic a person couldn't stand to retire so he again changed types of merchandise and began work in the Van Noy Furniture Store. A broken leg was sustained a few years ago but even that failed to keep this good man down and he is back as strong as ever. Mr. Baynes, in addition to his business is a member of the Baptist Church and one of its Deacons. He has been church treasurer for more than thirty years. He is also active in the Baptist Men's Club. He has been a member of the IOOF Lodge for nearly fifty years, is a Past Noble Grand and also a member of the Canton and Encampment. | |
For many years he has been secretary of the Prospect Cemetery Association and probably knows more about the early burial plots in Mansfield than any other person. Mr. Baynes married Miss Lettie Limbaugh of Waterville, PA on June 26, 1912. They have three children, Harold Baynes, who is Assistant Superintendent of George Junior Republic at Grove City; Richard Baynes, who is an engineer employed by Revere Copper & Brass Co. at Rome, NY; and Dr. John H. Baynes, of the MSC music faculty. They have seven grandchildren.
---
Caracciolo's Shoe Repair on South Main Street
1955 Carontawan Ad
1954 Carontawan ad
1959 Carontawan Ad

---

In 1926 James Caracciolo worked in the shoe store of John Farrer. He moved to his own shop at 16 S. Main Street in 1927 and remained there until shortly before his death in 1985.

Jimmy's little shop was located in a tiny old wooden building between the Mansfield Restaurant and the barber shop. After Mr. Green accidentally pressed the throttle instead of the brake leaving the A&P and crashed into the shop, it was replaced by a newer brick building. The shoe repair shop, the barber shop and the newsroom were razed and replaced by the Waldeman building which is now [2010] part of the new borough building.

1958 Carontawan Ad
In this shot, Jim is seen standing outside his shoe repair shop between the restaurant and the barber shop. Newsroom and bakery complete the sequence.

Jimmy's little brick shoe shop is hidden behind a tree in this street scene. Another little brick building replaced the old barber shop and stood next to the newsroom. All three have since been replaced by the Waldeman building which is now [2010] part of the new borough building.
2010 New borough building almost done. Insurance agency [blue] was once Hartsock's Bakery. Short part replaces Mansfield Restaurant razed 2010.
Wellsboro Gazette, January 22, 1976, p.5
"Jim" Caracciolo Celebrates Birthday
A birthday is just like any other day for James Caracciolo of Mansfield, but someone "told" so we dropped by his shoe repair shop to help him celebrate, His family planned a special celebration too.
Mr. Caracciolo was 78 years old on January 15 and was right on the job repairing shoes. He has been in business in that spot for the past 49 years, having come to Mansfield in September of 1927 from Corning, NY.
He has been in the same spot, but not in the same building for that length of time. About 10 years ago an out-of-control car demolished his building so a new one was built.
Mr. Caracciolo, whose wife passed away last year, has three daughter, Mrs. Catherine Watkins of Blossburg, Mrs. Louise Crippen of Deland, Fla., and Mrs. Isabelle Button of Tioga. He also has 5 grandchildren and several great-grandchildren. He lives on South Main Street in Mansfield and is active in Holy Child Church.
Mr. Caracciolo is also noted for his green thumb in growing a crop of lemons each year on the tree in his shop.
---
Wellsboro Gazette, August 18, 1976, p.14
Jim Caracciolo Observes Fifty Years in Business
James Caracciolo of Mansfield will celebrate 50 years in business on September 7.
Mr. Caracciolo came to Mansfield September 7, 1926, and began work for John Farrer, who at that time owned the Newsroom on Main Street. Mr. Farrer was the grandfather of the John Farrer who is now Mansfield's Postmaster.
After a few weeks in this job, "Jim" as his many friends know him, opened a shoe repair business on South Main Street at the same location where he now works. He is not in the same building, however, because on September 12, 1962 an automobile went out of control on Main Street and crashed into his building, completely wrecking it. The new brick building which he now owns was built then.
Jim was born in Italy on January 15, 1898 and is very proud of his United States citizenship and its flag. He reports that he was called up for military service in World War I just one day after the Armistice and so never saw duty.
Mr. Caracciolo has two daughters, Mrs. Catherine Watkins of Blossburg and Mrs. Isabelle Button of Tioga. His wife is deceased.
Jim is at his shop each day and while he takes time out for the morning "men's coffee klatch" he is still very active at shoe repairing.
The Community saluted him.
---
CARACCIOLO - James V. Caracciolo, 87, of 237 South Main St., Mansfield, died Saturday, Oct. 12, 1985, in Broad Acres Nursing Home, Charleston Township. Mr. Caracciolo owned and operated Jim's Shoe Repair on Main Street at Mansfield for 58 years from 1927 to this past July. He was a member of the Mansfield Chamber of Commerce. Born in Reggio do Calabria, Italy, Jan. 15, 1898, he was a son of Anthony and Catherine Valenti Caracciolo. Mr. Caracciolo was a member of Holy Child Roman Catholic Church. He was a 64-year member of the Moose Lodge 825, Galeton, and a member of the 55-Plus Club. He also was a life member of the Mansfield Volunteer Fire Co. A merchant for more than 50 years, he once worked 15 hours a day to keep up with demand, but business declined when it became less expensive to replace shoes than to repair them. Following his retirement, he kept his shop open a few hours a day just to pass the time. He came to the United States in 1915 and settled in Mansfield in 1926. Mr. Caracciolo was an avid bowler for many years. His first wife, Rachael, died in 1943, his second wife, Minnie, died in 1975, and a daughter, Mrs. Isabelle Button, died in December. Surviving are two daughters, Mrs. Catherine Watkins of Blossburg, and Mrs. Louise Crippen of Deland, Fla.; five grandchildren, and nine great-grandchildren. The funeral was held Tuesday at the church in Mansfield. Burial was in West Hill Cemetery, Galeton. The Rev. John Tamalis, his pastor, officiated. Memorial donations may be made to Hose Room Improvements at the Mansfield Fire Dept. - Wellsboro Gazette, October 16, 1985
| | | |
| --- | --- | --- |
| Bradford County PA | Chemung County NY | Tioga County PA |