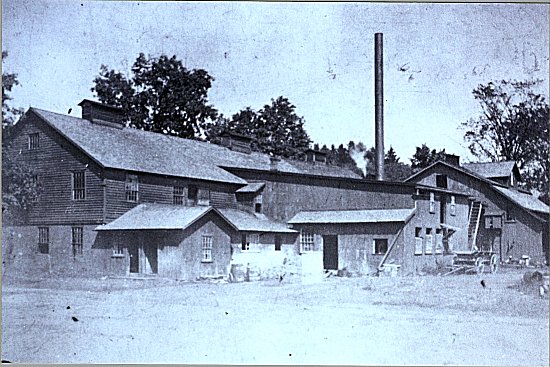 ---
1897 History - The Mansfield Tannery, the oldest manufacturing enterprise in the borough, was established in 1840, by Capt. Ezra Davis. In the fall of 1865 Ralph R. Kingsley acquired a half interest in it, and in 1868 became sole owner. He associated with him his son, C.S. Kingsley, and the firm continued as R.R. Kingsley & son until the father's death, December 26,1893, since which time C.S. Kingsley has carried on the business. It is devoted to the tanning of upper leather, has the capacity of 80 to 100 sides per day, and gives work to ten employees.
---
This was called the Brick Tannery because the sidewalls were made of brick.
Business: Mansfield Tannery
Township: Richmond Township - Mansfield Borough
Year: 1840 - ??
Photo from Chester P. Bailey
---