Tri-Counties Genealogy & History by Joyce M. Tice
Fowler Hill Cemetery, Rush Township, Susquehanna County, PA
| | | |
| --- | --- | --- |
| Bradford County PA | Chemung County NY | Tioga County PA |
Text and Photos by Carol HOOSE Brotzman
Copyright 2006

Formatted & Published by Joyce M. Tice
Joyce's Search Tip - December 2007 -

Do You Know that you can search just the Bradford County Cemetery Records on the site by using the Cemeteries -Bradford button in the Partitioned search engine at the bottom of the Current What's New Page? If you use that partition follow these steps to search just one cemetery.
1. Choose Cemeteries - Bradford.
2. Enter part of the cemetery name [ie Ballard or Berrytown] AND a surname.
3. Choose the Find ALL Words option. Then it will find just the pages with that surname in the one cemetery you indicated.

---

See also - Bradford County Cemetery Addresses
We are including this Susquehanna County Cemetery listing on the Tri-Counties site because it includes mostly people who lived in Bradford County PA, and it is just "a stone's throw" from Stevens and Tuscarora Townships in Bradford County
---
FOWLER HILL OR WHITNEY CEMETERY
Compiled by Carol Hoose Brotzman 1996-2006
I can be reached at
Brotzman@dfnow.com or carolbrotzman@hotmail.com
Whitney Road, Rush Township, Susquehanna County, PA
Carol Brotzman and Amanda Brotzman Kingsbury have photographed all the photos.
The tiny Fowler Hill/Whitney Cemetery is located on the former lands of the William Whitney property. The surrounding property was previously owned by LaMar Whitney, to Bryce Whitney, to Max and Carl Whitney, and presently by the Richard and Karen Schultz family. After Max died in 1989, the farm was divided to settle the estate, no more to be owned by the Whitney family who purchased it from Chandler Bixby who bought the land warrants about 1838.
The information here has been gathered with dates recorded from some very deteriorating headstones, diaries, and family members, plus data from the Bennett Genealogy compiled by Dorothy Anne Bennett in 1967. The outside edge of the cemetery, on the backside was supposed to be the burial plots of the Hoyt families. I surmise they were in the way of making hay and removed and used as fill in the Whitney driveway (diary data). The cemetery is encompassed, so to speak, with in the boundaries of large trees. There are a few burial plots beyond the trees marked by headstones, but very few! The Shultz family has adopted the cemetery and keeps it in very nice condition. It comes complete with a picnic table now. Karen Schultz tells me she would like to be buried there with her son who passed away some time ago.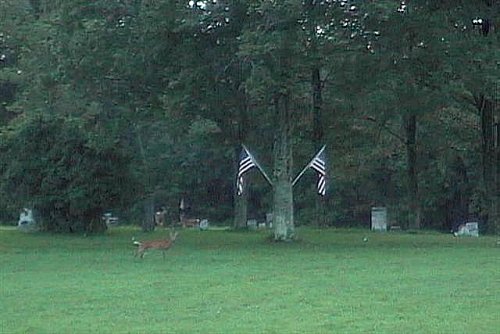 As you can see nature enjoys this cemetery too!
This view is from the very back corner looking towards the Left front side of the cemetery.
There are two children of Miles and Lucy C. Bishop Bennett, who are supposed to be there without benefit of headstones. Lucy Bennett is buried, not at Beaver Meadows where her stone is, but supposedly here at Fowler Hill. There is a stone at Beaver Meadows for Ferris and Nancy Black Bennett, but they too may be buried here at Fowler Hill. There is no proof either way.
Legend has it, that James Bennett, the son of Miles and Lucy Bishop Bennett, had his mother's name etched on his father's headstone at Beaver Meadows along with Elizabeth "Lib" Mary Gilson, the second wife of Miles Bennett. There is a headstone and a footstone in Fowler Hill to support she is buried here.
This is the Bennett headstone in Beaver Meadows Cemetery, Tuscarora Township, Bradford County, PA.
Two daughters of Lucy and Miles buried at Fowler Hill were:
Mary Alice Bennett born August 27, 1853, and died October 12, 1856
Elva Marsha Bennett born May 13 1856 and died October 5, 1856
The girls were buried October 14, 1856, with the Rev. D.D. Gray officiating. This data was from the Bennett Genealogy and records of Reverend D.D. Gray found at the "Laceyville Oldest House." I find no headstone markers that are legible.
Lucy C. Bishop Bennett was born February 29, 1832 in Spencer County, New York. She passed June 23, 1858 in Pike Township, Bradford County, PA. She married Miles Bennett November 14, 1852.

Ferris and Nancy Black Bennett headstones at Beaver Meadows
Ferris Bennett died May 13, 1890 aged 89 years and 12 days
Son of Thomas and Sarah Stratton Bennett
Nancy Black Bennett died February 29, 1872 aged 68 years 1 month
Daughter of Joseph and Alice Wells Black
The following is a cataloguing of the Fowler Hill cemetery right to left from the front side of the cemetery, facing the Whitney road.

Lucretia J.

Daughter of P.L.(Peleg) and Roxane Slocum

Will? ? 23, 1811(1877)

Aged 16 years 2 months 23 days

Peleg Slocum (July 20, 1790 Pawling, New York)

Died July 15, 1862
George Slocum (March 16, 1814 - October 20, 1858)

The stone is broken and embedded in the ground

He was the son of Peleg and Roxanne Barnam Slocum.

He was married to a woman named Hannah.
George Devine, son of Mary Ann (Slocum) Devine (and Theodore Devine)

Died January 4, 1863

Aged 1 year 3 months 28 days

Next to this stone is the GAR#135 (#on the marker) Flag

Mary A. Slocum was the daughter of George and Hannah Slocum.
There is a larger stone by the lilac bush
George Devine
Born October 28, 1838
Died February 8, 1910
Viola Devine (Carrie Viola Devine daughter of Theodore and Mary Devine Slocum)
Born June 18, 1868
Died June 16, 1905
O. I. Devine (Alonzo Devine son of Theodore and Mary Slocum Devine)
Born January 30, 1874
Died April 9, 1910
Mary A. Slocum
Wife of Theodore Devine
Died June 4, 1888
Aged 47 years
---
Row 2
Left to Right

The huge white stone on the left when looking from the Whitney road is pictured here.

It is the Mahala Whitney headstone.

Her footstone is on the far left under a Lilac bush, which is not shown here. It has been displaced by a woodchuck hole. Hers is the only name etched on this stone. The house in the background is the former Whitney home, now belonging to the Schultz family.
Whitney, Mahala (Bennett)

Wife of Wm. H. Whitney

Died March 15, 1872

Aged 42 years

(Mahala Bennett was born April 6, 1829 to Ferris and Nancy Black Bennett)
Infant son (small stone)
Died January 13,1859
McKenzie (small stone)
Son of Wm. and Mahala Whitney
Born March 11, 1868. Died 7 weeks 4 days (that would be about May 2, 1868)
| | |
| --- | --- |
| The stones for the Whitney children and the father are probably, all eroding away | |
Note the Lilac bush, where the footstone for Mahala, "mother" is located on the left. The footstone "Father" could indicate a burial sport for Ferris and Nancy Bennett who are alleged to be buried here and have headstones at Beaver Meadows or her husband William Whitney. We just do not know but there is a stone recording just the name William.
William Whitney
Another small stone for a child maybe?
Father (could be Ferris Bennett or William Whitney?)
A very tiny fieldstone (probably one for Lillie and Jennie recorded in the Bennett Genealogy or Nancy Black Bennett)
Nearby is another stone with two names on it that cannot be read, but one records, -died 1857.
Also nearby is a footstone, which may be for a Devine. It clearly records Devine.
WRAM and Eliza Devine are etched on the stones.
The Devine stones could represent Eliza Bump, wife of Hiram Devine. They were the parents of Theodore Devine buried here. I could have misread WRAM for Hiram but Hiram is buried at the Devine Ridge Cemetery, Rush Township, Susquehanna County, PA. There is no indication Eliza is there with him? This could in all probability be her burial place.
The following is data regarding William H. Whitney who died August 5, 1912, and comes from various sources: He is buried here at Fowler Hill/Whitney Cemetery. His name was never etched on the large headstone alongside his beloved Mahala. William was born about 1824 in PA. Legend has it he was born near Forkston Wyoming County, PA. to Walter and Louisiana Edwards Whitney. William Whitney is in Windham Township 1850 census with his parents. On May 9, 1853, Reverend Davis Dimmock Gray married William and Mahala Bennett. Mahala was the daughter of Ferris and Nancy Black Bennett of Pike Township, Bradford County, PA. The family says William is buried at Fowler Hill. His granddaughter, Miss Muriel Whitney (1911-2003 buried at Beaver Meadows) recorded in a letter to me in 1995 that he is buried on the "farm". The journals of Leo Bolles state, "Ma and Pop" went to his funeral on August 8, 1912, but he did not record where! There was also a Grange service recorded for West Auburn, Shiloh Grange members. William Whitney's second wife Hulda Jane Lewis MaGee Smith Whitney is buried at Beaver Meadows. William Whitney married Hulda MaGee on February 3, 1874. She was the daughter of James J. and Betsey Ross Lewis.
William and Mahala Whitney were the parents of many children. I cannot be exactly sure how many, however the family records only two lived to maturity. A son Walter, born about 1858 died from a heart attack in January 1915. He was married to Ollie Manes. They adopted two children according to the Saint Matthews of Pike Episcopal Church records, William Clark Whitney and Isabella Hoag Whitney. The Shiloh Grange of West Auburn recorded he died January 1915, no burial place of internment was listed. Leo Bolles recorded these records too. Walter could be buried here at Fowler Hill, no one knows for sure.
William and Mahala have only one daughter Elva (1860 - 1924) reaching maturity. She married before 1880 to Charles Cobb (1851 – 1921). They have several children Iva M., James "Blaine", Jennie, and Elkhannah Winchester Cobb which left many descendents.
Among the children of William and Mahala that died before adulthood are McKenzie (1868), Jennie (1866), Lillie (This data is from the Bennett Genealogy only), Jinnie (1869 Bennett Book data and census) and an infant (1859 Bennett Book data). All are probably buried here with fieldstone markers. The second daughter on 1870 census named Jenna born about 1861 must be buried here also. Census records, the Bennett genealogy and Reverend D.D. Gray's burial documents are the only proof they existed. The 1870 Auburn 4 Corners, Rush Township census recorded a daughter named Jenna aged 9 along with Elva and Walter. Jenna evidentially passed after 1870 census but before 1880. That census records William was born in Ohio, but no other census recorded that obvious error. Where the other two girls Jennie and Jinnie were in 1860 is not known. They should have been there with the family.
1880 census
Name Relation Marital Status Gender Race Age Birthplace Occupation Father's Birthplace Mother's
Birthplace
William H. WHITNEY Self M Male W 56 PA Farmer CT NY
Huldah WHITNEY Wife M Female W 38 PA Keeping House PA PA
Walter WHITNEY Son S Male W 23 PA At Home PA PA
Jennie A. WHITNEY Dau S Female W 14 PA At Home PA PA
Jinnie WHITNEY Dau S Female W 11 PA At Home PA PA
La Mar WHITNEY Son S Male W 5 PA PA PA
Clarence DEXTER Other S Male W 21 PA Farm Labor PA PA
Mahlon CULVER Other S Male W 19 PA Farm Labor PA PA
Olive MEANS Other S Female W 21 PA Servant PA PA
Source Information:
Census Place Rush, Susquehanna, Pennsylvania
Family History Library Film 1255197
NA Film Number T9-1197
Page Number 365B
The 1860 census just recorded what would be expected, the parents William and Mahala, Walter and the unnamed female who later was named Elva.
William and Hulda Whitney were the parents of William, LaMar, and a daughter that died in infancy. She is probably buried at Fowler Hill. No one knows for sure. From the Bennett Genealogy, we find Mrs. Hulda Smith married William Whitney. The Montrose Historical Society records she was married to William Whitney on February 04, 1873 by Reverend A D Alexander. Hulda had married on November 06, 1865 to her first husband Theodore MaGee. They divorced, but to this union a daughter Jennie Magee was born. She became the wife of Ernest Smith. Hulda is buried beside her in the Ernest Smith lot at the Beaver Meadows Cemetery. Jennie Smith's stone reads, daughter of Theodore and Hulda Magee, August 13, 1868 - December 8, 1943. Hulda's headstone has a wrong birth date on it according to the death certificate which records she was born in 1842. Her stone records February 03, 1847 - August 8, 1929. I do not know which is correct.
---

Back to the Fowler Hill cemetery listings

Middle between row 3 and 4

Amasa Fowler (but maybe Samuel Barker Fowler)

?29 That's all I can read. He died December 29, 1836

Sarah Fowler, wife of Samuel Fowler, (born about 1815)

Died September 15, 1840

Aged 29 years 1 month 25 days

My records indicate she was born Sarah Powell and became the wife of Samuel Fowler who was the son of Samuel (Barker) Fowler and his wife Sylva. Samuel, known as Barker Fowler is alleged to be buried here. He has no headstone that I can locate unless this stone, which looks like Amasa Fowler is his. He died December 29, 1836 at age 54. His wife Sylva remarried Jesse B Stephens. Samuel and Sylva were the parents of at least seven children.
The next is a small stone etched with LCB; I suspect this is the footstone for Lucy Bennett, wife of Miles Bennett with the headstone located in the Beaver Meadows Cemetery.
---
Row 4 left to right
Next are the children of John Frank and Matilda Gibbs Bishop. Matilda was his first wife. After she passed John married Hulda Arminda Parker who was the widow of James Simon Shaw. James died January 18, 1869 and is buried in the Quimby/Quinby Cemetery in Silvara, PA. John and Matilda were the parents of Emma, Hosea and Ida. Matilda was the daughter of Russell and Rachael Pierce Gibbs. She had siblings in the Beaver Meadows area. John and Hulda were the parents of Nora, Hosea (a second son named Hosea) and John.
Hosea J.(Bishop)
Son of John and Matilda (Gibbs) Bishop
Died December 2, 1861

Ida E (Bishop)

Daughter of John and Matilda (Gibbs) Bishop

Died February 14, 1859

Aged 1 year 9 months 12 days
Matilda Gibbs Bishop is probably buried here somewhere without the benefit of a headstone.
Then an unmarked flagstone
Next are three stones
1st is Marinda Fowler (This could be the same entry as the second one, but definitely two stones)
2nd is Marinda Fowler died 1850 age 28 years?
3rd Lucy C. Died 1858
I suspect this headstone is for Lucy C Bishop Bennett; this must be the headstone to correspond with the footstone. She was the sister of John Frank Bishop. They were the children of James and Sally Bishop. You can see everyone is related to each other here too.
Next are 2 smaller stones
Next is a little larger stone. All are unmarked flagstone style
There are 3 stones between row 4 and row 5.
The Fowler parents should be here; if so this would be the perfect spot. Just guessing though.
The stones bear these initials, which could fit the Bishop parents James and Sally.
HSRB (On a very hard to read headstone)
SAB (On stone)
? (On stone)
---
Row 5 Right to left
The Hardy children lot is next: Their mother Margaret Clapper Hardy (August 03, 1817 - January 29, 1892), daughter of William and Catherine McKarg Clapper buried here is buried at Beaver Meadows; she lived right next door to the church and cemetery. She died January 29, 1892 aged 74 years 5 months 27 days. The headstone simply records "gone but not forgotten". Her husband Philander F. Hardy (January 29, 1816 - July 01, 1885) died in Warren, Midland Michigan presumably visiting his children. They buried him there.
The Hardy Children's headstones
Phebe's headstone is the white one in back. Ida Patience is the broken one.
Infant Hardy

Died July 1845

Aged 2 days

Family records show they lost an infant July 7, 1845, she was 2 days old

Ida Patience

Died February 18, 1864, (the family records she died February 19, 1864)

Daughter of P.F. and Margaret Hardy

Aged 20 years 6 months 15 days

It is a large stone that is broken

The family records show she was born August 04, 1843

My grandsons are holding the stone of Patience Hardy
The stone we lifted out of the ground records Hardy, but that's all we can read. It too is a small grave in regards to the placing of the footstone. It could well be the daughter Ida Orlette Hardy May 08, 1860 - March 10, 1862, age 1 year 10 months 2 days as recorded by the family.
Philander and Margaret were the parents of the following known children: Patience, the infant, Cynthia later to be the wife of Adolphus Culver who died in the Civil War, Phebe, Philander DeWitt, Charles, Ida Orlette, and a second daughter named Ida Patience Hardy.
Charles Bennett
Died age 35 years 1 month 27 days
He was the son of Ferris and Nancy Bennett
He died October 13, 1861
The Bennett genealogy tells us Charles Bennett developed Measles while running logs. A throat infection followed. He returned home, possibly from Sullivan County, PA while working with his brother Samuel Bennett in the logging industry at LaPorte. His mother Nancy tenderly cared for him, but to no avail, he passed away October 13, 1861. He was married to Ann Love. They were the parents of Emma Bennett who later married Dennis Depew and a son Henry Bennett. He was born in Pike Township; Bradford County, PA June 06, 1827. Reverend D.D. Gray records he was buried October 16, 1864.

Above: His stone is broken and hard to read
At Right: This is Charles Bennett, his wife Emma and daughter Emma.
The photo is from the Bennett Genealogy
Harriet E. (Hoadley) Bennett
First wife of D.D. (Davis Dimmock) Bennett
Died age?
November 01, 1863, the stone is too deteriorated to read. This date comes from the Bennett Genealogy. If I were to decipher I could read the November clearly but I guessed at November 22,1862 when recording. Now you can see how badly deteriorated it is. According to Rev D.D. Gray's records she was buried November 3, 1863, which does not jive with the death date. Possibly December 3 would be correct?

| | |
| --- | --- |
| | D.D. Bennett is buried at Beaver Meadows with his third wife Harriet Hall. His second wife Mary "Cornelia" Very is buried at Fairdale with her family. She was first married to Robert Teel. |
According to Reverend D.D. Gray's records, there should be another child named Charles buried here.
He records "A child of D.D. Bennett, Bixby meeting house funeral, August 18, 1862" (buried at Fowler Hill), sermon Job 1:21. His marker is probably one of those flagstones
---
Row 6 Left side
There is a small stone in great shape and a small footstone recording PM

Phillie

Son of Edmund and Thankful Cottrell Marbaker

He died November 1, 1862 aged 1 year 5 months

Happy infant early blest

Rest in peaceful sleep (evermore?)

2 more unmarked small stones follow; maybe they are for the two children of Joseph and Susan Cottrell Marbaker

I think I would be remiss if I didn't mention that Joseph and Susan Cottrell Marbaker lost two children born 1849 – 1860, one son and one daughter. Those children are probably buried at Fowler Hill. Joseph and Thankful Cottrell Marbaker buried their son Phillie at Fowler Hill, therefore why wouldn't his brother bury his children alongside? The father's were brothers, the mothers were sisters, and just maybe these were their family plots. There is plenty of space next to the Phillie Marbaker gravesite; there are 2 other unmarked flagstones, which could represent those children. Edward and Thankful Marbaker are buried in Beaver Meadows Cemetery along with Joseph and Susan Marbaker. The time period the children of Joseph Marbaker likely died would have been before burials began at Beaver Meadows in the mid 1860's. Fowler Hill Cemetery would have been the perfect place for internment of their children.

The obituary of Susan Marbaker records these children.

Susan G Marbaker was born in Rhode Island November 30, 1816, and died at her home on Fowler Hill January 3, 1901. Her maiden name was Cottrell. She was a cousin of the late Reverend William H Olin of the Wyoming Conference, a very prominent and much loved minister. While quite young she came to Pennsylvania with her parents. She was united in marriage with Joseph Marbaker August 20, 1843. For about 55 years they lived together, he dying about four years ago the 25th of March. She was the mother of seven children, three boys and four girls, two dying in infancy. About 50 years ago they purchased the place where both of them died. It was then a dense wilderness. Mr. Marbaker cleared up his farm, and for a half century lived to enjoy it. Not long after their purchase at Fowler Hill, a union church was built at Beaver Meadow, nearby. Mr. And Mrs. Marbaker were deeply interested in the building of this church, and did much toward it. Not far from that time, she and her husband were united with the Wesleyan Methodist Church. Both of them remained faithful members of the same church until called to the church above. The writer, for his first pastorate, was appointed to the field, which included this point. Hence had had the privilege of her acquaintance a number of years ago. She was a woman of true religious life, quiet and unassuming, but kind and true, as a friend and a follower of Jesus. She lived long and witnessed many changes during her stay here. She leaves to friends a glorious legacy; not of money, but of Christian character and life. May those who are left to mourn be comforted by the same grace, which supported and kept her all the way of her earthly journey G.O.B (I assume is the George O. Beers who served at the church from 1873-1875).
---
Row 7 left side
The stones with willow trees on top belong to the Clapper family. They are the very last stones on the left side.

Wm. P. Clapper

Died January 20, 1858

Aged 73 years 4 months 10 days

William Clapper served in the War of 1812,
however no flag is marking his grave any more.

Next in line is

Catharine (McKarg) Note the spelling of her first name!

Wife of Wm. P. Clapper

Died October 3, 1858

Aged 68 years 1 month 18 days
Next are 2 small-unmarked stones
A little to the left of the Hardy children in row 7
Phebe Ann
Daughter of P.F. and Margaret Hardy
Died May 25, 1865
Maybe it reads 11 years 3 months 1 day?
I am including a few, just a very few of the records of Reverend D.D. Gray shared with me by Marie VanDeMark. These have been hand copied a few times so there could be errors, but the basics are good. These records can be found at the Laceyville Oldest House and the Wyoming County Historical Society in Tunkhannock, PA.
Funerals held at the Beaver Meadows Meeting House (Church) conducted by Elder Rev. D.D. Gray. He was a local Elder, and the Pastor of the (Laceyville) Braintrim Baptist Church for 31 years. He was never the pastor at the Beaver Meadows or Bixby (Which ever name that was in use at that time) Meeting House. The records of the Freewill Baptist Church of Silvara mention meetings held at Fowler Hill. They used the Bishop School house for religious services. I am sure he was a traveling preacher.
Babcock child of Perry (and Mary Culver), Beaver Meadows Meeting
House, funeral November 7, 1863 buried where? Sermon 1Cor. 15:15, 5-2
Funeral of Mr. Marbakers (Phillie Marbaker) child 2 November 1862, sermon John 14:3 burial Fowler Hill, Bixbys Meeting House
Charles Bennett, Beaver Meadows Meeting House funeral October 16, 1864 (buried at Fowler Hill), sermon Ps. 39:4
Child of D.D. Bennett, Bixby meeting house funeral, August 18, 1862 (buried at Fowler Hill), sermon Job 1:21
Widow of D.D. Bennett (Harriet Hoadley Bennett) funeral held November 3, 1863. (Should read December 3) (Buried at Fowler Hill)
These are a few more records of Rev. D.D. Grey associated with the area,
Stevensville, 5 Feb. 1861, funeral of Mr. Featherbay, Text Rev. 1:7
Tuscarora Creek, 26 May 1865, funeral of Clark Warner, text 1 Cor.7: 29
Rush --- Speech at the laying of the cornerstone to the meetinghouse. July 11, 1866
| | | |
| --- | --- | --- |
| Bradford County PA | Chemung County NY | Tioga County PA |

Published On Tri-Counties Site On 13 JAN 2006
By Joyce M. Tice
Email: Joyce M. Tice

You are the visitor since the counter was installed on 13 JAN 2006