Tri-Counties Genealogy & History by Joyce M. Tice

1976
Elkland and Osceola - As We See It
| | | |
| --- | --- | --- |
| Bradford County PA | Chemung County NY | Tioga County PA |
Elkland and Osceola "As We See It"

by Ray and Sandy Crawford

Highlights of Elkland, Pennsylvania on its 200th Birthday

Dedicated to the founders of Elkland, Pennsylvania

1976













Page 28
Roy Brown had the first gas office for a short time in his home where Van's Esso now stands.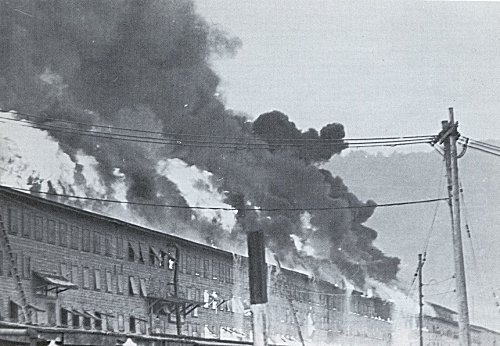 [Illustration: Elkland Tannery built in 1894 and destroyed by fire on June 23, 1973. Different views of the tannery in different years.]

When the Edward Planing Mill was destroyed by fire in 1899, the land was purchased by the tannery and some of the old buildings are still standing on the property today – the office, old carpenter shop and machine shop, and the red hide houses. The mill which was destroyed by fire stood where the large parking lot is now, just about parallel with the new garage.

Mr. E. H. Ellison became interested I the tannery while visiting the town in the interest of a group of Trust Tanneries. He had been offered various positions by large tanning organizations and Elkland Tannery seemed to take his fancy. He sat for an afternoon on the old bridge which spanned Tannery Creek (the bridge near the office) pondering over the future, before he decided to cast his lot with the local concern. The decision which he made that afternoon long ago has ultimately affected the entire Cowanesque Valley. At the time he made the decision, Elkland Tannery only employed a handful of men, today, May 1st, 1950, there are 1,000 men on the payroll and there is a capacity of 4,000 hides per day. To the best of our knowledge and belief, Elkland and Westfield Tanneries were the only ones which operated full time under the depression of 1929.

Early records are not available but we understand from reliable sources that the tannery from the old sweat pits to the rolling loft was badly damaged by fire in 1907. Many of the older employees can recall the rebuilding of the tannery, some of them helped with the labor.

In the year 1937, Elkland Tannery was visited by the worst strike in the history of the organization. We need not pause for details as the memory of that summer is still clear in the minds of present day employees. In November 1947, 16th day, Elkland Tannery suffered heavy loss by fire which completely destroyed the leach house before it could be brought under control. Only prompt and efficient action on the part of local firemen and firemen from nearby communities saved the new power plant and the scrub house. In January 1948 another serious fire destroyed the company garage, which at the time contained a new Brockway truck along with other trucks and equipment, quantities of drygoods, gloves, aprons, etc., which were store over the garage; damage was estimated at $80,000.00. Firemen worked all afternoon in freezing weather to save nearby buildings. In October 1946, things looked very dark for Elkland Tannery, two hundred men were laid off in one day on account of the shortage of hides due to the O. P. A. removing price control on hides. Every effort was made to procure raw hides from local sources. Everyone looked forward to an early resumption of production.


[Illustration: no caption]

In the year 1948, work was commenced on the new modern leach house and autoclave building to take the place of buildings destroyed by fire. Today the buildings are completed and in operation, and aside from the Power Plant buildings which are comparatively new, are the nicest buildings in the tannery group.

A new modern cement block garage has been built on the site of the old garage and it also houses the new laboratory which was moved from quarters over the office building.

Elkland Leather Company did stand as the largest sole leather tannery in the world. Instead of using hemlock bark which was used entirely in the olden days, the tanning materials are shipped in from all parts of the world. New chemicals are replacing the old methods of tanning, modern machinery is replacing manual labor, yet with all modern science and engineering, we still have on our payroll today employees who have been employed steadily since 1894, when Mr. Ellison sat on the bridge and pondered over the question of casting his lot in a little Pennsylvania village. Mr. Ellison and his family reside in Massachusetts, his two sons, E. H. Ellison, Jr. and William P. Ellison have taken over the active work of the organization.

Mr. C. W. Prindle has been superintendent of the tannery since the death of his father, F. C. Prindle, in 1925.

The Elkland Trading Company and the Elkland Electric Company have both been fostered by the Elkland Leather Company and are self supporting. The Elkland Leather Company has since burned in the year 1973.

The Julius Kayser Company

The Julius Kayser Company made its first negotiations to locate a factory here in May, 1946. At that time the Borough Council appointed a committee to find a suitable building to house Kayser operations.

On Monday, July 8, 1946, the company began operating in the American Legion Club House which had been leased to Kayser and equipped by the firm with machines necessary for the production of the Kayser glove line.

The end of September, 1948 saw the start of construction of a new Kayser plant on South Buffalo Street, as officials had promised when the firm located here. The lot on which the building was constructed was deeded to Kayser by local business firms who were anxious to encourage this new industry in town.

The building was dedicated on April 22, 1948 with the public invited to inspect the plant with its 140 machines, modern lighting system and a host of conveniences for the workers.

At peak capacity, the plant can employ between 175 and 200 women, and has been a boon to the community which had been a one-industry town for a number of years.

The Kayser Company, which has its executive offices in New York City, has plants located all over the United States, one in England, one in Canada and one in Australia. The company, one of the leading garment manufacturers of the world, is now closed. Now the building houses the Elkland Bowling Lanes.

John S. Ryon Building – Main Street

The eastern part (or law office side) was originally located on Buffalo Street opposite the Methodist Church on a lot which was purchased by Mr. Ryon from the Winsor Gleason properties; was later moved to its present location on Main Street.

Mr. Ryon started the study of law in 1874 and practiced law in this same location to time of his death.

He was appointed postmaster in 1885 and served one term. His great grandfather was the first postmaster in Elkland. In 1885, the store building was built on and was used for a time as a post office, later rented for various purposes, then in 1900 the grocery was started in this side and was conducted until some time in 1913. His daughter, now Mrs. Emma Ryon Smith, conducted the store, having as clerks A. Lee Redfield, Ferris Hazlett, Herbert Peterson and William J. Ordway, who were school boys helping out mornings and evenings and Saturdays.

In the upper front corner of the store building Mr. William Mitchell had a stock of jewelry and silver and did repairing of watches and clocks. In the back of the store building was a cigar-manufacturing shop.

The law office side of the building has had several occupants, a repair shop, a restaurant, and the last, Mr. Zachre Finelli, who used it as a shoe repair shop for a number of years until about March 1 of this year.

The building was purchased in January of this year by Mr. and Mrs. Ernest DeSera, and the former law office part is undergoing repairs and remodeling and will be used as a Beauty Shop by the DeSeras when completed.

The grocery store was in operation at the time the old Kinney block burned in 1908, which was next to it. By good work of the firemen, the Ryon block was saved, but was extensively damaged by fire and water. Mr. Ryon had the building repaired, however, and the business continued until 1913, when the stock was disposed of and the grocery discontinued. It was later rented to Mr. E. T. Longwell as a shoe store, then in May 1919 was rented to its present occupant. Adelbert Smith, who has continued to operate and Automotive Parts and Accessory Store and Gasoline Station since that date.

April 5, 1916, Adelbert Smith came to Elkland and started work as a salesman for Albee & Zwilling who were co-partners in the car and truck business. They handled seven car agencies and five truck agencies. In 1917 he bought out the shop part of the garage, then owned by R. C. Albee and leased to E. S. Hartley.

In the spring of 1918 Adelbert Smith took over the Delco Farm lighting agency and then owned all of the garage in the fall of 1918 when the building was sold to Mrs. Frank Seeley.

May 1, 1919. Adelbert Smith rented the John S. Ryon store, owned by Joseph Smith, for use as an Automobile Accessory Parts store.

In 1920 Adelbert Smith added the Model "T" Ford Agency.

The repair shop was rented to Bert Frank in 1924, but Mr. Smith took it back in 1927, then sold the tools and equipment in the fall of 1928. In December 1928 Mr. Smith purchased the ice business from Fred Potter. At that time they cut the ice from the Cowanesque River and had a large harvest. They put up about 450 tons. By 1929 it was not as good and in 1930 we got very little, due to weather conditions. It was necessary to buy manufactured ice and haul it from Hornell, N.Y. in 1931, 1932 and until the fall of 1933. That year the garage was sold out to Bert Frank and the Ice Manufacturing Plant was started September 13, 1933 – a $45,000.00 investment. At first it was driven by gasoline engines, but later in 1946 it was converted to electric. The Second unit of the Ice Plant was built in 1937 and $4,000.00 more invested.

In the beginning the ice plant produced six tons of ice per day (twenty-four hour day_.

In 1934 they sold thirty-three cakes a day to Carl Moore in Elmira, N.Y., a cash and carry dealer.

You will note the peak production of 1,776 tons of ice manufactured as compared to the "large harvests" of 450 tons of natural ice which they put up in 1928. During these years they delivered ice to Elmira, Addison, Lawrenceville, Wellsboro, Galeton, Knoxville, Westfield, Potter Brook and Sabinsville.

In 1947 Adelbert Smith bought the coal business from Wood & Campbell who had operated the business twenty-nine years.

At present Mr. Smith is engaged in trucking and has a power shovel. He does contract work such as digging cellars, etc., and hauls sand and gravel in addition to the coal business and the ice manufacturing business.

Henning's Hardware

In the year 1875 the Elkland Cigar Company had a factory and made cigars in the present Henning's Hardware building. In 1889 Carl Bailey purchased the building and started business as a dealer in fresh meats. He continued in the meat business, being assisted by his brother, Elton Bailey, until 1912, and in that year sold the building to Frank Simpson who started a hardware store in Elkland.

Mr. Simpson continued in the business until 1919 when he took in as partner his son Fay. Due to the rapidly growing business, and addition was built on the east side of the building. In 1925 the Ellsworth Stores with Glenn Moore as proprietor, opened a grocery in this addition and later Clinton Casbeer opened a meat market and grocery.

One of the many memories of the Simpson Hardware was the gatherings around the huge old coal stove in the center of the store where all the happenings of the past and present were discussed. The stove still continues to be the source of heat supply for the store. Frank Simpson passed away in October 1939 and Fay, assisted by William Martindell, continued in the business until 1940 when he sold to John Hurst of Philadelphia.

Mrs. Hurst opened an up-to-date gift shop in the new addition and Mr. Hurst managed the hardware line, until he passed away in 1946. Mrs. Hurst operated the store with the assistance of Forest Watkins and Mr. Martindell for a year and then sold to Donald Henning of Mehaponey, who sold his holdings there are moved his family here after redecorating and remodeling the apartment over the store. Paul Squires, Thelma Button, Don and Dorothy Henning are the ones who serve you at Henning's Hardware. The new owners are Mr. and Mrs. Harding.

Brass & Sumner Building – Main Street

The building on the south side of Main Street now owned and occupied by Harold Brass and C. Ray Sumner has seen many changes in owners and tenants since August 19th, 1873. This is the first time it is mentioned in Tioga County Record Books and was deeded by John W. Ryon to Joel Parkhurst. It was deeded to B. H. Parkhurst on January 29th, 1882; Charles L. Pattison on January 31st, 1894 and Oliver P. Babcock on June 6th, 1907. the east side of the building was deeded to Carl Bailey and finally to Harold Brass in 1929. The west side to John Bostwick in 1912 and C. Ray Sumner in 1947.

The inside of the Sumner building was damaged by fire in 1894 when Lou Poley had a harness shop there. Miss Kate Johnson (later Katherine Babcock) and sister had an up-to-date millinery shop and was succeeded by the Natural Gas Supply Company owned by Roy Brown. He sold all kinds of gas supplies and equipment when natural gas was piped to Elkland in 1903.

Mr. Brown owned the second automobile which came to Elkland. It was a one cylinder open car. Elkland's first automobile was purchased by Frank Cornelius I the early 1900's. It was a beautiful one cylinder Cadillac. Many of Elkland's present residents had their first auto ride in this car going to and from the Methodist Sunday School picnic at Simpson's Grove below town. The license plates for the Cornelius car were made of heavy black-grained leather about 5 x 11 inches with large brass letters. His number was 13. At this date there was a Tioga County ordinance which required a car driver, when he saw a horse or team coming, to stop at the side of the road, shut off the motor and stand by the car until the horse had passed.

Mr. Brown was followed by Tremain's Pool Room, Lou Young with notions for a short time and Frank Barnhart for two years. John Bostwick purchased the building in 1912 and sold men's clothing and shoes until ill health forced him to retire in 1947. Since that date Ray Sumner has conducted a hardware business which was sold to Pete Shay and then to Cerchie & Horton.

The other half of the building was used as a clothing store by Max Rich until the year 1897. H. Ray Albee opened a Barber Shop and Pool Room. In 1901 he was joined by a nephew, Robert Albee, and later Allan Albee. Their prices were .20 for a hair cut and .10 for a shave. Charles Webster's Meat Market was followed by Frank Hess who repaired and painted cars in part of the building and Mr. Williams had a dry cleaning business in the front west corner. Joe Surina had a garage here from 1925 until the North Penn Gas Company moved their office from the Fessler Drug Store in June 1930. Harold Brass opened a barber shop in 1927 after finishing Buffalo Barber School.

| | |
| --- | --- |
| | |
| [Illustration: Elkland Electric Company – 1975] | [Illustration: no caption] |
North Penn Gas Company
Natural gas came to Elkland in the year 1902. The first gas bills were paid at the store of Roy Brown (now C. Ray Sumner). After Mr. Brown left town they were paid at Fessler's Drug Store until June 1930 when the North Penn Gas Company opened up their present office and show rooms in the Harold Brass building.
Edd Donley came to Elkland from Pittsburgh to open a drug store in September 1936. Two years later he added his soda fountain. Ralph Dykins had a picture gallery on the lot from 1914 until the present modern cinder block building was erected in the summer of 1936.
John Griffin
In 1908 Claude Long built Lyon Block and in 1914 Ralph Lyon opened a grocery and meat market. He remained in business until March 1943.
In 1948 John Griffin opened a billiard and pool parlor. Since closed.
Liquor Store
The Graves Building on Buffalo Street (now the home of the State Liquor Store) was built by Ezra Fenton in the early 1870's. He had a meat market there for a number of years and sold to Oliver Rice who had a bakery with Jay Adams as baker, also a variety store and lunch room. About this same time Jack Fillman had a meat market, E. Cady had a blacksmith shop, Mrs. Audinwood had a millinery shop, in later years Ruben Hammond had a taxidermy for twelve years.
L. H. Farmelo
L. H. Farmelo has been in business since 1935, having bought his father's store on Proctor Avenue that year. In 1944 he purchased from D. Owlett the dairy store on Parkhurst Street and remodeled it. This was accomplished in September 1946. After eight months, he sold to L. R. Lumazza and started a wholesale house on Buffalo Street.
Ideal Beauty Shop
In the year 1935 the Ideal Beauty Shop was opened for business in the Warren Block by Miss Inez Giordano who took a beauty course at the Del Kader School in Elmira, New York. Her sister Norma joined her after her schooling at the Dermal Way School in Elmira in 1939. The two sister were in business together until the end of 1939 when Inez left the business to Norma and went elsewhere to work.
Norma moved her shop in the fall of 1940 to its present location on Coates Avenue, and has since added new equipment and other improvements which is now closed.
Joette's Beauty Shop
After studying in Bailey's School of Cosmetology in Elmira, Joette opened her modern shop on Buffalo Street in 1940. In 1948 Mrs. Milinski moved her shop to its present location on First Street. Now closed.
Van's Esso Service Station
The present building of the Van's Esso Station was built April 21, 1887 by Charlotte Waklee who deeded it to Dr. W. W. Wright for a home office until his death April 29, 1902. It was then deeded to Herman Kemp in 1902, Leroy w. Brown in 1905, and L. D. Jacobs in 1908. At that time the school badly needed more room and on April 14, 1913 Mr. Jacobs deeded it to the School Board. It was remodeled and used for the lower grades until 1931. For the next six years it was used only for a music room, boy and girl scouts.
In 1940 it was purchased by the Putman Oil Company and used as a garage with Lawrence Smith in charge. For a number of years C. Ray Sumner had a Western Auto Store and Garage there and was succeeded by Ralph Dempsey in 1944 and by Paul Vanzile in 1946.
L. C. Moren
The first store in the village of Elkland was opened about 1824 by John W. Ryon, Jr. and Robert Tubbs. In 1828 Joel Parkhurst, who had previously been in business with his brother in Lawrenceville, came to Elkland, joined with and later bought them out. He became within a few years, not only a leading business man, but the wealthiest citizen of the Cowanesque Valley, maintaining at the same time a well deserved reputation for liberality, enterprise and public spirit.
In the year 1860 Hon. Benjamin Dorrance entered into copartnership with Joel Parkhurst and David Dunbar in this mercantile business, in the brick building on the corner of Main and Buffalo Streets. Mr. Dorrance remained with the business until 1872, when the firm was dissolved.
Parkhurst and Dunbar continued in business for some years. In the 1890's J. H. Buckbee purchased the building and business and continued until his death. His son Daniel carried on until the Grand Union Tea Company had a store here for a short time.
In the year 1938 L. C. Moren moved his store to this location. Mr. Moren and a sister, Frances Strauss, started in the retail store in 1908. With their pooled resources of $142.00 they bought a small grocery and notions store of Mr. Ed Perry. The store was located in what is now the Novack Restaurant and rented for $15.00 a month from Mrs. Byron Cornelius.
The store prospered from the beginning as the hours were from 6 a.m. to 11 p.m. I 1910 they bought the corner where Moren's Apartments are today. A grocery department was I the store until the spring of 1927, when chain stores started to invade the grocery field and the store handled only ladies' ready-to-wear goods.
In 1946 Mr. Moren purchased the building from Mrs. Thompson where Moren's Dress Shop and Moren's Kiddy Shops are located today.
In 1944 Mr. Moren sold the Kiddys shop (formerly Fessler's Drug Store) to Mr. and Mrs. Francis Sereno who operated the store and then sold to Mr. and Mrs. John Strauss.
After Benjamin Dorrance left the firm of Joel Parkhurst and David Dunbar in 1872, he opened a drug store in the room adjoining. He continued in this business for five years, when he sold his stock in trade to O. P. Babcock and Dr. W. W. Wright. They continued in business until they sold to Thomas A. Fessler who continued in the drug store business until ill health forced him to retire in the 1930's. Mr. Fessler collected gas bills for the North Penn Gas Company and was a Notary Public for many years.
In the year 1833 Timothy S. and David Coates engaged in merchandising and lumbering, continuing until 1854, when Clark Kimball of Osceola succeeded him.
Mr. Ralph Dykins came to Elkland in 1914 and located his picture gallery on a vacant lot which now is the home of Donley's Drug Store. He remained here until July 1935 when the present building was started. Mr. Dykins only missed but three Saturdays since 1914 and had made many trips on other days for special events.
Ed Longwell had a shoe store near this location for a number of years.
Nick Cantafio
In 1917 Mr. Cantafio opened a grocery store on Taft Avenue. Ten years later he moved to Campbell Street. Later he built the building on Buffalo Street where he is still located. He sells groceries, motorcycles, musical instruments, radios, etc. which the new owners are Mr. and Mrs. Almer Cruttenden.
In 1934 Nick Cantafio started a wholesale beer distributing company in his building on North Buffalo Street. Patsy Farmelo purchased this business in April 1947 with one truck. In 1948 he added another truck and again in 1949 added another. He conducted the business in the Coates Hardware Building on Buffalo Street until it was destroyed by fire on December 4, 1949. At that time he purchased the new Packard Building on South Buffalo Street and now has his business there. Later moved into the newly remodeled Pet Milk factory.
Lawrence Spencer
In 1935 Mr. Spencer built and opened a restaurant on Buffalo Street.
Before Mr. Spencer had his restaurant, the Leach Brothers had a pool room in this same location for a quarter of a century. In 1935 it was destroyed by fire.
Parkhurst Insurance Agency
Robert McCann founded this insurance agency about 1889 holding his offices in what is now known as the Elkland Lunch owned by Ruth Avery. Mr. McCann operated the business for about three years, then moved from Elkland, selling the business in 1903 to Benjamin H. Parkhurst, who moved the offices to the Pattison National Bank Building where it is located today. Mr. Parkhurst owned the business until his death in 1926. Mark Redfield and Fred Stedge purchased it after Mr. Parkhurst's death and sold to Thomas Wood in 1932. For ten years Mr. Wood operated the insurance agency, owned a coal business and held the office of Tax Collector. Since the death of his father in 1932, Clark H. Wood has carried on with the insurance business, still conducting it under the name of Parkhurst Insurance Agency.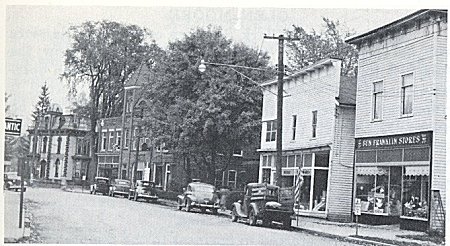 [Illustration: Courtesy of Thurman Pattison – Main Street looking east]

[2 Illustrations: Gas office and Surina Garage before and now.]
Mallory's Garage
Lee Mallory moved to Elkland from Austin, Pennsylvania in 1909 and repaired cars for Clark Bailey and Frank Cornelius in their own private barns. In 1912 he opened his first garage in the old barn on the Ed Coates estate and later accepted positions with Pete Smith and H. D. Hill Garage. In 1917 he rented part of the B. Davenport Garage, then purchased the old Baxter Building from Lin Coates in 1920. In 1926 he constructed a modern garage. Mallory's Pontiac Sales and Service is owned and operated by Lee and son Wayne E. Mallory on West Main Street. Early cars had one and two cylinders, hard rubber tires, many were chain driven with disc transmissions. The speed was from twelve to twenty miles per hour, which is quite different from our 1950 models.

| | |
| --- | --- |
| [3 Illustrations: The Grand Union store in the picture is now Morens Dress Shop. Red and White store is Davis Variety store. The new stores with new fronts and new owners: Mrs. Angline Davis, Davis Variety and Mr. John Straus.] | |
| | |
Ben Franklin Store
The Ben Franklin Store was established in Elkland in 1935 and its founder was Lewis D. Sheen. The building where this store is located was erected in 1911 by Claude H. Long with lumber brought to Elkland from Cross Fork, Pa. It was in this building that Mr. Long operated Long's Clothing Store.
In 1916 the Sheen Brothers, Lewis and John, opened a men's clothing store under the firm name of John L. Sheen and Company. In 1923 they moved their business from the Long Building to the one where Sheen's Sons are now located, and the Lewis Bakery became the next business in the Long Building.
In 1925 the sign read "Kramer's 5 and 10" and in 1926 Max Rubin operated a men's clothing store. It was in this year that the Wetmore family purchased the building. Later in the year Mrs. Amy VanGorden opened the building's second "5 and 10".
In 1930 a partition was added. The Market Basket, operated by Glen Neal, was on one side and Mrs. VanGorden was on the other.
In 1935 the partition was torn down, the store remodeled, and Lewis D. Sheen opened the Ben Franklin Store. It was operated by him until his death in 1945. It was taken over by his widow, Mrs. Jennie M. Sheen. Mrs. Sheen bought the building from K. A. Wetmore in 1948. Now owned and operated by Mr. and Mrs. Clair Wynkoop.
The Market Basket
In 1926 the Market Basket Corporation of Geneva opened its ninety-ninth store in Elkland. The store was opened in the Warren Block and its manager was Glen Neal. These stores had been started by Harry E. Hovey in 1901 in Warsaw, N.Y. Mr. Hovey's entire capital with which he started the business was $450.00, made up mostly of his savings as a soldier in the U.S. Army in the Philippines. His receipts for that first year were $4,895.45.
Mr. Neil continued business here until 1930 when he moved to the store now owned by Mrs. J. M. Sheen. In this building the Market Basket occupied the half toward the hardware, the other half being occupied by Mrs. Amy VanGorden's Variety Store.
In 1935 the Market Basket moved to its present location I the Dulso Block which had been remodeled. Glen Neal continued to be its manager until 1942 when he went to Corning. Mrs. Myra Libby Beebe then took over the management and continued until Glen Neal's return in 1944.
Lee Redfield
The Henry Miner Building was built before 1875. Mr. Miner and son Arthur sold drygoods and groceries for nearly a quarter of a century. In 1914 Clark Brothers opened up the Daniel 5 and 10 Cent Store in part of the building and L. D. Jacobs sold groceries in the other side.

In 1920 Lee Redfield started in business using both sides. In 1928 the building was remodeled and made into one large store. In 1945 Mr. Redfield bought the building from the Parkhurst Estate.

W. C. Bailey, Jeweler

Elkland's newest up-to-date jewelry store was opened in the Behrman Block February 15, 1948 by Weldon C. Bailey. Through contact with the Reverend Harry Gayley, Mr. Bailey decided to move here from his home in Vermont. Now owned by Mr. and Mrs. Kean Butler.

Glen Moore

On May 1, 1901 Clark Brothers opened a little store in one room of their house on Main Street (now the home of Roy Davis). At the same time they began operating a grocery wagon through the country. On April 1, 1902 they moved to the property of Lewis Young on Parkhurst Street (now Gilbert's Market). Toni Golcar had a market here for a number of years, leaving in 1912. He was succeeded by Jerome Gilbert who was our friendly butcher for a number of years until forced to leave on account of ill health. W. H. Ordway purchased the market and ran it for a short time.

Glen Moore, started in business in the Simpton Block in 1925 with the Ellsworth stores, owned by the Morris Run Coal Company. In 1933 he moved to his present location.

Charles Surina Appliances

In the summer of 1939 Charles Surina started an electric store in Elkland on Buffalo Street in the Francis Murray Building, which is now occupied by the Ralph Dykins Studio. In 1941 he moved to larger quarters in the Warren Block where he stayed until 1946, and again because of the expansion of his business, moved to North Buffalo Street in the Ralph Lyons store. In 1948 he moved to the Behrman Block on Parkhurst Street which is his present location.

Carpenter & Prindle

The store was started by Gustin K. Smith and Glenn Carpenter in 1927 in the Leo Cain Building – now Melvin Preston's Barber Shop on Buffalo Street.

One year later Mr. Smith sold his interest in the business to Mr. Clarke W. Prindle and the store was moved to the read of the Post Office Building on Parkhurst Street.

After two years for lack of room, the store was moved back to buffalo Street in the Judd Block now owned by Harold Rumsey. They remained in that location for five years.

In 1935 Mr. Carpenter bought the Dr. Humphrey home and moved the store into part of the house where they have continued to sell paint, wallpaper and window glass for fifteen years.


[Illustration: Courtesy of Norma Surino – Morens Dress Shop is located in the Bender Block on Buffalo Street where Roy Bender's apartment house is now.]
Wade Burton
Wade Burton came to Elkland in 1947. the land on which his store is located was purchased by Marietta Fenton from E. W. Coates on June 8th, 1893. It was purchased by Fred Webster together with the two adjoining houses on July 13, 1906. Nicola Annicelli purchased it in April 5, 1915 and sold to John Tigilio on April 8, 1915. Mr. Tigilio built the present two story building and sold meats and groceries until he sold the property and business to Frank and Batista Lumazza on February 5, 1925. Lumazzas sold to Wade Burton on September 9, 1947.
Frank Barnhard, Jeweler
Opened business in present Sumner store in 1894. In 1897 he moved to Buffalo Street, which was destroyed by fire in 1934. The store was rebuilt in 1935.
Joe Surina
Joe Surina came to Elkland from Austria in 1910. After driving the Tannery Company car for nine years, he started a garage in 1923 where the North Penn Gas Company is now located. In 1932 he moved to his present location in the Dulso home. Joe was the first to sell radios in Elkland. He also had the first air compressor, automatic grease gun, and lift.
Burnell Davenport
Mr. Davenport started business in 1915 in former Coates Hardware. In 1917 he built and opened a new garage, where he is still operating his business.


[Illustration: Ray and Sandy Crawford – Bakery.]
Warren's Pharmacy
Warren's Pharmacy this year celebrated its sixtieth year in business. The business, established in 1890 by Dr. T. R. Warren, grandfather of the present owner, was originally located on the site of the present Barnhart Building on Buffalo Street. One year later, in 1891, the establishment moved across the street into the then newly-built Warren Block.
Roy Warren joined his father, Dr. T. R. Warren, in 1895, and with the doctor's death in 1904, assumed the management of the business. In 1926 Ross B. Warren took over the store when his father died and has operated it since.
Novaks
About 1880 Mr. Edward Longwell and his father opened a wagon shop at the site of the present Novak Building. In 1893 this was destroyed by fire, then in 1894 Mr. John Brock rebuilt it. Before Mrs. Novak went into business in 1934, this building served as a business site for numerous restaurants, bakeries and stores.
Fritz Bakery
Their business began in the present Novak Building December 1926. In 1932 they built and moved into the building in which they are still operating their business. They closed in 1952 and reopened by Ray and Sandy Crawford as Ray's Bakery.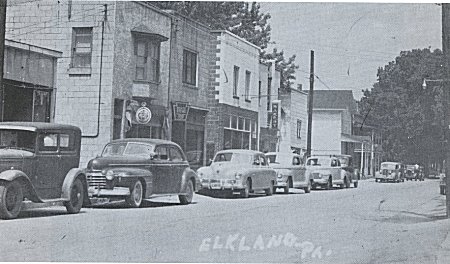 [Illustration: Courtesy of Thurman Pattison – Buffalo Street looking north – Bakery is last business – now owned by Ray and Sandy Crawford.]
Elkland Dairy
For about a half of a century, Frank Simpson, and later his son, Lynn, delivered milk to the people of Elkland in a horse-drawn milk wagon.
The W. H. Perham Dairy, which is Elkland's only home distributor of dairy products, came into being January 26, 1948. At this time, the Maple Lawn Dairy, which was operated by D. G. Owlett, was purchased by W. H. Perham.
Milk was originally supplied to Elkland's populace by a considerable number of farmers who produced raw milk on their own farms and distributed it in the same state. Because of increasingly stringent health regulations by state and local organizations, the number of distributors was reduced considerably.
In 1936 Dr. H. Z. Frisbie, who had purchased the Brown farm which was the late site of the Maple Lawn Dairy, procured a pasteurizer and was Elkland's first home dairy to distribute pasteurized milk and cream. D. G. Owlett, in 1940, purchased the Maple Lawn Dairy from Mrs. H. Z. Frisbie.
Since he was the owner of the Elkland Dairy, at that time located on Parkhurst Street, this move consolidated Elkland's two home dairies. Mr. Owlett operated his business at the site of the Maple Lawn Dairy until it was purchased at the aforementioned time by W. H. Perham.
Schoonover's Dairy
Schoonover's Dairy was established by H. C. Schoonover in 1931, delivering raw milk to Knoxville only. In 1933 the dairy was moved to its present location in Knoxville, and began distribution of the first pasteurized milk in the Cowanesque Valley, serving Elkland, Knoxville, Westfield, and surrounding towns.
John L. Sheen and Sons
In 1832, George L. and Samuel Ryon opened the second store that was built in Elkland and continued in business until 1843. This was on the site of the present Sheen and Sons Store.
In the 1870's Richard A. Skinner opened up a general store in the same building. About 1855, Mr. Skinner moved the original Ryon Store building back on South Buffalo Street, and it is now home of Ralph Warburton. At this time, Mr. Skinner constructed the present brick building. George Newberry of Elkland, as a young man, helped tend the bricklayers in the construction of this building. In an Elkland Journal paper of 1881 we find an ad of R. K. Skinner which reads:
"We carry a complete line of blankets, shaws, etc.
| | |
| --- | --- |
| Ladies' Gassamers | $1.00 |
| Pair good towels | .10 |
| Good crash, per yard | .06" |
In the year 1907, Jacob Herr had a clothing store here. Also William Mitchell for a short time. The Clark Brothers had a dry goods and grocery store in this building for nearly a quarter of a century and in the year 1921 sold the store to Sheen Brothers.

The first Sheen's store, owned and operated by John L. Sheen, was opened at Knoxville, Pennsylvania in the year 1912. The store offered to the people of this valley men's and boys' clothing, and shoes for "every member of the family."

In 1916 the firm was incorporated as John L. Sheen & Co., Inc., at which time Lewis D. Sheen, who was a younger brother of John, became a stockholder in the new firm.

Soon after this the company purchased the Claude Long Men's Furnishings of Elkland which was located in the building that is now the Ben Franklin Store. At this time Lewis took up residence in Elkland and became manager of the new branch.

In 1920 the company purchased the Clark Brothers stock and building, and moved to that location which is occupied at the present time.

In 1932, the Knoxville branch store burned, necessitating its liquidation. It was a year later that John, the senior partner, came to Elkland to a more active part in that store's management.

Two years later saw the dissolving of the partnership, at which time Lewis D. Sheen opened the Ben Franklin Store, and John L. Sheen became the sold owner of the firm, then to be known as John L. Sheen. It was at this time that the two sons, J. Lewis and Donald H. Sheen took positions in the new firm. Donald moved to Elkland to live while Lewis and his father remained at Knoxville.

In 1937 Mr. Sheen decided to make his two sons junior partners with him in the business and the firm changed its business title to that of John L. Sheen & Sons, which it hold to this day.

Mr. Sheen remained active in the management of the store for many years after and never retired from business life until his failing health demanded it. He died on February 15, 1945, having been in business for thirty-seven years. The store then came into the ownership of J. Lewis and Donald H. Sheen and remains so to the present time.

Gleason and Baker

Gleason and Baker, local International Harvester dealers, occupies a new cinder block building on South Buffalo Street. The firm was organized in 1944 by Glenn Gleason and Archie Baker, and at that time occupied the store building in the Signor Block which now houses the Surina Appliance Store.

The firm expanded and early in 1946 the construction of a building to house its growing operations was begun. The structure was completed in May, and the business was moved from the Parkhurst Street location to the present site.


[2 Illustrations: Courtesy of Thurman Pattison – Elkland Moose and Gleason & Baker International Harvester.]

The Elkland Electric Company

The Elkland Electric Company, now housed in a remodeled Main Street block, was incorporated in 1925. On Christmas eve of that year electric street lights were turned on for the first time. The town had talked electric lights from the time the first generating plants were installed at the Elkland Leather Company, but attempts to form a local power company failed until August 12, 1924 when the Borough council granted an ordinance-franchise to the Elkland Electric Company. Construction work was started that year, and services were rendered to some customers by December 1925.

During Elkland Electric's trying first days, Mr. Angelo Rupar, now manager and vice-president of the company, was the complete staff. He wired homes, read and installed meters, ran lines, made out the monthly bills, collected them, and kept the records. At that time a desk at the tannery office served the business needs of the company and the tannery warehouse was used for material storage. Bills were collected evenings at the Borough Building.

The Company moved uptown in its second year to the building now housing Preston's Barber Shop; from there to Parkhurst Street space at the rear of the Post Office, and thence to its present home on Main Street.

The company has expanded enormously since its beginning and now serves more than 750 customers.

Fred Cevette built his present building in 1932 and opened up a shoe repair shop.

Sandy Farmelo built his present building on Proctor Avenue in the year 1936. He sold meats and groceries for two years, then sold the business to his son Louis, who continued in business there for eleven years before reselling to his father in the year 1947. Now is the Swedes Market.

Elkland Trading Company

Elkland Trading Company, Ind., Buffalo Street, was incorporated December 5, 1922, succeeding E. H. Ellison Store. It was formerly owned by Proctor, Ellison Company and the Tannery Office was located here until 1900 when it was destroyed by fire.

It employs twenty-one clerks, has modern up-to-date equipment and carries a complete line of general merchandise.

The first store was owned by the Cornelius family, at the time the Tannery was located across the river and the "Tannery Store" was in the Cornelius home.

One of the first advertisements appeared in the Elkland Journal September 19th, 1895.

The following have been managers of the store: Fred Potter, Herman Kemp, Bert Clark, Walter Jones and Thomas Wood.

W. J. Ordway, present manager has been connected with this firm for twenty-nine years. H. S. Freberg, assistant treasurer has been with the firm of seventeen years.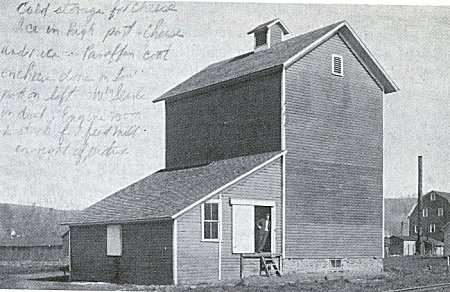 [Illustration: Courtesy of Thurman Pattison – Cold Storage, William Seral in door.]
Elkland Creamery
In 1887 B. H. Parkhurst built a creamery just east of Elmer Button's present home and north of the present cold storage building. This creamery made butter and sold full cream for a number of years.
Cheese Factory
George H. Harris and Company of Cuba, N.Y., manufacturers and dealers in Allegheny County cheese, built the cheese factory on West Main Street (now the homes of Ivan Woodward, Ralph O'Bryan and Glen Crane). This was built in 1890, and at the same time Harris also built factories in Jasper and Woodhull, N.Y. At this time the factory paid fifty-two patrons or farmers for sixty thousand pounds of milk per week.
The first cheese maker at Elkland was John McStay who was followed by Ed Dye, Frank Reynolds and Norm Searls who purchased the business in 1905. Mr. Searles continued making cheese until the Highland Milk Condensing Company built the present Borden plant in 1912.
Cold Storage
The cold storage, just north of the home of Ernest Smith, was built in 1890 by B. H. Parkhurst to parafine cheese and provide a place to store them. It was a great event every winter to cut and pack the ice in the top part of the building. It held two hundred and fifty tons of ice, all of which was hauled from the river by teams and sleds. There was a large slide and a heavy constructed box similar to a stone boat, with sleds, on which the ice was hauled to the ice storage. This building had thick walls that could hold the temperature low.
About fifteen cheese factories in the surrounding country would have their cheese parafined and stored in this building. As many as two thousand cheese per week would be handled. This storage was closed in 1912 along with the cheese factories. The picture that was taken in 1910 shows William Searls, who worked at the storage for a long time. The building remained empty for a number of years until it was purchased by the Elkland Trading Company to be used for a storehouse.

Avery's Restaurant

Avery's Restaurant began business in Elkland in August 1935, when Mrs. Ruth Avery opened the restaurant in the Buffalo Street building now occupied by Ralph Dykins. On April 1, 1936 Mrs. Avery moved the restaurant to the Signor Block where she conducted business for several years.

In 1947 she purchased the house on the Ernest George farm and remodeled it into a modern eating place.

Mrs. Avery expanded her business in February 1950 to include the Elkland Lunch which is located next to the post office on Main Street. The lunch room is managed by her son George. Now located on South Buffalo Street.

[Illustration: Avery's Restaurant]
Lumazza's Market

Lumazza's Market, owned and operated by Louis R. Lumazza was purchased from L. H. Farmelo in April, 1947. Mr. Lumazza was since childhood associated with his parents in the Lumazza Bros. Market, located where Wade Burton is now doing business.

The building housing the present Lumazza market was remodeled in 1946 by Mr. Farmelo, who operated the store for several months before its sale to Mr. Lumazza.
Blacksmiths and Livery Stables

Early blacksmiths and livery stables in Elkland were owned by Alta Cade and father, George Ordway, in the early 1900's where Lumazza's store is now located; and later Charles Dickinson and Lou Mosher in the same location.

Edd Vancise owned one for half a century in the late 1800's and early 1900's back of the present Novack's Building. A man by the name of Niles, later George Moulthroup, Art Mericle had a blacksmith shop on the present site of the Lyric Theatre.

Theatres in Elkland

Where Ray's Bakery stands today, an old blacksmith shop was located but sold to Doctor Frisbie who remodeled it for the use of a theatre. L. D. Young started the business in 1914 and since the pictures were silent, music was produced by the Young's family. The admission price for all was ten cents, and once for a year Mr. Young would have a three or four day concert given by the graduated of the Ithaca Conservatory of Music.

The business was sold to Vern Johnson in 1917. He sold it to Leon Crout, and Harry Lewis bought it in June 1919. In 1928, when Harry Lewis opened a new theatre on Parkhurst Street, the films were silent, but in May 1931 sound pictures were started on discs in November 1931 on films.

In 1946 Mr. Lewis remodeled the exterior of the theatre by adding a marque and new lighting equipment. Until Ellison's Auditorium was built, the theatre was used for dances, plays, and entertainments of all organizations.

Tailors

One of the first tailors of Elkland was Alfred Stanley, who built a house and tailor shop in 1839 on the site of the Prindle home on East Main Street. Later, Stanley sold out to Jeremiah Scallin who carried o the business for many years.

Gus Cornelia came to Elkland in 1912 and opened a tailor shop in the Upham Block on Parkhurst Street, now the George Davenport residence. Here he carried on his business for about seven months. He then moved to rooms over the Bank where he conducted his business for thirteen years. Cornelia then moved to the Behrman Block, now Bailey's Jewelry, where he continued for seven years more. About 1934 he built a modern dry cleaning plant back of his home on South Buffalo Street. On September 17, 1949 fire damaged his home and pressing room forcing him to move to the Warren Block for several weeks until his home and office could be rebuilt.

Plumbers

A man by the name of Stevens owned and operated a plumbing and tin shop in Elkland I the 1880's. In this shop, William (Bill) Butler learned the plumbing trade. Butler as a boy would visit Stevens shop and help him with his work instead of going to school.

About 1890 Butler went to work for the Miller & Rice Hardware which was located in what was then the Parkhurst Block, but is now know as the Moren Building. On the second floor of this building Butler operated a plumbing and tin shop for a short time, then purchased the plumbing shop from Fred D. Gleason in the old Foreman Building on Buffalo Street just back of Moren's store. Butler then moved both businesses to a building in the rear of his home on East Main Street. This building in which he moved was once an old Post Office building and later used by Dr. Rockwell as his office and stood between the Schultz Motor Company and Prindle home.

Claude Leach bought the building and moved it to Buffalo Street where it is still standing near the home of Charles Webster.

In 1916 O. E. Thompson bought the plumbing business from Mr. Butler and used the building until 1938, when he went to the tannery as boss plumber for their houses. However, he continued to help a few of his old customers after hours.

Walter Watson started in the plumbing business in 1914 in the Signor Block where Bailey's Jewelry Shop now stands. In 1921 he moved to the shop back of his home. His work was interrupted when he joined the Navy in 1942. His son Arthur took over in 1946 when he returned from the Marines, and now is working with Raymond Stedge in all kinds of plumbing work.

General Trucking in Town

Years ago Albert Costley ran a horse-drawn dray for the convenience of the community and later sold to Lee Howe. He continued in business until Joseph Smith purchased the trucking business and William Searl was the driver. Clyde Leach bought out Mr. Smith and conducted the business for some time.

Later, Harold Bailey bought the horses and soon exchanged them for the first motor truck. By the time Mr. Bailey sold to Ira Smith the business had grown in importance and service. James G. Holt succeeded Mr. Smith and is still carrying on in Elkland Borough and vicinity.

Contractors, Painters and Paper Hangers

When Mr. Charley Graves started the C. M. Graves and Company Wall Paper Store, he was following the footsteps of his grandfather in furnishing necessary household articles. His grandfather had a turning mill near Cold Springs where he made wooden bowls, ladles, spoons, and paddles, which have long since been replaced by aluminum, plastic or other materials.

When a young man, Fred Webster came to Elkland in 1885. After working in the Cornelius Tannery a few years he worked as a painter and paper hanger until 1917 when he moved to Elmira.

In the early 1900's John Dailye, Bert White and later George Caton also served the residents of Elkland in this capacity. Since 1920 Frank Stevens excels in painting and decorating many homes in Elkland. Edward McLean has been a general contractor since 1943. Albert Bianco worked on all kinds of building contracts.

The Pattison National Bank

The Pattison National Bank, on June 2, 1950, will observe its fify-fourth year of business as a national institution.

Joel Parkhurst founded this bank as a private bank in Elkland in 1867. In 1886 this private bank was succeeded by J. Parkhurst and Co., which in turn was followed by C. L. Pattison and Company.

When Mr. C. L. Pattison died in 1896, Orville Pattison was made president of the bank, and the establishment joined the National Banking System under the name of Pattison National Bank.

In 1906, at the death of Orville Pattison, Mr. J. O. Pattison, his son, was named president of the institution, a position he continues to hold.

The Bank Building was constructed during the winter of 1888 and 1889 by C. L. Pattison to house the J. Parkhurst Bank and the Pattison offices. Jay Beard, Elkland builder, did the construction work on the building which was designed by Pierce and Dockstader, Elmira architects.


[2 Illustrations: Citizens & Northern Bank, Main Street, Elkland, Pa. Pictures taken in 1905, 1910, and 1975.]

Barbers of Elkland

In 1875 Joseph Dulso opened the only barber shop in the Cowanesque Valley. He had come to Elkland from Seneca Falls, N.Y. where he had learned the barber trade. At the time he arrived in Elkland he was the only barber between Lawrenceville and the Potter County line. In 1893 he erected the brick building now used by the Market Basket and the office of Dr. Carey. In this building he had placed all modern facilities such as bathrooms and gained for his shop the name of the finest barber shop in Tioga County. During his years in this shop his daughter, Anna Dulso Gibbons, present owner of the building, informs us that he wore out three hardwood doors.

Mr. Dulso's favorite hobby was horse racing. He always prided himself on such horses as Don, whom he sent to Europe to enter raced there, his beautiful Black Prince and Novelty. In 1913 his barber shop was taken over by Fred Wetmore and his son Kenneth, but Mr. Dulso continued to live in his home on Main Street until shortly before hid death in 1930.

The next barber to come to Elkland was Fred A. Foreman, in 1895. He opened a barber shop in the building now occupied by Jack Finelli. From there he moved to the Babcock Block which is now occupied by C. Ray Sumner. Later he purchased the Fred Gleason plumbing store on Buffalo Street and here he also sold and repaired bicycles. After this building was destroyed in the fire of 1934, he opened his shop in his residence on Buffalo Street.

On December 3, 1913 Fred Wetmore and his son Kenneth started a barber shop in the J. C. Dulso Building. Following his father's death "Ken" continued business there until 1934.

The Valentino Barber Shop, owned and operated by Joseph Valentino, was, in December of 1949, moved into its own newly-constructed building on Buffalo Street.

Mr. Valentino, for twenty years, had operated his shop in the Lyon Building next to the New York Central Railroad Station.

He came to this county from Italy in 1921, and in 1924 came to Elkland. After a brief period of employment at the Elkland Leather Company, he resumed the practice of the trade he had learned in his native land, and has operated a barber shop continuously since then.

| | |
| --- | --- |
| | |
| [Illustration: Courtesy of Norma Surino – Theater of Elkland.] | [Illustration: Dr. Marzo, Eye Doctor.] |
Service Men and Women
Second World War

| | |
| --- | --- |
| Lt. Alberta Adriance | S. 2/c John Mattison |
| Sgt. Adelbert Allen | Cpl. Frederick McCormick |
| Sgt. Clarence Allen | Pfc. Mathew MacDonald |
| Pfc. Guilo Antonio | Pvt. James McMines |
| Pfc. John Antonio | S. 1/c Russel Miles |
| Pfc. Orlando Antonio | Sgt. Edward Milinski |
| Pvt. Charles Avery | Pfc. Leo Milinski |
| T/Sgt. Joseph Backes | Pvt. William Miller |
| Lt. Jack Bailey | Sgt. Charles Moore |
| Richard Bailey | Pvt. Leland Moore |
| Pfc. Robert Bailey | Sgt. Fred Morgan |
| 2nd Lt. Burdette Baker | Pvt. Maynard Mosher |
| Pvt. Edward Baker | B.M. 1/c Sexton Mull |
| Spc. F. 2/c Lawrence Baker | Pfc. Dean Mullenax |
| Lt. Lyle Baker | Pfc. Warren Mullenax |
| S/Sgt. Wendell Baker | Pfc. William Mullenax |
| Pvt. Louis Barbano | S. 1/c Kenneth Neagley |
| Cpl. Orlando Barocco | Pfc. Lester Nelson |
| Capt. Romolo Barocco | Pvt. Warren Newberry |
| Pvt. Lyle Beard | Pvt. William Newton |
| Sgt. Jack Behrman | Sgt. Arthur Newman |
| Ensign Delivan Blackwell | Cpl. Russel Newman |
| Sgt. Arthur Blackley | Major Frank Novack |
| R.T. 3/c Leo Blanchard | S. 2/c Ralph O'Bryan |
| Pvt. Norman Blanchard | Sgt. Preston Odle |
| Pvt. Perry Blanchard | Pvt. James Orveck |
| T/5 Lowell Bostwick | Pvt. Howard Outman |
| Sgt. Stanley Bruce | Capt. Charles Pattison |
| Pvt. Vaughn Bruce | S. 2/c Thurman Pattison |
| Pvt. Elsworth Burfield | F. 1/c Gerald Pease |
| Cpl. Kenneth Burfield | S. 1/c Alfred Piecuch |
| Sgt. Wayne Burfield | Pvt. Chester Piechuch |
| EM 3/c Franklin Burr | S. 2/c John Pond |
| Sgt. Louis Caffo | Pvt. Clifford Potter |
| Cpl. Amando Cane | Pvt. Leon Potter |
| Sgt. Glenn Cane | Sgt. Melvin Preston |
| Cpl. John Campbell | Cpl. William Preston |
| P.O. 2/c Robert Carey | M.M. 3/c F. C. Prindle |
| S. 1/c Ralph Carpenter | T/Sgt. Donald Rice |
| Pvt. Dominic Cevette | Cpl. Edward Richion |
| Pvt. Patsy Cevette | S. 1/c Forest Woodward |
| Pfc. Albert Childs | Newell Pease |
| Pvt. Richard Childs | Edgar Eldridge |
| F 2/c Marion Chilson | Pfc. Gerald Wyatt |
| Robert Clark | Cpl. Ward Wyatt |
| Sgt. Andrew Codispoti | Pvt. Paul Wynkoop |
| Pvt. Ernest Codispoti | Leo Zerinski |
| Cpl. Louis Codispoti | Pfc. George Caffo |
| Cpl. Henry Colegrove | Pfc. Paul Sumner |
| Sgt. Morgan Colegrove | Pvt. Harold Smith |
| Kenneth Coleman | T. 1/c Walter Naegly |
| Major Charles Cornelius | S/Sgt. Robert Riley |
| Capt. Curtis Cornelius | Ensign Harold Rowe |
| Marvin Cosier | Sgt. John Rowe |
| Pvt. William Cosier | F 1/c Harold Rumsey |
| Cpl. John Croft | Cpl. Clark Runyon |
| S 1/c Thyn Croft | Pfc. Leo Runyan |
| Pfc. Frank Dailey | S. 1/c Waldo Seamans |
| Richard Dann | S. 1/c Allen Seeley |
| S. 1/c Conrad Davenport | S/Sgt. Leo Sireno |
| Sgt. Paul Davenport | P.O. 3/c Reita Sheen |
| S. M. 2/c Ernest DeSera | Pvt. Arthur Sherman |
| Pvt. Harry DeSera | Pvt. Charles Sherman |
| S. 2/c Joseph DeSera | Cpl. Irwin Sherman |
| P.O. 3/c Otto Doan | Pfc. Benjamin Sheepa |
| S. 2/c Anthony Doleski | S. 1/c Bernard Smith |
| Cpl. John Doleski | Pvt. Edwina Smith |
| Ph.M. 2/c Frederick Dorrance | S. 1/c Irving Smith |
| S. 2/c Frank Duretta | Pvt. Douglas Snyder |
| S. 2/c Lee Edwards | Pvt. Kenneth Spencer |
| C. O. 3/c Kenneth Elliot | Ph.M 3/c Roy Spencer |
| Pvt. Carl Enderle | Pvt. Willard Spencer |
| T/Sgt. Patsy Farmelo | Pvt. William Squires |
| Sgt. James Fields | Pvt. Cecil Stanley |
| Cpl. Frank Finelli | F. 2/c Harold Stevens |
| Lt. DeForrest Frank | Cpl. Cecil Stone |
| Sgt. Lawrence Franklin | Pvt. Kenneth Stone |
| F. 1/c John Freeburg | Pfc. Harold Stocum |
| G.B. 3/c Arthur Fritz | Lt. Harold Stowell |
| Pfc. Gelard Giantomasi | Pfc. Harry Sweezy |
| Pfc. Nunzy Giantomasi | Pvt. Harold Thomas |
| Sgt. Nick Giantomasi | Pfc. Catherine Thompson |
| Cpl. Roger Giantomasi | Ruth Thompson |
| S. 1/c Guilo Giordano | Pvt. Kenneth Thurston |
| Cadet Nurse Anna Gleason | Pfc. Gifford Tracy |
| Pvt. George Hall | M.P. Kenneth Tricket |
| T/Sgt. Lloyd Kirk | P.O. 1/c William Tricket |
| Sgt. James Kizer | S. 1/c Hugh Tubbs |
| S/Sgt. Keith Kizer | Pvt. Nick Valentino |
| Sgt. Lyle Kreisler | Pvt. Kenneth VanDusen |
| Pvt. Joseph Kreisler | Pfc. Patricia VanGorden |
| Tech. Sgt. Richard Kreisler | Cpl. George VanHorn |
| Pvt. Harold Lent | C.E.M. Walter VanHorn |
| Cpl. Paul Lockwood | Sgt. Edwin VanSchaick |
| Pfc. Joseph Lombardo | Kenneth VanSchaick |
| Pvt. Douglas Ludlam | Pfc. Lyle Vargeson |
| Sgt. Louie Lumazzo | Pvt. Paul Volante |
| Sgt. Paul Lyon | Sgt. Beldon Wakely |
| Pvt. John McCaslin | Cpl. Howard Wakely |
| Sgt. Bernard MacDonald | Cpl. Benjamin Walters |
| S. 2/c James MacDonald | Cpl. Walter Warmus |
| Pvt. Edward Main | Sgt. Arthur Watson |
| Pvt. William Main | S. 2/c Frank Weeks |
| Pvt. Clyde Mallory | S. 1/c Glen Weeks |
| Sgt. Wayne Mallory | S. 2/c Kenneth Weeks |
| Pfc. Frederick Margraff | Pfc. Donald Wheeler |
| S. 1/c Benjamin Marzo | S. 1/c Victor Wilson |
| Pvt. John Matis | S/Sgt. Hammond Withers |
| Pvt. Stanley Matis | A/c Wallace Withers |
| Pfc. Lea Havens | A/S Jack Bruce |
| Pfc. Howard Heitzenrater | Capt. Charles Fisk |
| Pvt. Allen Hoyt | S/Sgt. Philip Trowbridge |
| Pvt. Havid Hoyt | F/ 2/c Robert McDonald |
| Pfc. Clyde Irons | Pvt. Robert Havens |
| S. 2/c Thomas Jenkins | Cpl. Walter Egleston |
| Pfc. William Jenkins | S/Sgt. Glen Webster |
| Pvt. Paul Johnson | Pfc. Robert Reykofski |
| S/Sgt. Richard Keck | Pvt. Zachre Finelli |
| M.M. 2/c Theodore Kemp | Roy Trumpter |
| Pfc. William Grover Kendall | Charles Kenyon |
| Pvt. Robert King | |
Page 39