Mansfield PA and Richmond Township in Tioga County PA
Class Lists for Graduates of Mansfield High School
| | |
| --- | --- |
| | In the lower picture the Brick Shool, built 1881, is shown in 1920. The picture at left shows the old schoool in the right background with the 1927 gym addition in front. The old school was eventually torn down. In its place now stands the larger part of the present High School. |
Mansfield High School Graduates

LISTINGS FROM THE 1938 MANSFIELD HIGH SCHOOL YEARBOOK , "MANSCRIPT" Prior to 1913, not a pupil had graduated from a four year high school course in Mansfield. The course was narrow and only the few who wanted to go on to college stayed for the new high school course. The enrollment was sixty four for four years of high school in 1914. In 1913 a class of three graduated in a three year course and in 1914, a class of seven in a four year course. Not all of the following addresses were verified. A question mark has been added in cases of extreme doubt. In a few instances, no information was available.

The original listing was taken from the 1938 school year book. The History Center has added supplemental information.
On the pages below, we are including class lists from the Mansfield High School Manscript yearbooks in the History Center's collection. The complete list that we have is
here
. Where we are missing issues, we reconstruct the class from their junior or sophomore listings in earlier yearbooks recognizing that this will include people who may not have graduated. However, they were classmates and we are glad to include them. We are adding photos and obituaries where we can obtain them and we welcome all of your submissions to add to these pages.
Below each year's link to their page, we have added the number of graduates. A "p" indicates that I have included their yearbook photos. All will be added eventually, but it will take time. We are catching up with nearly a century of yearbooks. Where the number is followe by a J or an S it is because we are missing those yearbooks and took Junior or Sophomore class lists from an earlier year until we can locate the missing yearbooks If you [or your parents, siblings, spouse, etc.] are a graduate or former student or faculty of MHS please send in a brief summary of your life since high school, College or other schooling, grad degrees, career, family, interesting events, etc. We want to hear from you. Be sure to tell me your graduation year so I can add your note in the right place. Please include obituaries of deceased class members if we do not already have them.
1926 was the first Manscript yearbook except for the much smaller 1913 annual. For years prior to 1926, I will include photos from the Mansfield State Normal School yearbook for those who went on. I have an almost complete collection of those as well.
| | |
| --- | --- |
| I have started enhancing these 1913-1937 listings in September 2008. They have been on the site already ten years. I am adding information about the people, birth and death dates, burial locations, attendance at Mansfield State Normal School or its successors and so on. I am also adding obituaries where available even though they may be already on the site in the Obits by Cemetery or Clippings sections. In this way, we can tell the story of what happened in the lives of our local graduates. If you have information, obituaries, photos of any of these people, please be sure to get that in to be included in this section of the site. I have yearbooks starting in 1926, that will add to our information and may yield photos when I get that far. If you have photos of people who graduated prior to that, when no yearbooks were published, please send them in in HIGH resolution .jpg format. | |
---
Joyce has the following
Mansfield High School Yearbooks: Those in parentheses I have access to but do not own.
| | | | | | | | | | |
| --- | --- | --- | --- | --- | --- | --- | --- | --- | --- |
| 1926 | 1927 | 1928 | 1929 | [1930] | 1931 | 1932 | 1933 | | 1935 |
| 1936 | 1937 | 1938 | none | | [1941] | [1942] | [1943] | 1944 | [1945] |
| [1946] | 1947 | [1948] | 1949 | 1950 | 1951 | 1952 | 1953 | 1954 | 1955 |
| 1956 | [1957] | 1958 | 1959 | 1960 | 1961 | 1962 | 1963 | 1964 | 1965 |
| 1966 | 1967 | 1968 | 1969 | 1970 | 1971 | 1972 | 1973 | 1974 | [1975] |
| [1976] | 1977 | [1978] | [1979] | 1980 | 1981 | 1982 | [1983] | [1984] | [1985] |
| | [1987] | [1988] | [1989] | [1990] | [1991] | [1992] | [1993] | [1994] | [1995] |
| [1996] | [1997] | | | | | | [2003] | | |
| [2006] | [2007] | [2008] | | | | | | | |
To the
FRIENDS AND PATRONS
of the Mansfield-Richmond High School,
this book is respectfully dedicated by the pupils and teachers.

pg 4
Mansfield High School Annual
Published by The Students of the
MANSFIELD-RICHMOND HIGH SCHOOL
Mansfield, Pennsylvania
1913

Board of Editors
Editor – Marion King
Art Editor – Grace Burton
Reporters – Hazel Webster, Mildred David, Dorothy Hoard
Athletics – Preston Van Ness
Contributed Articles – Ruth Leonard, Preston Van Ness, Hazel Webster, Alice Elliot, Harry Taylor, Helen Wood, Edith Shaw Jones

pg 5
TABLE OF CONTENTS
Editorial – 5
School News – 9
Retrospection – 12
Athletics – 15
The Faculty – 16
Box Social – 19
Uncle Jim's First Auto Ride – 21
Advantages of the High School – 23
The Injun of Today – 24
When Negligence Proved Beneficial – 27
Funnygraphs – 29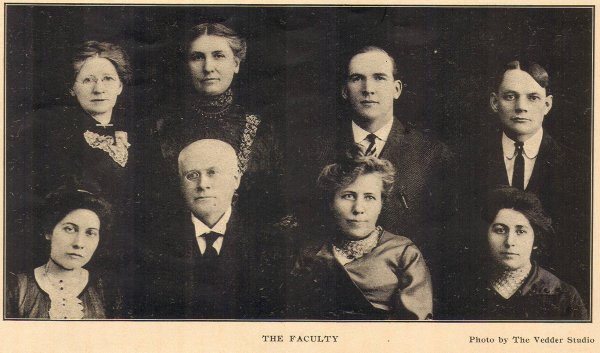 pg 7
The High School Annual
Editorial
Review of the Year's Work
To all who are interested in our High School, Greeting:
Now at the end of our school year, we feel like shaking our own hand and saying, "Congratulations, you have done well," for from a Second Rate High School of one year's rating, the school has been raised to a four years' High in good standing, with equipment that cannot be excelled in Tioga county.
Richmond township schools, eleven in number, united with Mansfield this year to form a Central High. Thus, free of charge, an opportunity is given to every boy and girl in this township to attend a good High School where he may obtain not only culture in general lines, but a liberal education.
Many seized the opportunity and it is an interesting sight to strangers to see at the school door the eleven yellow wagons discharge their load of over one hundred pupils.
Scientific Agriculture is one of the new branches introduced into our High School this year. Prof. Rockwell has taken this class out on several "inspection" trips to the most scientific managed farms in this vicinity. His class also attended the Farmers' Institute, and two of the state lectures gave interesting talks to the High School.
The Art Department of the High School has done excellent work under the direction of Miss Mathews. The work has been practical, including some very good posters. All the designs found in this magazine, including the artistic cover, are work of the students.
In December, a Literary Society composed of Juniors and Seniors was organized under the supervision of Mrs. Edith Shaw Jones, and it has been a source of much benefit to all members.
pg 8
March was notable for the "social" training received, and the surplus in the treasury which makes this paper possible.
A blue sky, a bit of sunshine, a spear of grass, and the athletic association burst into premature bloom. Although the base ball diamond, tennis and croquet courts did not appear in March as the enthusiasm led one to expect, they now are completed and in use every possible moment. In the meanwhile, our Basket Ball Team won their final game from Covington.
Then the first Rhetorical was given by the Junior-Senior classes, and was followed by one given by the Sophomores; these accustom us to get on our feet before a strange audience and say what we mean to say.
But our activities have not been confined to athletics and societies. Perhaps the greatest advancement of the year is to be found in the records of Principal Longstreet. We have fulfilled every requirement for a four-year High and are going to graduate a class this first year. Every class took hold of the work with vim, determined to complete the hard course of study required this year so that next no conditions would remain to be fulfilled.
This made it necessary for the Seniors and Sophomores to have six recitations a day for several months, but they did not flinch, and the result is all that could be expected.
This has not come about through the effort of the faculty alone, nor of the student-body, but by each one working for the other, and both for the school.
A word is due the School Board. They have purchased over three hundred dollars worth of chemistry and physics apparatus and fitted up a modern laboratory with stationary individual sinks. New singing books were purchased, thus adding a zest to the morning devotional exercises, which economizes time and does away with the necessity of copying examination questions. But with all this completed, our High School is as yet but started. Looking into the future, the prospect is bright and encouraging. If every year equals this year in its school spirit, enterprise, and scholarship, we hope that Mansfield will soon lead all the High Schools of Tioga county.
MARION BAILEY KING, '13.
pg 9
News Notes From Junior-Senior Class
Behold the class of Juniors and Seniors. Eight of the former and three of the latter. The Juniors have been glad all the year to have the privilege of being with the Seniors in the English class. It is inspiring to be allowed to walk alongside of so dignified a trio. When we stop to consider that 91 per cent. is the average mark of the class in their subjects, we realize that some good work has been done. The average age 16½ years. Not so old as we will be. Five and one-half is the average height so you see we are well up on the ladder of length, too. Understanding? Yes, I should say we have it. The average length of our feet is 9.34 inches.
We have read many good books this year. Among them are those from Dickens, George Eliot and William Shakespeare. Considering these three authors, the class chose Shakespeare as its favorite. We have been reading his "Macbeth" recently, and now we are enthused by the wonderful lines of his "Julius Ceasar." On account of lack of time we have not read very many books in class, but have read by ourselves several books, such as, Ben Hur, Ivanhoe, Oliver Twist and Nicholas Nickelby. Our line of literary work has been quite extensive, but we do not forget the geometry, physics and history and the many pleas-
pg 10
ant subjects studied during the year. We all join in saying that we have enjoyed very much the privileges of the High School, the many pleasant studies, the kind and thoughtful teachers and our many friends in the Sophomore and Freshman classes.
HAZEL WEBSTER, '14
Freshman
Upon returning from a pleasant vacation, we, as the first Freshman class, were ready to start on our way through the four years of the High School work. We were glad that so many students from the country could join us and help to make our class, which numbers about thirty, the largest in the school. We liked the cordiality with which the town students welcomed those from out of town and the way in which all joined in making the school life more pleasant.
Although we have no hard feelings against those of the other classes who call us "green but growing," we take pride in admitting that we would rather be green and have some prospects of growing, than to blossom out in three small petals like our Senior class.
Many of our class have joined the athletic association, which has recently been organized and all have entered in with great enthusiasm. We hope that the Freshman class may contribute their part to make the athletics of our school a success.
Along with the hard part of our work, we have had many debates, which added much interest to the work.
We feel as though we have done some good work this year and hope we will be able to keep up the standard of the Sophomore class next year.
DOROTHY HOARD, '16
Sophomore
After the summer vacation the members of the Sophomore class returned to school, rested and ready to enter the work of the year. Our work this year has been heavier than usual, but each one has recognized his opportunities and has shown a desire to make the most of them. This spirit has been shown, not only in the regular studies, but also in every good movement started in the school.
During the fall our class in agriculture, under the direction of Prof. Rockwell, made trips to nearby farms for the purpose of observing conditions and procuring soil for study during the winter. These class tramps not only added interest to the subject of agriculture, but also tended to strengthen the school with school spirit because of the change from the regular class-room work.
On the afternoon of April the 18th, Rhetorical exercises were given by members of our class. We may justly feel pride in the splendid interest taken by the Sophomores at this time, Our success was due in a large meas
Pg 11
ure to the diligence of our teacher, Miss Ruff, who had charge of the program.
We are pleased with the enthusiasm which different members of our class have displayed in athletics. Several of the boys have become especially prominent in the different sports; and we can also say that more officers of the Athletic Association, which has lately been established, have been chosen from the Sophomores than any other class.
We hope that the remainder of the year may be as prosperous and happy as that already passed, and if each does his best we trust this will be so.
MILDRED DAVIS. '15
L.S.C.
The L.S.C. was organized by the members of the Junior and Senior classes, under the direction of Mrs Jones, at a social evening in her home preceding Christmas. Believing that education is not gained from books alone, it was decided to bring out the social side of school life. "Literary Advancement and Social Culture" was taken as their motto, and it has been faithfully followed. Some interesting debates have been held, one of which was given at rhetoricals, and some very good magazine articles have been read. The literary work of the club is in connection with the class work in rhetoric, and the school work has been made more pleasurable and interesting by it. We hope the L.S.C. will continue to live and have its being in the High School and will become widely known for its social and literary influence in the school.
The charter members of the society are: Seniors – Wayne Lowe, Stephen Beach, Marian King. Juniors – Loron Leonard, Preston Van Ness, Myldred Bailey, Hazel Webster, Alice Elliot, Grace Burton, Ruth Leonard, Genevieve Husted; and Mrs. Jones, honorary member.
ALICE ELLIOTT, '14
There is a High School in our Valley,
Where brilliant kids every day rally,
To classes they hustle
With rustle and bustle,
But on their way out, love to dally.
pg 12
Retrospection
At eventide, when all is dim
With twilight's gentle haze,
I like to sit me down and think
Of childhood's happy days.
I see the old school again,
As in the years gone by,
The troop of happy children 'neath
The teacher's watchful eye.
The pranks we cut, the fun we had
When some one's back was turned.
The notes we passed, - the love affairs,
The lessons that we learned.
The joyousness, when hope was young,
And life a gay-hued flower,
When days and weeks slipped swiftly as
The passing of an hour.
Those school-day chums! Those gallant youth!
Those little maidens fair!
The teachers that we used to fear,
Those days so free from care!
Our dreams of happiness and fame,
The books we meant to write,
The honors plucked by eager hands
In fancy's rapid flight.
But twilight goes. The picture fades,
What's this the morning brings?
The self-same schoolhouse on the banks,
The same old school-bell rings.
And look, - the very girls and boys,-
Why no, - why,- what a shame,
So like to twenty years ago –
They almost seem the same.
pg 13
And where is she, the brown-haired girl
Who dreamed so long ago,
With hope and faith and eagerness
The future days to know?
Why, turning gray, she sits in state
Up in the teacher's chair.
Of neither fame nor fortune has
She won the slightest share.
These boys and girls, the children of
Those friends of early days,
She traces mother's, - father's look
In speech, in tone or ways.
The self-same pranks, the same old jokes,
The courting on the sly,
Sweet looks exchanged, and silly notes,
When teacher is not nigh.
The same old game of running bluff
When lessons unprepared,
The same old tales mysterious
With classmate to be shared.
Oh, sweet it is, and sad it is
To look adown the years,
And see the path we stumbled o'er
In joy, and pain, and tears.
To find it leads back to the start –
Back to the old home town;
That friends of youth are friends for life
Their love our labors crown.
For dreams take wings! And idols fall!
Clouds hide the sun above!
But God is good, and life still sweet
While we have friends to love.
EDITH SHAW JONES


Missing pages – 15-18
PG 19
SALLY PETTINGILL'S IMPRESSIONS OF THE BOX SOCIAL HELD AT THE OPERA HOUSE LAST MARCH
That sociable certainly was worth goin' to. I had to pay five cents at the door to get in, but I didn't care. I thought I could afford to give that school a nickel. Anyway, when I came out, I felt I had mor'n my money's worth.
They hadn't sold the boxes yet, when I got there, so I thought I'd look around and see the place. They was quite a crowd o' people and it made me think o' the Mansfield Fair. All the things they had contributed to get folkses' money away from them! I kind o' pinched my pocket-book when I saw all the things the' was there.
In one corner, to the left as I went in, the Freshmen had a pop-corn stand. They had their booth fixed up with green and white crepe paper and on the front they had a sign, "Green But Growing." I don't know what they was green about. It certainly wasn't their popcorn, for I had some and it was real good; bought some to kind o encourage 'em, you know. Well I didn't stay 'round there long, cus I knew if I saw everything, I'd have to be movin'.
Over'n the opposite corner the eighth grade had a place where they
pg 20
sold ice cream cones – know what them things are, don't you? They had a picket fence around their part and had a fireplace, for keeping their ice cream warm, I suppose. Their colors was blue and pink, or green and pink, I couldn't hardly tell which. Right next to them was a real cute little booth fixed up in red and white. Up in the back they had the letter, "L.S.C," pinned up. I don't know what they stood for. I Thought maybe it was "Lively School Cids," but some sed it was a literary society. They sold punch and 'twas awful good. I was so thirsty I just had to have something to drink, and of course I wanted to help them out a little.
Right across from them, way over on the opposite side of the Opera House, the seventh grade had a candy booth. Theirs was trimmed in blue and white, and I thought it was real neat and purty. Of course I bought a nickel's worth of candy from them.
Then over on the other side, next to the little red and white one, the Sophomores had another candy booth. They was all trigged out, I tell you. their colors was a kind of dark green and a dull yellow. They was real purty too, and I bought a little candy of them.
There was a place there where they told fortunes. I didn't go in and have mine told, 'cause I'd calculated I'd spent enuf' money, and I knew all my past foolishness and didn't want to know about the future.
As soon's I see some of the boys goin' 'round carryin' purty boxes all fixed up with crepe paper and bows, I got me a cheer and set down where I could see everything and everybody. I wanted to know what girl's box each boy got. You see I know most all of 'em because they go by the house every day.
Loron Leonard sent another boy to git the right box for him. Later on he bid on another one and got it. Oh, I forgot to tell you, they didn't bid 'em off like they used to when I went to box socials. They sold them by numbers fer a quarter apiece, to save time. The boys bought the numbers and then found the box that had their number on. Some of them knew what numbers to buy, I guess, for Stephen Beach and Wayne Lowe got the boxes they was lookin' for.
They had entertainment durin' the evenin' that was very funny. They had some kind o' things they called shrades, but I didn't know what they was. All I saw was they had one feller that was awful sick, and once they all come out and jumped on to some cheers and tried to crow. Didn't sound much like crowin' though. They was quite a lot of them shrades, but I didn't care so very much 'bout them. I was more interested in the clowns. I wish't you could a'seen all the things them clowns did. They was just full and runnin' over o' nonsense. They had a debate and after that they had their pictur's taken;
pg 21
busted the camera, too. Then they played a ball game and had a fire. Once one feller come in with a sprinkler and sprinkled the floor and behind him wuz a feller carryin' a ship and behind him wuz another feller blowin' belluses. I thought I'd die a laughin, at 'em. Well, when they got through with all their tom-foolery, they had a grand march, that was grandly led by two Seniors, Marion King and Stephen Beach. 'Bout then I come home
Hazel Webster, '14
Ruth Leonard
UNCLE JIM'S FIRST AUTO RIDE
"Look a' here, Sermanty, jest see what's in this here paper!" Thus exclaimed Uncle Jim Fitch one evening, when he and Aunt Samanthy, his wife, were sitting before the kitchen fire, she knitting, he reading the paper.
" I can't read without my spec's so you will have to read it," Aunt Samanthy replied.
"Wall! This is what this paper says, but I don't believe it. Why! Joe wouldn't think of no sech thing. He's more sensible. Jest last Sunday when he was down here, he said he hated 'em an' now this paper says he's got one. I jest won't believe it. Why! It's ridiculous."
"What's so ridiculous, I'd like to know? That's jest like you, not to tell what you're a talkin' about an' go right on a talkin' ferever. What's so ridiculous?"
"Wall! I'll read what this here paper says but I won't believe it even if a preacher's son does write the paper. Here I go, 'Pig Hollow, April 7, 1900. Mr. Joe Fitch, a farmer living near this place, purchased, yesterday, an automobile.' Now think of that, Sermanthy, our Joe gittin' one of those auto-go-devils. Why! We brought him up better'n that. It's jest too outrageous fer anything. Now don't you think so? Say!"
"Well now, Jim, I should say it was. But I suppose 'taint fer us to decide," answered Aunt Samanthy very calmly.
"Now, Sermanty Fitch, you needn't answer that way. You know it gits me all riled up an' I know you do it jest a purpose. Wall! As fer that auto-go-devil, I won't ride in it, that's one thing certain. Now, I'm agoin' ter see ter the hosses an' thin I'm goin' ter bed. You cin do as you're a mind ter." Uncle Jim lighted a lantern and went out, slamming the door behind him.
"I suppose I might as well go to bed," Aunt Samanthy sighed. "Jim certainly's got a temper an' a half but all the same he's good-hearted."
The next morning the Fitches were
pg 22
up at half-past five. While Aunt Samanthy got breakfast, Uncle Jim milked. While thus occupied, he heard a noise that sounded like an automobile. "But 'taint, cause they wouldn't come round here," he thought. But to his great surprise that noise sounded as if it were coming nearer and soon was just above him.
"Wall! I shan't allow none of them things in my barn, if I know it," Jim said and hurried up to see why it was there. Halfway up the stairs he met his son, Joe.
"Hello, Pa," was Joe's greeting.
"Hello," grunted his father going straight up the stairs. "You needn't stop me. I'm agoin' ter put that man out."
"What man?"
"The one that runs that auto-go-devil. Why! Where's he gone to? There it is but he's sneaked."
"That's mine, pa. Ain't it fine!"
"Fine? Wall! I should say not. You'd better git that thing right out'er here before it falls through the floor or explodes or something. I won't allow it under my roof."
"Where shall I put it. If I leave it out doors it will git faded _"
"Or git a sun-stroke," put in Uncle Jim. "I don't want any sun-stricken things around here so you can put it under the shed, but don't ever bring that here again."
When Joe cranked up to run the auto out of doors, Uncle Jim got into the farthest corner and hung to a post. When the auto was taken care of the men went into the house.
Soon the family ate breakfast. Uncle Jim was cross and very disagreeable during the meal.
When breakfast was over Joe said, "I'll take pa for a ride now."
"I ain't agoin'," said Uncle Jim stubbornly. "I've got to go to town an' ain't got no time to fool with sech things."
"I'll take you to town an' back in an' hour. Come on out an' look it over."
Uncle Jim consented to this but said he wouldn't go very near for it might blow up. When he had looked awhile he got up closer and before he thought he was in the car and Joe was cranking it. Uncle Jim would have gotten out if he had had time, but before he was on his feet, Joe was beside him and they had started.
"You'd better stop and let me out," he said when it was too late.
"Oh! no. I guess not."
And so, very much against his will, Jim Fitch went for an automobile ride, and never did a man look more frightened than he.
When they started his hat flew off, and his red hair stood straight up. His eyes were red with fear and one might say, that he was catching flies, for his mouth was wide open. He held on to the side and Joe's arm with a grip of iron. At first he could not speak but when he could, what he said was something like this:
pg 23
"Stop! Don't go so fast. What'd I tell you? There now you will run over that dog. Slow down. Don't go so fast around that curve. There now, you would like to kill me, wouldn't you? If you do I'll break that auto-go-devil into smithereens. How fast be we agoin'? You'll break the laws an' thin I'll be put into the coop. Wouldn't that be nice? You needn't take me clean to town. I cin walk part way. I don't want nobody to see me in this thing."
But he finally did ride through town and sat up very straight looking (as much as he could) like a dude. He really was proud of "that thing" but he wouldn't own it. When he went home he was more at ease and did not act so frightened.
Upon reaching home they found Aunt Samanthy waiting for them.
"How'd you like it?" she asked Uncle Jim.
"Pretty good – I mean we went too fast an' its too lible to act up." Uncle Jim nearly forgot and said it wrong.
And to this day if you ask Uncle Jim how he likes auto riding he will say that they go too fast although he really doesn't mean that.
HELEN WOOD, '16
THE ADVANTAGES OF THE HIGH SCHOOL
The average boy or girl does not realize the value of the school. Almost all children are kept in school till fourteen years of age. Then they leave school, going to work in factories or other unimportant positions. They will always have to work at this kind of labor, for they are unprepared for the higher calling. Of course they may have advancement, but they can never have the best.
Even the farmer, if he is ignorant, will not make a success. He may say, "I can read and write, is not this enough for farming?" It certainly is not. The High School of today teaches the elements of agriculture. If the farmer is not taught these, he must find them out by experience, which requires many years. If he does not care to learn, he goes on farming in the plodding and out-of-date way, pursued by his forefathers.
The Grammar school does not give a broad enough education for life. The boy or girl should continue in the High School. The advantage of the High School is not offered to the town boy or girl alone, but to the children of the rural districts as well.
Our fathers never had this advantage, not even if they lived in town. All they had were the common public schools offering the lower branches
pg 24
such as, reading, writing and spelling. No books were furnished them or wagons to carry them to the school house door. Schools were not supplied with grounds for athletics as they are today. There was no interest taken in this important branch of school. How much a boy or girl misses, who has never made High School Athletics a part of his education.
In the High School the student has the advantage of the higher branches such as chemistry, geometry, physics, Latin, music and drawing. This costs him nothing except the tax which the parent pays.
In many ways the High School certificate is now considered of more importance than the Normal diploma. Why then leave the High School, before completing the course, to enter a Normal School? Teachers receive better positions, who have the High School certificate. There are forty professions that require it.
From a first-class High School a student may enter many of the leading colleges and universities. Then why pay to go to a costly preparatory school?
What a great pity it is that the boy or girl cannot see the advantage of the High School and stay by it. When we consider that the High School students live at home with their parents, surrounded by the influences of the home-town, instructed by teachers with whom they and their parents are usually well acquainted, we can hardly understand why any boy or girl will turn his back on the High School until he has completed the course offered, and received a well-earned High School Diploma.
PRESTON VAN NESS, '14
THE INJUN OF TODAY
In the past four weeks all that Bobby's father and mother had heard was: "Gun, gun. gun." It was only four days before his birthday that they fully decided to buy him a gun. On the morning he was seven years old, he walked into the dining room and on a chair was a package which he knew was that long-hoped-for air gun.
"Hooray!" cried Bobby, "I knew 'twas coming."
As soon as a hurried meal was over Bob started for Roy's.
"Hello, Bob," said Roy.
"I got a new gun, Roy," said Bob, not stopping for any salutations; "Let's shoot at the mark."
"All right," said Roy.
pg 25
"See that can? Watch me hit her."
"Gee! that was a close one; let me try it."
It proved, to Bob's sorrow, that Roy was a better marksman than he, with the can for a target.
"Oh! come on, Roy," said Bob, "I can't hit such easy things."
"See that bird, Bob?" exclaimed Roy.
"No, - oh yes, I see her, watch me."
"You got her," said Roy.
"I told you so," said Bob.
As the Olver boys came round the corner, Bob yelled: "Hey! Walter, come on over and see my new gun," Then the four boys all tried their skill with the new gun.
"Let's play Injun," said Walter.
"Come on," said Bob, "I'll be chief."
"All right," said the other two boys.
"I'll tell you what we'll do," said Bob. "We'll take the old buffalo robe and put it over that low clothes line and put stones on the corners to hold it out like a tent, 'cause I'm chief."
The tent soon was erected, and the chief inside, his gun across his knees, and a stern look on his face. His warriors were outside, each with his bow and arrow, which they had gone home to procure.
Bob rose, took his gun and beckoned his three braves forward. "Look," said he, "yonder is a dog; capture him."
The trusty warriors obeyed and soon brought the big yellow dog into camp.
"Can't we find some girls for squaws?" queried Bob.
"Yes," said Walter, "there is my sister and the Mattock girl now." "Hey, girls! Come on and play Indian; you can be squaws."
The girls came and agreed to play. Then each ran home and returned with shawls to be used as blankets, to put over their heads. Thus the camp was complete.
The next feat was a daring raid on the pantry of the Olver kitchen. There Walter found cookies and doughnuts. Then he returned to camp. At last the plunder was divided equally among the boys and girls. Water was secured from the old pump, as Bob said: "Injuns don't drink anything only water."
The meal was soon eaten and Bob was about to lead his squaws and warriors back to the camp, when he saw a poor little sparrow on a telephone wire.
"Halt!" cried Bob.
He took aim and shot. One of the large windows in the Mattocks house was shattered, and all the children ran, except Bob, who remained true, and told Mr. Mattock all about how it was an accident.
HARRY A. TAYLOR, '15
pg 27
WHEN NEGLIGENCE PROVED BENEFICIAL
It was twilight in the country and Fannie Close was just finishing up the chores. She had fed the cows and pigs and was now looking in the hen-house door to take a farewell peep at the row of fine fat bronze gobblers and hen turkeys that sat perched on the highest poles.
She admired the brown fellows for a moment, then said, "sleep and grow fat, for every ounce of flesh you add to your frames adds money to my brother's pocketbook, and John does so much need every red cent." So saying she closed the door and walked up the gravelly path to the house.
She goes in, removes her wraps and sits down to wait for John. She is quietly nodding in her chair and dreaming of the pudding she will make for the Thanksgiving dinner when in comes the noisy John, stamping the snow from his feet on her clean kitchen floor and greeting her with "Fannie Close, did you lock that hen-house door? You know chicken thieves are in the country now and my birds want to be safe at this late hour."
"Oh, yes! I locked it and all are safe," replied the sleepy-eyed Fannie.
John had asked this question every night for over two weeks as he came from his lumber work over the hill. The question being settled, John read the market prices of fat turkeys, smiled at the good figures and, nodding, too he dreams of a medley of turkeys, puddings, apples and pocketbooks loaded with money. Fannie, after "unstringing dried apples for pies, putting beans to soak and bread to rise," wakes the peaceful sleeper and shouts to him as she proceeds up the stairs, "John, wind both clocks."
"Yes," he answered, "I will, I do hope the turkeys are safe."
The next day dawned sunny and bright and as Fannie arose she thought it was a lovely day for going to the nearby village for some of the things needed to prepare the Thanksgiving dinner. It was a beautiful day and after the turkeys were let out and her other work all done she hitched Old Ezra to the rickety cart and started for the village.
It was very pleasant in the forenoon and about one o'clock she had her articles all purchased, and thinking she had plenty of time left to make a little call on Susan Sears, she reined in there on her way home. Susan being an old schoolmate of Fannie's, they had plenty to talk about. It was nearly five o'clock before Fannie realized how late it was getting; in
pg 28
the meantime a blizzard had come up and she now thought of the turkeys that would go to bed hungry, the flesh that would be lost, and also the decrease in the pocketbook. but she had no time to think, and bidding the busy Susan a hasty farewell, she sprung to the rickety cart and giving the sides of Old Ezra a tremendous jar with a long fishing-rod she made good time in getting home.
It was dark when she reached there and it was a thoroughly frightened Fannie that crept down to the hen-house door. She dared not to look in with a light to see if they were safe, and placing her knee against the door she closed it, locked it and uttered a little prayer that all were safe. Slowly and cowardly she crept to the house after feeding the horse, cows and pigs and poor Fannie had just time to get John's biscuits and tea ready for him when the door opened and in stalked John, covered with snow and behind him was Tom Tadley, the boss of the lumber job where John was working. It being a very cold night, John asked Tom to spend it with him.
They enjoyed themselves very much that evening talking, eating apples and drinking cider. Fanny was in hopes that John had forgotten his bronze beauties but no he had not. Just as he reached the last step of the stair he leaned over the railing and called. "Fan, are the turkeys safe?"
Fan, just disappearing down cellar to get potatoes for breakfast, shouts:
"Botheration! John, haven't those turkeys gone to bed safe and got up safe, for well nigh on three weeks?"
"Y-e-e-s," drawled John as he turned to go.
It was a restless Fannie that sailed on the sea of sleep that night. While she slept she dreamed of empty hen-houses, ferocious brothers and farm not paid for; while she was awake she thought of farms unpaid for, ferocious brothers and empty hen-houses. How gladly this troubled spirit welcomed the first ray of light that peeped through her curtains!
She dressed before John or Tom, and, creeping slowly down the stairs, out of doors' she fairly ran to the hen-house where she opened the door almost afraid to look in. Oh, what a sight met her eyes! Oh, how she trembled! What was it? There were the turkeys and was she crazy! Was she seeing double? No, the house was filled with turkeys instead of the twenty that belonged there. She ran to the house, grasped the open-mouthed John by the arm, snatched him through the door and led him along, talking incessantly as she went of the turkeys and how she had staid so late at Susan's yesterday. When he reached the hen-house door, he looked in and with wide opened eyes, he exclaimed:
"Why, Fanny, can't you see these extra turks are wild ones that found their way to our warm hen-house dur-
pg 29
ing the storm? You have captured a gold mine. Isn't this luck?"
Yes, Fannie saw but could not speak. With his arm around her waist they walked back to the house. Fannie prepared the breakfast, while John and Tom cut the heads off from twenty tame and twenty-four wild turkeys.
The fruits of the sale of these surprised John and Fannie, but they were happily surprised.
HAZEL WEBSTER, '14
One slender maiden, named Ruth,
Looks and says not a thing that's uncouth.
At her books she's so smart,
That she knows them by heart,
And she helps all her class to the truth.
There is a young stripling, Van Ness.
A dreadful heart-smasher, I guess.
When he tries hard to please,
Treats to limburger cheese,
Though he has from its fumes no redress.
A dear, brown-eyed maid is our Alice,
A queen who should live in a palace,
But she's given away
To a sweetheart named Rae.
We wish her all luck, without malice.
A kiddish young Senior, named Lowe,
Long ago learned the arts of a beau,
Having donned lengthened pants,
He, with other gallants,
Has a steady in flirtation row.
pg 30
A maiden, who ne'er would deceive,
We call her our own Genevieve,
'Twixt laughter and giggles,
She squirms and she wiggles,
As thus she her feelings relieves.
A handsome young Beach, front name Stephen
Thinks that women with men should be even,
When given a chance
His views he'll advance;
Who will fight for the ladies? Why, Stephen.
pg 31
FUNNYGRAPHS
Why do we know that Caesar liked the Irish? Because when he came to the Rhine he proposed to Bridget. (bridge-it).
A New Theorum in Germany
In any proposition the sum of the antecedents may become the consequence and the sum of the consequences may become the antecedent.
(Genevieve Husted.)
A Question in an Agricultural Test
Recommend a suitable seed mixture that will produce hay for two years. Answer from a member of the Senior class, copied as written" "A 2 yr. hay provide might be: 1 bu. wheat, 1 bu. rye, 1 bu. oats or timothy per acre."
Any one wishing to learn how to propose apply to Stephen Beach.
Scipio, scipere, profi, caught 'em.
Wanted, by Margaret Cummings – A private escort to take her home from practice at Alumni Hall.
Margaret King is so successful in steering automobiles that she can aim at a house and hit it.
The Beaches are putting on airs. (Ayres).
It is so hard for Prof. Rockwell to find matches that he may have to go to Lambs Creek after them.
The good old-fashioned kissing games are much enjoyed by the members of the High School and Faculty.
Professor says: "The first year are too slow getting out to classes, the second year do a little better, but the fourth year, - you can depend on them to get out of anything."
Compiled by
RUTH LEONARD, '14
A strong-headed girl, surnamed Baily,
Has fits of the blues almost daily,
Yet it's quite plain to see
She loves Q.E.D.
For she goes to Geometry daily.
pg 32
FUNNYGRAPHS
A night-hawk, named Loron the baker,
Of sleep is the lightest partaker,
With a Guage by his side,
He can keep awake wide,
Though he sits just as still as a Quaker.
A dumpling of fun is our Reddy;
If she doesn't fly mad, she's quite steady.
She's a strong suffragette
And last fall, don't forget
She made a stump speech, not for Teddy.
A light haired young lady, Miss Burton
The belle of our class that is certain,
On dark Sunday nights,
She's sparing of lights,
And when the moon shines, draws the curtain.
A talented Senior, named King,
Has joy when the school bell doth ring,
She says, "How I'd hate,
To ever be late,
And I never would do such a thing."
There are many more dear lads and lasses,
In Freshman and Sophomore classes,
Lack of time now forbids
That we pull off the lids,
To show you the rest through our glasses.
---
Wellsboro Gazette, July 16, 1986
Mansfield High 50-plus alumni reunion held
The 50-year plus alumni of Mansfield High School met for a reunion on Sunday, June 29 at the Mainesburg Community Center with the Annette Smith Park Association furnishing the dinner. There were 166 reservations.
Budd Clark of Wysox, class of 1934, was Master of Ceremonies. Several were thanked for their work in arranging this reunion. The persons traveling the farthest to attend were Reed Benson and Leone Smith Benson from Sun City, Arizona, class of 1923.
After the dinner the class of 1936 adjourned to another room for a time of visiting as this was their 50th anniversary.
Those attending were:
Class of 1921 - Anna Robbins Webster, Loren Hamilton and Zelma, Dorotha Jones Burtch, Evelyn Cook Guardine, Paulena Smith Avery, Merle Garrison.
Class of 1923 - Reed Benson, Leone Smith Benson, Lee Smith and Evelyn, Howard Davis.
Class of 1924 - Christine Robbins Gither, Rudolph B. Hotalen, Florence Sherman Tice and Gordon.
Class of 1925 - Doris Benson Grow, Sarah Bates Randall, Mary Howe Milks, DeEtta Brace Cole, Marie Kiley Wilcox, Margaret Webster Smith, Agnes Chamberlain Harris and Olin, Gertrude Rice Irwin and guests.
Class of 1926 - Lawrence Hubbard, Carrie Whittaker Strong and granddaughter, George Wein and Cecelia, Blanche Gould Gustin and John, Mary Alice Strange Sweely, Myrtle McKay Strange and Maxie, Eva Every Williams and guests, Ina Hager.
Class of 1927 - Dorothea Rose Knowlton, Hazel Reynolds Straw and Donald, Helen Jones Swingle, Edrie Purvis Abernathy, Julia Hager Jerzak, Merrill Brodrick and Flora, Myra Smith French.
Class of 1928 - Lisle Smith.
Class of 1929 - I.J. Wells and Irene, Helen Tanner Smith, Lillian Corey Isaacs, Louise Hawley Hubbard, Mildred Barnes Sowers.
Class of 1930 - Esther Jerald, Harold Chamberlain, Stanley Seymour, Rex Cook and Christine, Edwin Brooks and Ann, Thomas Brown and Jeanette, Arthur Corey and Bernice, Fordyce Hager, Frances Bailey Shea, Evelyn Bardwell Smith.
Class of 1931 - Barbara Jerald, Paul Rieppel.
Class of 1932 - Mary Delphine Welch Seymour, Harriet Cole Colegrove, Eloise Smith Chamberlain, Mary Knowlton Rasmussen and Gunner, Arch Robbins and Gladys.
Class of 1933 - Nina Bailey Terry and Harold, Winifred Brace Tears and Herman, Delores Dial Doane and guest, Leree Shaw Coates and guest, Lee Evans and Marlene, Jack Isaacson and Gertrude, Arnold Johnson, Kenneth Merrick, Vernon Parker and Vergaleen, John Owens, Reid Sherman and Geraldine, Leigh Shaw and Juliette, Boyd Smith and Pearl, Myrtle Smith Trowbridge, Donald Webster, Stuart L. West.
Class of 1934 - Anna Belle Loveland Colegrove, Irene Coveny, Budd Clark and Almeda, Olive Cornwell Bambert and guest, Donald Moore and Florence, Homer Neal and Ruth, Esther Knapp Ferree and guest, Mary Neal, Maurice Rumsey and Anastasia, John Shaw and Thelma, Robert Shaw and Pauline, Jeanette Sweely Allen and Arvine, Nellie Williams Tears, John Strange and Dee, Genevieve Wilcox Teachman, Marion Vermilyea Barnes, Lettie Austin Brace.
Class of 1935 - Margaret Shepard Hutcheson, Marion Benson Powlison and Sidney, Lena Lewis Rieppel, Charles Hughes and guest, Sara Clark West.
Class of 1936 - Doris Bailey Hayden and Joseph, John Baynes and Audrey, Gordon Brace and Esther, Owen Cook and Shirley, Marion Cummings Pryor, Marie Horton Schoonover and Ellsworth, Wendell Hitchcock and Margery, Llewellyn Shaw, Olga Sherwood Dubiak and Peter, Kathryn Walker Bradt and guest, Foster West and Betty, Stanley Whittaker and Crystal, Frank Beardsleee and Molly, Ida Mae Kibbie Wilson.
For next year the reunion is open to all Mansfield High School graduates and former students beginning with the class of 1918 and continuing to 1937. Any persons eligible who are not contacted, please send addresses to Mrs. Margaret Smith, RD#1, Box 76, Mainesburg, PA 16932.